Including easy Slimming World recipes
If you are looking for Slimming World dinner recipes that are also budget-friendly then this is the post for you. These delicious Slimming World recipes are great for the whole family.
All of these can be made really cheaply and are great for meal ideas when you need to fill up your weekly meal plan.
If you are looking for more Slimming World ideas then have a look at:
Aldi Slimming World Shopping List – This is a full list of Slimming World approved food that you can buy from Aldi. There is a mixture of syn free and low syn food. These are healthy foods that are perfect for the whole family.
Cheap and Easy Slimming World 7 Day Plan – This gives you a full week meal plan with a shopping list. Use this if you need a full plan and a place to start.
The Best Aldi Slimming World Meal Plan and Shopping List – This gives you and your family ideas on what you eat for a whole week. Use this with our post here to fill up your meal plan with yummy food that everyone will eat while keeping your grocery bill down.
If you are a vegan then have a look at our post 71 Budget Vegan Slimming World Recipes for the Whole Family. This covers vegan meals and a shopping list which can help you to keep your food bill in check.
You can also find 75 Slimming World Vegetarian Recipes here that can help you come up with food ideas for the whole family.
Free Meal Plans and Shopping Lists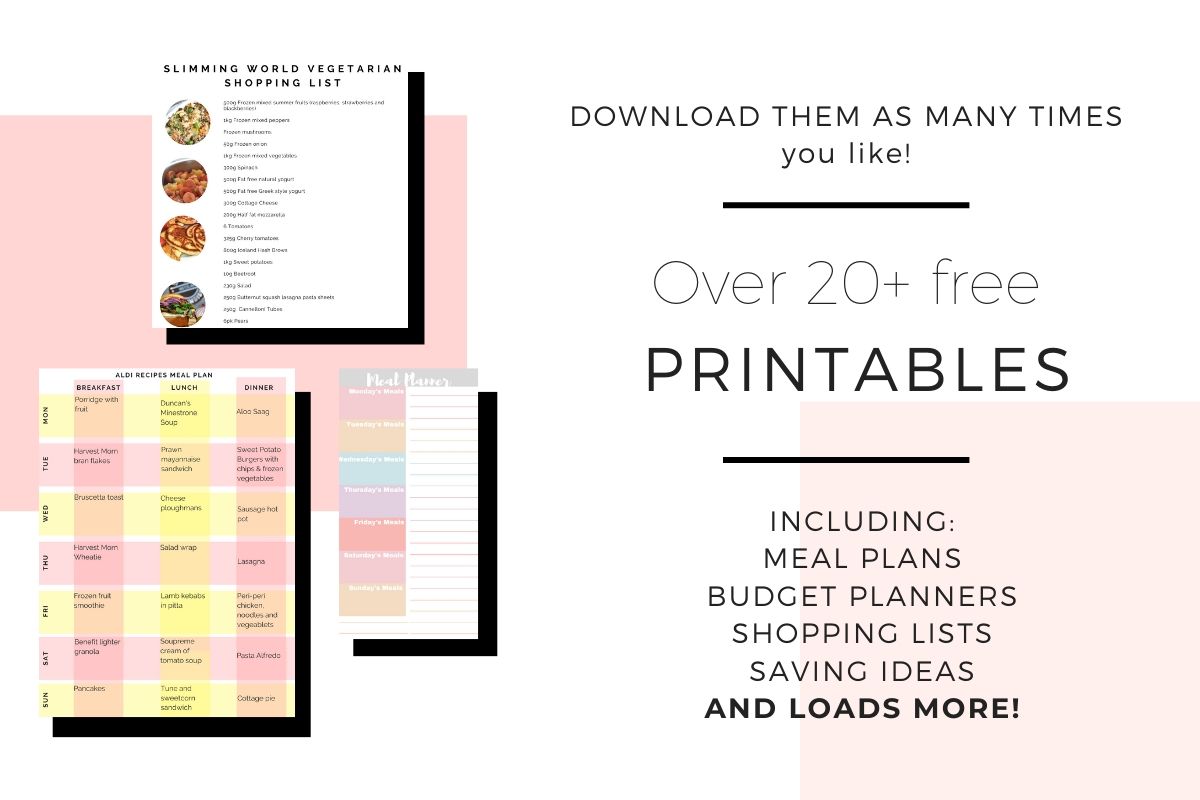 If you are looking for pre-made meal plans, shopping lists or even ideas on how to save your family money then come join our free Resource Vault. You can print our resources off as many times as you like!
Join our free Resource Vault here
(By joining giving us your email address you are consenting to us emailing you about our other travel, home and lifestyle ideas. You can unsubscribe at any time by clicking the link at the bottom of every email.)
If you are finding it hard to find Slimming World friendly recipes that the whole family will eat then have a look at:
27 Slimming World Breakfast Ideas for the Whole Family – This is full of breakfast ideas that are great for beginners of Slimming World and new cooks. All of these are great for families and those on Slimming World.
101 Easy Slimming World Meals For The Whole Family – This is a full list of Slimming World meals that include syn free recipes and instant pot ideas on days when cooking is a hardship.
Slimming World Budget Ideas
If you are a beginner at Slimming World and need some food budgeting help then we'd suggest starting by:
Meal plan
Meal planning is the best easy to save money as a family. Use our templates in our Resource Vault to help you plan.
Write down the meals you want for a week. These don't have to be set in stone but means that you are less likely to go for a takeaway and will cook from scratch.
Use cashback sites
Use cashbacks if you shop online for anything. We recommend OhMyDosh, Quidco and Swagbucks. You get money off whenever you shop online through their sites which can really come in handy once baby is born.
It doesn't cost you a penny to use them. If you make a purchase through their site you receive the money. It's that simple!
We use OhMyDosh for making money through surveys and getting cashback on anything we buy online. Find out more OhMyDosh here and what we think of them.
Join OhMyDosh* here for free and get £1 added to your account.
Read more about how OhMyDosh works here.
Downshift your food
Buying value ranges is a great way to save money. You don't have to buy everything fresh either. Use cans or frozen food to make cooking your meals quick and easy. Start by buying the lower range items and slowly work your way up depending on if you liked the product taste or not.
If you are struggling to come up with meal ideas and need help then have a look at Spicentice*.
They send out packets of spices with easy to follow instructions so you can make a meal from scratch.
They are great to use if you are new to cooking from scratch or if you are looking to get your family eating new budget-friendly meals and have no clue where to start.
We tried them at the start of this year and loved them. We got stuck in a food rut and they helped by giving us ideas while keeping our food budget really low.
Most of their spices are Slimming World friendly and can be made for all kinds of diets.
If you'd like to try Spicentice yourself then make sure you use our link here with our code LASAVE20 to get 20% off every purchase.*
We made the below meals using Spicentice. Try them for yourself here:
Easy Chicken Fajita Recipe: A Family Meal for 94p a Person
Spaghetti Meatball Recipe For 73p a Head
Vegan Shepherd's Pie For Just 82p Per Portion
Beginner Chilli Con Carne Recipe for Just 95p a Head
What we love about Slimming World is that you also get to eat fakeaways. These are meals that are like takeaways but that you cook yourself. Not only are they cheaper but they also taste better than the real thing.
Our favorite Slimming World fakeaway recipes are:
The Best Katsu Curry Recipe For Under £1 a Head

Chicken Tikka Masala Curry For Under £4 a Head

Easy Chicken Fajita Recipe: A Family Meal for 94p a Person
Ideas for Slimming World dinners
These Slimming World dinner are easy to cook and most can be made in advance. They are family-friendly too which is great for your budget and means that you only have to cook one meal.
These meals can get mixed in and out of your meal plans around some of your other family favorite meals too. Don't feel like you are stuck in a rut. Get cooking and enjoy food again.
Related Posts:
A lot of our vegetables and meat we buy frozen as it saves waste. You only use what you need.
Baked Chickpea, Spinach & Harissa Falafels
Slow-Cooked Pulled Pork With Red Cabbage 'slaw
Macaroni Cheese
Vegetable and Lentil Lasagna
Vegetable Filo Tart
Homity Pie
Vegetable Antipasti
Wild Mushroom and Chestnut Pies
Vegan Cottage Pie
Peanut Chicken Noodles
Vegetable Pad Tai
Italian Bean Stew
Mashed Potato Casserole
Garlic and Carrot Noodles
Chicken Stroganoff
Grilled Chicken Kebabs
Stir Fry Chicken Noodles
Mediterranean Chicken
Chicken Jalfrezi with Cauliflower Rice
Crispy Chili Beef
Moroccan Chicken with Roasted Vegetables
Green Thai Curry
Cod Fish Cakes with Sweet Potato Fries
Jerk Lamb with Rice and Peas
Firecracker chicken Stir Fry
Curried Chicken and Cauliflower Bake
Prawn Burgers
Diet Cola Chicken
Laura x
If you enjoyed this post and would like some more family friendly budget recipes or meal plan ideas, then head over to the budget food section here on Savings 4 Savvy Mums where you'll find over 30 cheap posts dedicated to helping you cook and shop wiser for less. There's enough tips to help you save over £300 a month! You could also pop over and follow my family food Pinterest boards for lots more ideas on how to eat well and spend less; Family Meal Plans on a Budget, Budget Family Meals & Budget Slimming World Recipes for Families.
Love this post? Then why not save it to Pinterest so you can easily find it later.
What the * means
If a link has an * by it, then this means it is an affiliate link and helps S4SM stay free for all. If you use the link, it may mean that we receive a very small payment. It will not cost you anymore that it would normally.
You shouldn't notice any difference and the link will never negatively impact the product. The items we write about are NEVER dictated by these links. We aim to look at all products on the market. If it isn't possible to get an affiliate link, then the link, or product is still included in the same way, just with a non-paying link.