Delicious & Healthy Slimming World Vegan Meals on a Budget
Is it possible to go vegan on Slimming World and save money? The answer to that is yes! We still aren't fully vegan ourselves. We're getting there. Like most modern families we started our vegan journey later in life so we're slowly moving away from meat and dairy to a more sustainable way of living.
Regardless of if you attend a Slimming World group or not, these vegan meals can help you save money and eat better. They can help you food optimize and be part of your healthy extra or free food plan.
It's a slow process but one that the family are slowly embracing.
Free Shopping Lists and Meal Plans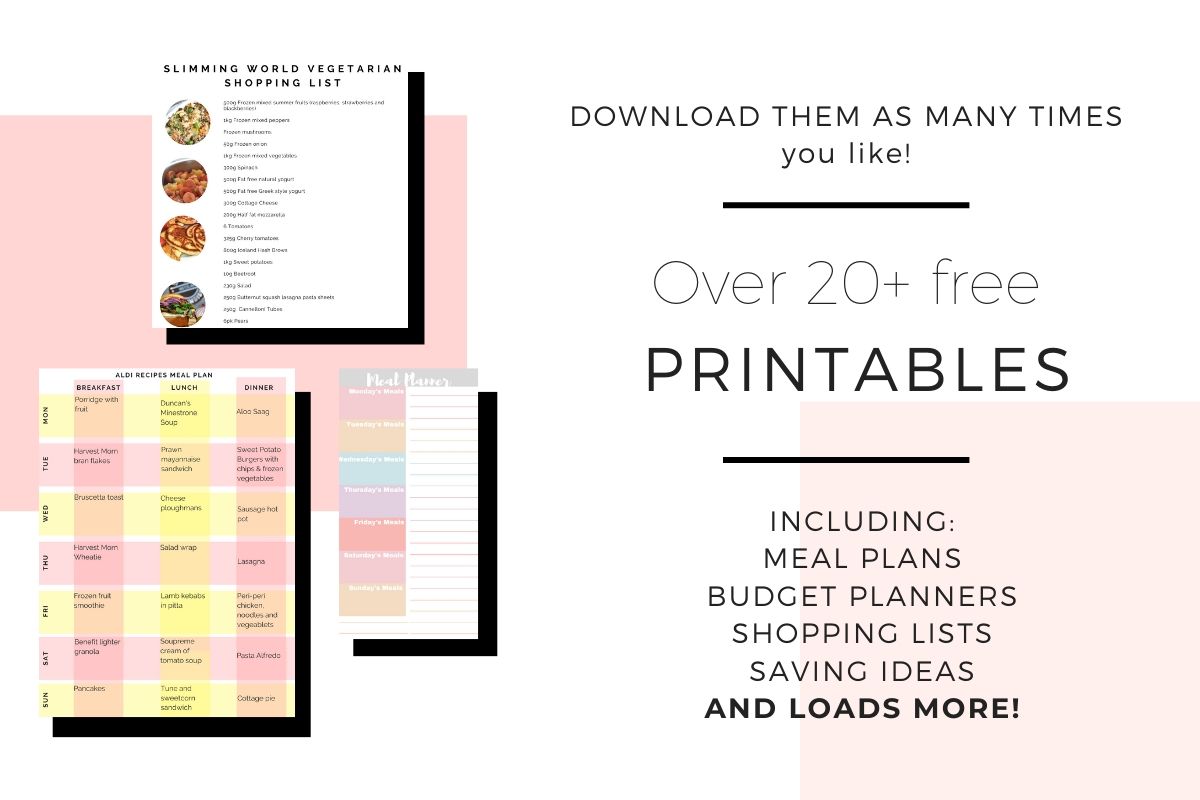 If you are looking for cheap meals or pre-made shopping lists then come join our free Resource Vault. It's packed full of money saving ideas that can help you to save your family more money.
Join our free Resource Vault here
(By joining giving us your email address you are consenting to us emailing you about our other travel, home and lifestyle ideas. You can unsubscribe at any time by clicking the link at the bottom of every email.)
How to do vegan on Slimming World
Add in Slimming World and a very limited budget and shopping starts to become a headache. Filling up your weekly meal plan becomes harder as you're trying to think of vegan meals that are also Slimming World friendly. If this sounds like you then our 71 Slimming World vegan recipes in this post is going to be for you.
We want to take the headache out of trying to think up meal ideas while trying to save money for your family. You don't have to be vegan to enjoy all these meal ideas either.
By just not buying as much meat or dairy you could not only be saving the planet but also saving money too. Soya or almond milk comes in cartons and is cheap at the budget supermarkets. Shops like Aldi and Lidi are also bringing in their own range of dairy-free and vegan products so don't think that you have to switch back to a bigger supermarket.
If you're near the start of your money-saving journey then here are 16 top tips to help your family get used to the idea of saving money while food shopping and how to start your money-saving journey:
1. Set boundaries – let everyone pick a meal to fill up your meal plan. Use our Slimming World vegan list below to help and takes the thinking time out of it.
2. Talk about it – remind everyone in the family why you all need to be saving money. Have a goal like a family holiday or a big day out. Have your progress pinned up on the fridge so that everyone can see your progress. It becomes almost a game on who can save more money during the month.
3. Don't over talk it – banging on about what the kids can't have isn't going to make them want to save money. Remind them what they can have or encourage them to sell something old so they can buy something new.
4. Make a snack station – if your kids thrive on snacks like mine then set out their snacks for the whole day. That way they can pick when they eat them but when they are gone they are gone!
5. Educate the family – it's mega awkward and will make you cringe but lay your cards on the table with the kids. Even younger ones like ours get that mummy needs to save money so that they can do all the fun things they love doing. We play a board game called Pay Day. It's a great way to show kids how quickly money can be spent.
6. Start with sweet things – it's hard but being on a budget means that some of the sweet things have to go. Making them instead can save you money. Can everyone switch to a lower brand or have them less to help the saving top up?
7. Cut everything into shapes – this works wonders for younger kids! Everything goes from fruit to sandwiches.
8. Keep it simple – saving money doesn't have to be hard. Buy food that you all like but start at the bottom brand wise and make your way up. Nine times out of ten the kids won't even notice that they aren't eating branded items.
9. Create your own duct table reusable lunch bags. Great for picnics and weekends out.
10. Be prepared – saving money doesn't mean extra work. You can make sandwiches the night before and prepare meals in a slow cooker or cut vegetables before you need them. There's nothing like coming home to a meal ready and waiting for you.
11. Join our FREE saving money help in our Money Saving Mums Facebook group. Our safe community of parents are all in the same boat as you. Becoming debt free isn't easy but together we can all help each other.
12. Use money managing apps like Snoop to keep your shopping bill under control. Using an app like Snoop* can really help you keep your money in check.
Snoop* can help you build up your savings while showing you exactly where your money is going. You can link all your accounts to it. It's very transparent! It's free to use and perfect if you prefer all your knowledge in one place.
13. Join our FREE six-week money saving course that can help you save up to £300 a month. Come join us now!
14. Go through all your bills and check you're on the best deal. This should be done at least every 6 months. We all know we should be doing it regularly and it really can save you money.
If the whole idea fills you with dread then have a look at Bulb*. They make switching really simple, promote going green and also offer you a bonus when you switch.
15. We recently swapped to Bulb and saved over £100. You can get a quote here and find out how much you could save. It costs nothing to find out.
16. Use cashbacks if you shop online for anything.
We recommend Quidco, OhMyDosh and Swagbucks. You get money off whenever you shop online through their sites which can really come in handy. It doesn't cost you a penny to use them. If you make a purchase through their site you receive the money. It's that simple!
Quidco – We use Quidco*for cashback on things like insurance and day to day shopping. Join Quidco today and get a £10 cashback bonus when you make your first purchase*.
OhMyDosh – Is a great cash back website to use. It's easy and they pay out when you reach £10.
Join OhMyDosh* for free here and have £1 added to your account for free.
Swagbucks* is great for earning free gift cards and cash when you do normal things online like watching videos, searching the web and answering survey questions.
Join Swagbucks for free here*.
Slimming World recipes
Slimming World meals are great for the whole family. Not only are they good for you but they the kids a good basis on what moderation eating really means. Nothing is a huge no. It's all about eating right 98% of the time and having little treats to say well done.
The below 71 Slimming World vegan meal ideas cover all meals except snacks. All can be made on a budget and are family-friendly and easy to make.
If you're looking for more vegan meal ideas then please check out these posts below:
51 Quick Vegan Meals on a Budget – These are our best vegan meals that are perfect for the whole family. they are budget-friendly and really easy to make.
21 Vegan Breakfast Ideas For The Whole Family On A Budget – We always struggle with what to have for breakfast! If you do to then have a look at our post here which is full of great ideas.
If you're looking for more Slimming World meal ideas then have a look at:
Aldi Slimming World Shopping List – Fill up your meal plan by using our Aldi Slimming World shopping list. This list includes everything from drinks, to desserts to ready meals and everything in between.
69 Slimming World Packed Lunch Ideas – If lunch time is a struggle then have a look at our packed lunch ideas here which can help you to meal plan and stay on track.
75 Slimming World Vegetarian Recipes That The Whole Family Will Enjoy – These Slimming World meals are really easy to cook and budget-friendly.
If your family like to try something different then have a look at Spicentice*. They offer quick meal ideas through spice packs. They are vegan and slimming friendly and serve a family of four. If you are a beginner cook then these are perfect as they have the exact ingredients on the back and really detailed instructions on how to cook the meal.
We tried them for a week and loved them. If you would like to give Spicentice* a go then remember to use my code LASAVE20 for 20% off at the checkout.
Slimming World vegan recipes
These family meal ideas mean that you can use these every week to fill your meal planner up and not have to think. Make sure you print off our FREE meal planner to by joining our Resource Vault.
All these recipes are low fat or healthy which can help you with your weight loss journey if that's what you want.
You can also print these off at the bottom of this post for free.
Vegan Breakfast Ideas
2. Quinoa porridge
3. Tomato bruscetta
4. Fruit salad with overnight oats
5. Guacamole toast
6. Oatmeal waffles
7. Chickpea omlette
8. Baked granola bars
9. Breakfast sandwich
10. French toast
11. Banana nut oat meal
12. Frittata
13. Fry up
14. Breakfast muffins
Vegan Lunch Ideas
15. Sweet potato and carrot soup
16. Quinoa salad
17. Tofu tacos
18. Chickpea salad
19. Bean vegetable soup
20. Vegetable couscous
21. Carrot & coriander soup
22. Vegetable tagine
23. Burritos
24. Spicy rice
25. Chickpea sub sandwich
26. Spicy noodles with homemade hosin sauce
27. One pot casserole
28. Satay curry
29. Courgette risotto
30. Vegetable tarts
31. Butternut risotto
32. Parsnip soup
33. Beetroot and garlic soup
34. Lentil soup
35. Chickpea and tomato soup
36. Cauliflower soup with roasted carrots
37. Carrot and bean soup
38. Sweetcorn and leak soup
39. Butternut squash and brown rice curried soup
40. Pumpkin soup
41. Falafel
Related Posts:
Vegan Dinner Ideas
43. Stuffed sweet potatoes
44. Chickpea curry
45. Vegan tacos
46. Portobello fajitas
47. Tofu steak burger
48. Quesadillas
50. Saag Aloo
51. Coconut curry
52. Vegan meatball marinara
53. Avocado pasta
54. Salt and pepper Tofu
55. Homemade pizza
56. Pasta Alfredo vegan-style
57. One pot puttanesca
58. Black bean curry
59. Lentil dhal
60. Syn free roasted potatoes, parsnips and carrots with grilled courgette
61. Syn free vegetable and bean soup
62. Vegan lentil dumplings
63. Creamy coconut mushroom lentils
64. 5 spice chickpeas
65. Syn free peri peri rice
66. Coconut vegetable curry
67. One pot yellow pasta
68. Squash curry
69. Tomato pasta
70. Lentil Bolognese
71. Lentils and spinach hot pot
Remember that a lot of these can be cook beforehand and frozen for another day. It's really easy to spice these up or down by using what you have in your kitchen cupboards as well.
None of these needs to cost you the earth. By buying as much as possible frozen, even the vegetables means that you only have to grab the amount you need.
Don't forget your slow cooker too. We use ours weekly when we know that we are going to be out and about without time to cook a good meal.
Laura x
If you enjoyed this post and would like some more family friendly budget recipes or meal plan ideas, then head over to the budget food section here on Savings 4 Savvy Mums where you'll find over 30 cheap posts dedicated to helping you cook and shop wiser for less. There's enough tips to help you save over £300 a month! You could also pop over and follow my family food Pinterest boards for lots more ideas on how to eat well and spend less; Family Meal Plans on a Budget, Budget Family Meals & Budget Slimming World Recipes for Families.
Love this post? Then why not save it to Pinterest so you can easily find it later.
What the * means
If a link has an * by it, then this means it is an affiliate link and helps S4SM stay free for all. If you use the link, it may mean that we receive a very small payment. It will not cost you anymore that it would normally.
You shouldn't notice any difference and the link will never negatively impact the product. The items we write about are NEVER dictated by these links. We aim to look at all products on the market. If it isn't possible to get an affiliate link, then the link, or product is still included in the same way, just with a non-paying link.
71 Budget Vegan Slimming World Recipes for the Whole Family
The below 71 Slimming World vegan meal ideas cover all meals except snacks. All can be made on a budget and are family-friendly and easy to make.
Vegan Breakfast Ideas
2. Quinoa porridge
3. Tomato bruscetta
4. Fruit salad with overnight oats
5. Guacamole toast
8. Baked granola bars
9. Breakfast sandwich
10. French toast
11. Banana nut oat meal
12. Frittata
13. Fry up
14. Breakfast muffins
Vegan Lunch Ideas
15. Falafel
16. Quinoa salad
17. Tofu tacos
18. Chickpea salad
19. Bean vegetable soup
20. Vegetable couscous
21. Carrot & coriander soup
22. Vegetable tagine
23. Burritos
24. Spicy rice
25. Chickpea sub sandwich
26. Spicy noodles with homemade hosin sauce
27. One pot casserole
28. Satay curry
29. Courgette risotto
30. Vegetable tarts
31. Butternut risotto
32. Parsnip soup
33. Beetroot and garlic soup
34. Lentil soup
35. Chickpea and tomato soup
36. Cauliflower soup with roasted carrots
37. Carrot and bean soup
38. Sweetcorn and leak soup
39. Butternut squash and brown rice curried soup
40. Pumpkin soup
41. Sweet potato and carrot soup
Vegan Dinner Ideas
42. Stir fry
43. Stuffed sweet potatoes
44. Red thai curry
45. Lemon Fettuccine Alfredo
46. Portobello fajitas
47. Tofu steak burger
48. Quesadillas
50. Saag Aloo
51. Coconut curry
52. Vegan meatball marinara
53. Avocado pasta
54. Salt and pepper Tofu
55. Homemade pizza
56. Pasta Alfredo vegan-style
57. One pot puttanesca
58. Black bean curry
59. Lentil dhal
60. Syn free roasted potatoes, parsnips and carrots with grilled courgette
61. Syn free vegetable and bean soup
62. Vegan lentil dumplings
63. Creamy coconut mushroom lentils
64. 5 spice chickpeas
65. Syn free peri peri rice
66. Coconut vegetable curry
67. One pot yellow pasta
68. Squash curry
69. Tomato pasta
70. Lentil Bolognese
71. Lentils and spinach hot pot