This is the best vegan chickpea curry recipe you'll ever eat
This is a really easy chickpea curry that is perfect for the whole family. It costs under £1 a head for 4 people and you can use all your cupboard staples with it including tins of chickpeas, tomatoes, and loads of ground spices.
This easy vegan chickpea curry works great in the slow cooker as well. You will need to make the paste but apart from that, everything else could just be chucked in and left until you got home.
If you are looking for more £1 family meals then have a look at:
The Ultimate £1 Per Head Budget Meal Planning List – This is our full list of £1 a head family meals. Use this when you are trying to think of budget-friendly meals that will help you fill up your meal plan.
21 Cheap Meals for a Week for a Family – This includes a meal plan that you can use. These meals all come in at under £1 a head for 4 people to help you keep your shopping bill down.
31 Aldi Slow Cooker Recipes For The Whole Family – If you love your slow cooker then have a look at this post. This gives you loads of ideas that you can use.
Free money saving printables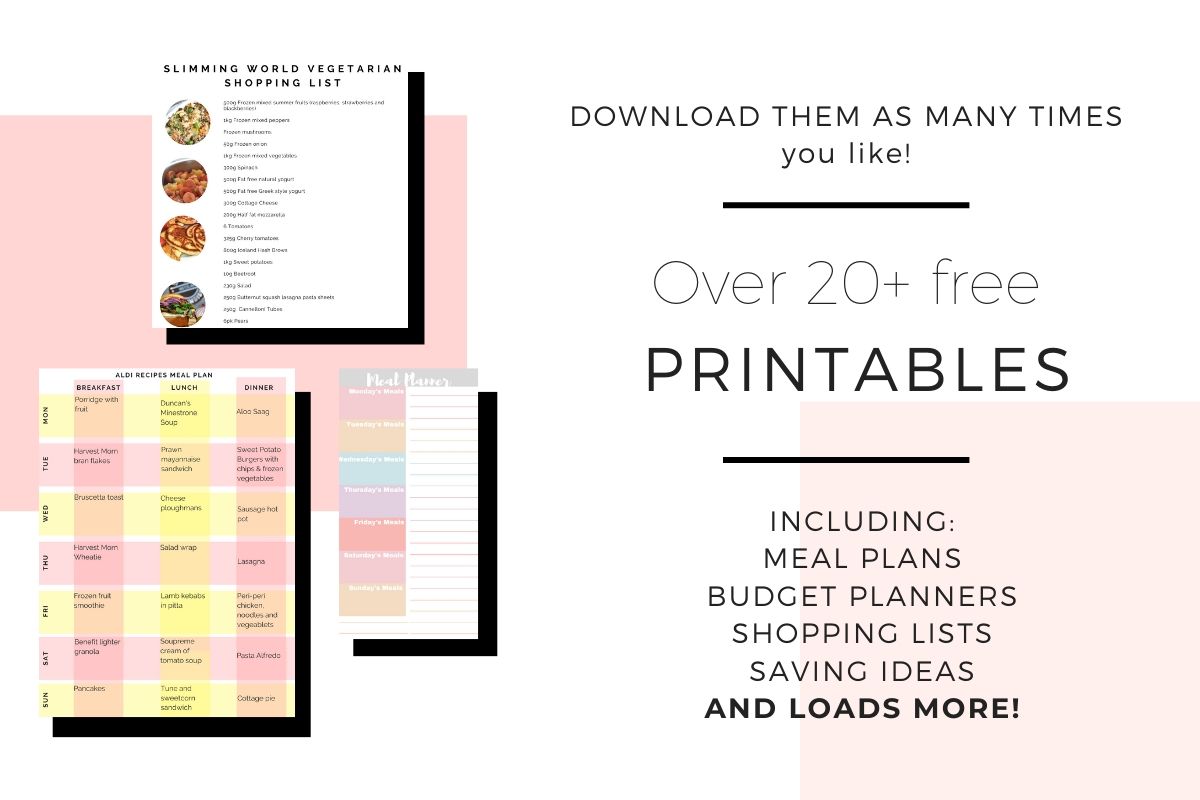 If you are looking for more meal plans and shopping lists then come join our free Resource Vault. It's packed full of printables that you can use again and again.
Come join our free Resource Vault here
(By joining giving us your email address you are consenting to us emailing you about our other travel, home and lifestyle ideas. You can unsubscribe at any time by clicking the link at the bottom of every email.)
Saving money on food
If you are struggling to keep your food bill down then please use our tips here to help you save more money on your food shop.
Meal plan – It's so simple, we all should be doing it. Just by looking through your cupboards, fridge, and freezer, you can plan what you need, and what you plan on eating that week. Don't feel like it needs to be set in stone though. If you have leftovers in the freezer and prefer them, use them, just stick what you were going to eat in the freezer for next time.
Cook from scratch – Start with the basics that you eat. So, we when started cooking from scratch our favourite meal was Spaghetti Bolgense but it was all out of a jar. We learned to make the sauce ourselves, which is cheaper and healthier and you can make extra for pasta sauces when you are in a rush.
Use your slow cooker – If you are time-poor then have a look at a slow cooker. Owning a slow cooker means that you can just dump all your food in it in the morning and come home to an amazing meal that's all ready for you.
Buy frozen – You don't need to buy all your fruit and vegetables fresh. Think about buying them frozen. Not only does it work out cheaper, it means that they won't go off and many are pre-cut.
Cooking from scratch
If you are worried about cooking from scratch or you are a beginner home cook then this quick chickpea curry is a great place to start.
You can also have a look at Spicentice. They send out packets of spices with easy to follow instructions so you can make a meal from scratch.
They are great to use if you are new to cooking from scratch or if you are looking to get your family eating new budget-friendly meals and have no clue where to start.
We tried them at the start of this year and loved them. We got stuck in a food rut and they helped by giving us ideas while keeping our food budget really low.
What we love the most is that they are vegan and Slimming World friendly. We kept all the little cards so that we can remake the recipe again and again.
If you'd like to try Spicentice yourself then make sure you use our link here with our code LASAVE20 to get 20% off every purchase.*
We made the below meals using Spicentice. Try them for yourself here:
Beginner Chilli Con Carne Recipe for Just 95p a Head
Vegan Shepherd's Pie For Just 82p Per Portion
Spaghetti Meatball Recipe For 73p a Head
Easy Chicken Fajita Recipe: A Family Meal for 94p a Person
Chinese Chicken Curry For Just £1.54 For 4
Really Easy Homemade Beef Burgers For Under £1 a Head
The Best Southern Fried Chicken Recipe For Under £1 a Head
Chicken Tikka Masala Curry For Under £4 a Head
The Best Katsu Curry Recipe For Under £1 a Head
The Best Firecracker Chicken For Just 99p a Head
Easy chickpea curry recipe
Cook time for this simple chickpea curry is about 20 minutes depending on how you like your chickpeas. We like ours really soft so tend to wait until the liquid has reduced quite a lot.
If you like your curry spicy then you could add some curry powder or red pepper. To help make this creamy you could add yogurt as well as coconut milk. You could also add a dash of lime juice.
If you are using the slow cooker then we would suggest you make the paste as below and then add everything to the slow cooker. Put it on high heat for 6 – 8 hours as the liquid does need to reduce.
For the paste
2 tbsp oil 5p
100g frozen onion 25p
5g dried chilli 5p
9 garlic cloves 25p
5g ground ginger 5p
5g ground coriander 5p
7g ground cumin 5p
5g garam masala 5p
10g tomato purée 11p
For the curry
2 x 400g tin chickpeas £1.10
400g tin canned tomatoes 42p
100g tin coconut milk (optional) 18p
100g spinach (optional) 20p
250g rice 40p
Total: £3.21 that's 80p for 4 people.
Start by making the paste. Add the oil then fry off over medium heat with the onion and chili flakes until the onion is clear.
This is when you want to put the rice on as per the packet instructions.
Whizz up the garlic cloves, ginger, coriander, cumin, garam masala, tomato purée, and salt. Once it's turned into a smooth paste, add it to the pan. Stirring occasionally will help the paste not stick to the pan or wok.
Drain the chickpeas and add them and the chopped tomatoes to the pan. Turn the heat down and simmer for 5 minutes. This will help all the liquid to reduce down.
Related Posts:
If you like your curry creamy, then add the coconut milk and keep reducing it down for another 5-10 minutes. When the curry is ready, add the spinach.
If the kids prefer it smooth then use a hand blender to make the curry more like a paste.
Then serve in little bowls with the basmati rice on the side.
Laura x
If you enjoyed this post and would like some more family friendly budget recipes or meal plan ideas, then head over to the budget food section here on Savings 4 Savvy Mums where you'll find over 30 cheap posts dedicated to helping you cook and shop wiser for less. There's enough tips to help you save over £300 a month! You could also pop over and follow my family food Pinterest boards for lots more ideas on how to eat well and spend less; Family Meal Plans on a Budget, Budget Family Meals & Budget Slimming World Recipes for Families.
Love this post? Then why not save it to Pinterest so you can easily find it later.
What the * means
If a link has an * by it, then this means it is an affiliate link and helps S4SM stay free for all. If you use the link, it may mean that we receive a very small payment. It will not cost you anymore that it would normally.
You shouldn't notice any difference and the link will never negatively impact the product. The items we write about are NEVER dictated by these links. We aim to look at all products on the market. If it isn't possible to get an affiliate link, then the link, or product is still included in the same way, just with a non-paying link.