Including a one month free Aldi slow cooker meal plan and Aldi shopping list
Do you struggle to cook family meals on a budget? It doesn't matter how many kids you have, buying the food, making dinner and getting everyone to eat the same meal is a full-time job.
Keeping to a strict budget is nearly impossible if no one eats the same meals. The thought of prepping an evening meal can put most of us off meaning that we turn to easy yet expensive convenience food.
Having a slow cooker and a bunch of slow cooker family meals on tap is a great way to bring down your grocery food shop while feeding everyone a great meal. You don't even all have to be there at the same time to enjoy the meal. The great thing about a slow cooker is that you can leave it in there for later. Perfect if anyone has evening clubs to get too or if anyone works shifts.
Keep reading below for our 31 Aldi slow cooker recipes that the whole family will love.
Save Money on Daily Life
If you're struggling to save money then why not join our FREE money saving course that takes you step by step through saving money as a family. All simple steps to help you build an emergency fund or save towards that mega holiday.
Join our FREE Money Saving Course here and I can't wait to see how I can help you!
Family Meal Ideas
Being prepared is the key here. Meal planning and knowing what staples you have in the kitchen can really save you money.
Owning a slow cooker makes preparing food so much easier. You can even make them ahead of time to be ready when you get in and use them as leftovers if you too much.
Before you do anything though make sure you have a great slow cooker. We use a slow cooker that has different heat settings.
Then the week before you plan to use your slow cooker or even shop, start by using these 4 tips to really get your food shopping bill down.
Meal Plan Sheets
Depending on how comfortable you are, either find a spare pad or print out 8-10 copies of a weekly meal plan sheet.
You'll need enough space to write down a simple menu for each day and a shopping list as you go.
You can make your own weekly meal plan or download my meal plans and shopping lists for free from the Resource Vault. Having several copies on hand will help inspire you to get started and keep up the meal plans for several weeks.
If you've never meal planned before then start here by reading how it can save you hundreds of pounds!
Look at the below stores to see if you can save some money:
Get FREE FOOD with this app: checkoutsmart*
Muscle Food lean meat hamper – muscle food*
Get your groceries up to 70% off RRP – approved food*
Remember to come join our FREE Facebook Group for all the latest deals, freebies and quick family money saving tips!
Of course there are plenty of other ways to save money, and once you start seeking them out then you will be amazed at what you find.
Every time you buy online you could be getting cashback. Have a look at:
Go to these sites first before you buy anything online and see if you can get money back. Anything goes from hotel stays to toys and train tickets.
Use apps to save money
Use an app like Plum* to keep track of your spending and to help you save. Using Plum* can help you build up your savings, pay off dent quicker and invest to make your money work harder. It's free to join!
Join a challenge
Join our 6-week FREE money saving course that walks you through how you can save your family money. No filler. Just real tips and advice from us on how we save money daily.
Related Posts:
Easy Slow Cooker Recipes UK
The good thing about a slow cooker is that you can set it off in the morning and leave it till you need it.
If you're not convinced that it will work for you, why not try swapping two meals a week to one of our slow cooker recipes below.
All the ingredients for these recipes can be brought in Aldi and can be swapped and changed depending on your mood. All use your basic kitchen staples. Just remember to re-add them to your shopping list as you use them.
If you are looking for more Aldi meal ideas then try:
Grab your free Aldi Dinner Meal Plan here.
21 Budget Family Meals and a £16 Aldi Meal Plan
For £1 family meal ideas then have a look at:
31 Cheap Family Meals That Are Under £1 a Head
A Week of Budget Family Meals For Under £1 a Head
The Ultimate £1 Per Head Budget Meal Planning List
Aldi Slow Cooker Recipes
We all know that slow cooking food is a budget-friendly way to cook, but by adding frozen vegetables, pulses, and cheap cuts, the price of a meal really does plummet.
If you can't handle thinking about a month's worth of food then do a week and go from there. Try and think about the meats you are going to use. Is it cheaper to buy a bigger piece of meat if it does two meals? What food waste will you have? Can you use anything in the slow cooker recipe to make sure you have/haven't got any leftovers?
If you need to be ultra-frugal this week then try one of these 7 frugal Aldi slow cooker recipes that come in under £1 a head. These are based on a family of four with a basic amount of kitchen staples to use. All prices are based on Aldi and are correct when published.)
Sweet Potato & Coconut Curry
This soft and smooth slow cooked curry is packed full of kitchen staples. Add frozen peppers and onions to keep the price low too. Adding in the coconut milk and peanut butter makes this a really easy gluten-free recipe for all.
Spaghetti with Garlic Mushrooms
Use our basic Bolognese sauce and leave it to cook day. Chuck in the mushrooms near the end while the spaghetti is cooking. Perfect for those "can't be bothered" days.
Veggie Shepherd's Pie
Try and eat one meat-free meal a week, and this Shepherd's Pie is one of our all-time favs. Hide the lentils easily and mash sweet and normal potatoes for an extra bit of flavor.
Beans with Potato Wedges
Leave the bacon out of this bean recipe to half the price, and it makes a great leftover dish.
Bean Sausage Stew
You find another recipe cheaper than this Sausage Stew! Everything is pulled from your kitchen staples. We like ours with baked potatoes or crusty bread.
Mac 'n' Cheese
This is the perfect Mac 'n' Cheese for a Friday night treat.
Spag Bol
So simple you can do this with your eyes (almost) closed. Use frozen mince, onions, and peppers and chuck it all in with our Bolognese sauce. Leave to cook all day and you won't be disappointed.
Our Low Cost & Healthy Slow Cooked Traditional Spaghetti Bolognese 97p a head is here.
We rotate these seven easy slow cooker meals throughout the month and add our Aldi slow cooker recipes below depending on what the family fancies.
If you're looking for more Aldi recipes, then try our 101 Aldi Recipes That Will Give You Dinner Ideas For Tonight post here.
1. Slow cooked ribs
2. Irish stew
4. Chicken and dumplings
5. BBQ Chicken
6. Beef stew
7. Garlic Cheese Chicken
8. Pot roast
9. Cola gammon
10. Beef Stroganoff
11. Chicken Enchiladas
12. Ham and Potato Casserole
13. Tomato chicken
14. Sweet and sour chicken
15. Creamy chicken
16. Whole bird (like turkey or chicken) Use up all your leftovers with these 7 leftover dinner ideas
17. Salsa chicken
18. Lasagna
19. Sticky tomato pasta
20. Fajita Casserole
21. Sweet potato soup
22. Cheeseburgers
23. Cheesy pasta bake
Simple Aldi Meal Plan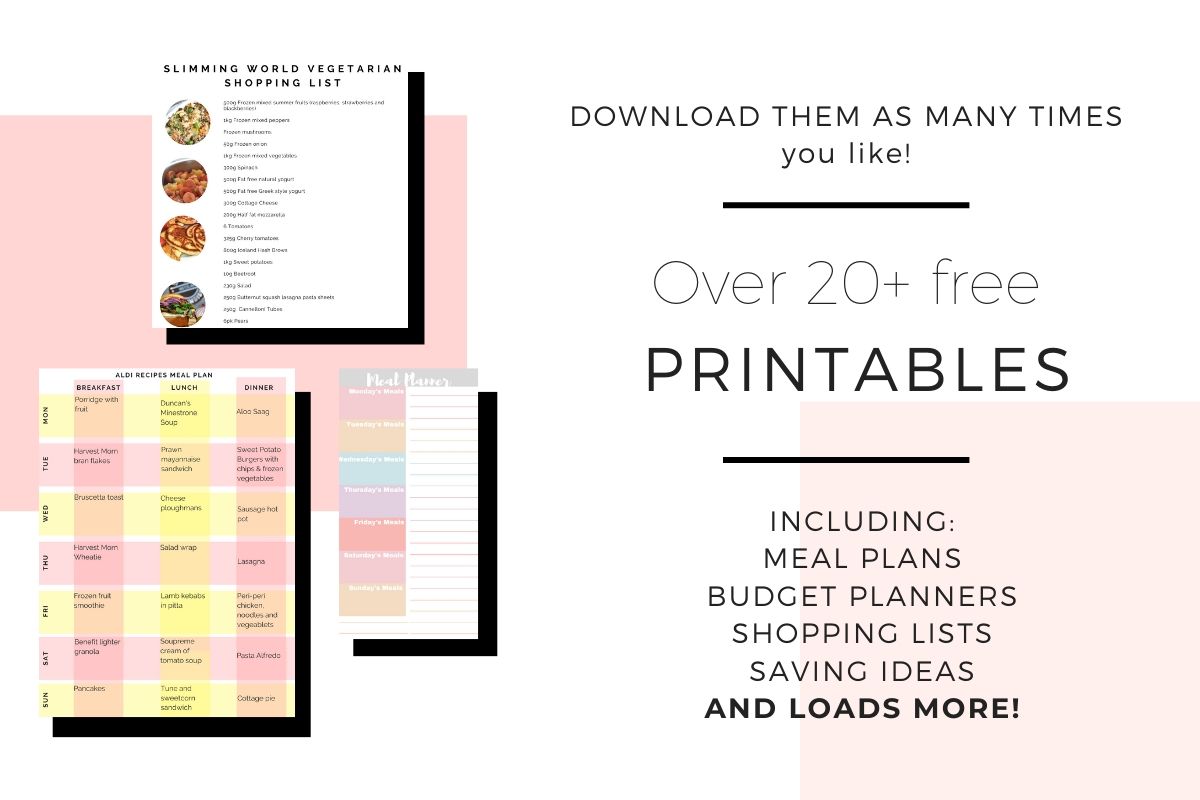 If you find meal planning hard then come join our Facebook group Money Saving Mums and get access to The Resource Vault with access to over 15+ money saving printables. This includes our easy slow cooker meals meal plan, available exclusively to subscribers!
Join our free Resource Vault here
(By joining giving us your email address you are consenting to us emailing you about our other travel, home and days out ideas. You can unsubscribe at any time by clicking the link at the bottom of every email.)
This really goes take the guesswork and thinking out of trying to cook or fill a meal plan.
If you've never meal planned before then please read our post on how to get started with meal planning here. It really can save you hundreds of pounds! It gives you a plan you can use to help you buy food more wisely and stop you staring in the fridge for 5 minutes trying to think what to make for dinner tonight.
Laura x
If you enjoyed this post and would like some more family friendly budget recipes or meal plan ideas, then head over to the budget food section here on Savings 4 Savvy Mums where you'll find over 30 cheap posts dedicated to helping you cook and shop wiser for less. There's enough tips to help you save over £300 a month! You could also pop over and follow my family food Pinterest boards for lots more ideas on how to eat well and spend less; Family Meal Plans on a Budget, Budget Family Meals & Budget Slimming World Recipes for Families.
Love this post? Then why not save it to Pinterest so you can easily find it later.
What the * means
If a link has an * by it, then this means it is an affiliate link and helps S4SM stay free for all. If you use the link, it may mean that we receive a very small payment. It will not cost you anymore that it would normally.
You shouldn't notice any difference and the link will never negatively impact the product. The items we write about are NEVER dictated by these links. We aim to look at all products on the market. If it isn't possible to get an affiliate link, then the link, or product is still included in the same way, just with a non-paying link.