These are easy slow cooker recipes
Slow cookers are great for making cheap and easy meals and require very little effort on the cooking front. The below slow cooker family meals are perfect if you need to keep your family food shop down.
Using a family slow cooker are perfect if you're a busy family. You can make all the meals in the morning then come home to a gorgeous dinner already made.
When looking for recipe ideas for your slow cooker, try and avoid those that need loads of preparation or checking on, as the best part of owning a slow cooker is being able to chuck everything in and then leaving it.
If you're worried about leftovers then why not try food pooling? It's like a massive meal swap. You can team up with as many families as you like (we do it on and off with three other families) and only cook meals once, just in bulk!
Having a supper club set up means that you don't have to worry about meal planning throughout the working week but your family still gets to eat a home-cooked meal. It's great if you're worried about how leftovers that you just aren't going to use. Read more about food pooling here and about how it could save you money.
Money saving printables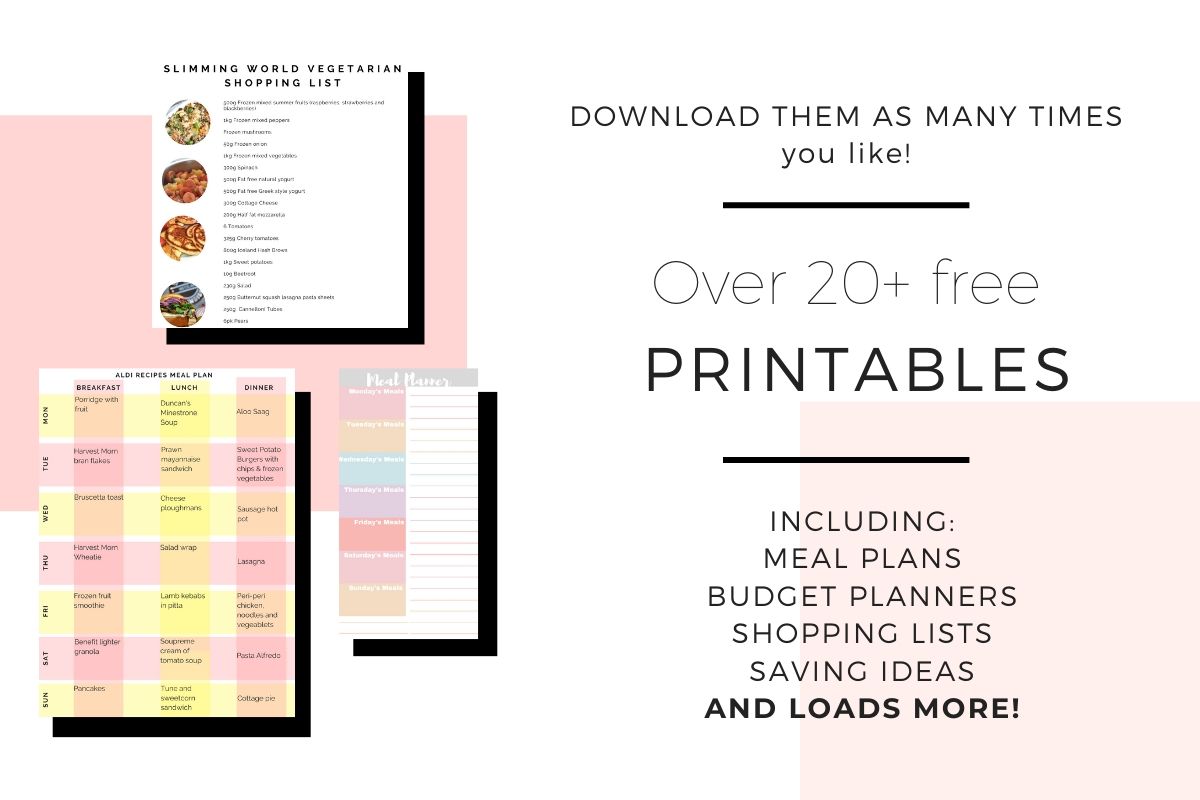 If you are looking for more ways to save money then come join our free Resource Vault. It's packed full of meal plans and shopping lists you can use over and over again!
Come join our Resource Vault here
(By joining giving us your email address you are consenting to us emailing you about our other travel, home and lifestyle ideas. You can unsubscribe at any time by clicking the link at the bottom of every email.)
Slow cooker family meals
If you're using a family-sized slow cooker then here are our 5 top tips to getting the most out of it. You can use your slow cooker to cook chicken, beef, gammon etc. You name it you can cook it in a slow cooker. We use a slow cooker like this but any with a temperature gauge is good.
1. Slow cooker chicken: Chicken thighs are the best for a slow cooker. Slow cookers tend to overcook meat but a thigh is a perfect cut with a small amount of liquid to keep it moist.
2. Voltage matters: If your food is sticking to the bottom of the pan even on low heat it could mean you're getting a higher voltage through your slow cooker then you should.
3. You may want to pre-cook your meat or onion first, but there really is no need if you don't have the time.
4. Dried spices work: Don't worry about buying expensive fresh spice. The dried ones from your kitchen staples work perfectly.
5. The cheapest cuts of meats and frozen vegetables work!
If your family are vegan or vegetarian then there are still loads of ways that you can save.
It's not easy to ensure your whole family are getting the right nutrients, especially if someone in your family has a dairy intolerance.
Doing a vegan or vegetarian grocery list on a budget is almost impossible, with many household food bills coming in at over £100 a week!
Read our easy vegan meal plan for beginners here or our vegetarian meal plan here. None of these are set in stone, and can be changed up depending on what your family like to eat.
71 Budget Vegan Slimming World Recipes for the Whole Family
75 Slimming World Vegetarian Recipes That The Whole Family Will Enjoy
Slow cooker family meals on a budget
There are loads of slow cooker recipes for kids out there, but the best ones are made from cheaper cuts of meats with vegetables to bulk them out. Trust me, no one will be any the wiser. If you do want quality meat that's cheaper than try Muscle Foods, who deliver fresh meat direct to your door.
Cooking the dishes on low works well and really helps bring out the flavors.
Slow cookers are designed to be left alone. Every time you open that lid it releases heat and may mean you have to cook for longer.
So here are nine cheap and easy slow cooker meals that even the kids will enjoy!
Prices are average and are calculated using Asda as a guideline. I'm assuming that you have the basic kitchen staples. Our full list of kitchen staples can be found here. It's always worth keeping them stocked up if you can. Alternative ingredients can be used without compromising recipe. Based on four people.
If you are looking for more £1 family meals on a budget then have a look at:
The Ultimate £1 Per Head Budget Meal Planning List – This has a huge list of £1 a head family meals that will help you bring the cost of your food shop down. All are easy to make and taste great as leftovers too.
Feeding a Family on a Budget: This Weekly Shop is Just £18 – This is a £18 a week shop when you really need to cut down on your spending. There's no thrills here but good food that could help you save a few pounds when you really need it.
One Month of Family Meal Ideas on a Budget – This post gives you a month of budget meals that could save you money. This takes the thinking out of meal planning and means that you can shop for less.
Sweet Potato & Carrot Soup
This sweet potato and carrot soup recipe can be made in a pan or in the slow cooker. We make this Sweet Potato and Carrot soup recipe here.
500g chopped and cubed sweet potatoes 57p
300g chopped and cubed carrots 20p
3 tbsp olive oil 2p
2 onions 20p
2 garlic cloves 5p
1L vegetable stock 5p
100ml crème fraiche 36p
1 pinch chilli flakes 2p
Total: £1.47 which is just 36p per head.
Spaghetti Meatball Recipe
This Spaghetti Meatball recipe comes in at under £1 a head. It's easy to cook and you can make it the night before if you don't have time that day. Read how we make our Spaghetti Meatball recipe here.
500g minced meat £1.99
2 onion 16p
3 glove garlic 7p
1 egg 10p
1 tsp salt 2p
2 tsp low cal spray 10p
1 tin passata 32p
1 tbsp balsamic vinegar 3p
Half tablespoon sugar 5p
Half tablespoon salt 3p
210g Spaghetti 8p
Total: £2.95 = 73p a head
Chinese Chicken Curry
This Chinese Chicken Curry makes a great fakeaway recipe for the whole family. This comes in at under £1 a head for a family four and is so easy to make in a slow cooker or in a wok. Read how we make our Chinese Chicken Curry For Just £1.54 For 4.
2 chicken breasts 65p
2 onions 16p
Small piece of ginger 15p
2 garlic cloves 6p
400ml chicken stock 3p
2 tbsp low cal spray 10p
3 tbsp plain flour 10p
1 tsp sugar 5p
180g Rice 24p
Total: £1.54 (All prices from Aldi and correct at time of publishing)
Chickpea Curry
This is a simple vegan curry that can be made in a wok or in a slow cooker. All these ingredients are cupboard staples. This also makes a great leftover lunch for the next day. This Chickpea curry comes in at under £1 a head.
1 tin chickpeas 33p
2 onions 20p
2 garlic cloves 5p
Tsp dried ginger 2p
1 tin tomatoes 28p
half tsp sugar 2p
Total: 90p thats 22p for head.
Sweet Potato Curry
This easy non-spicy slow cooked curry recipe that can handle any meat. It looks like a long ingredient list but most of these are kitchen staples. You can add any vegetable too and just mash it all at the end.
1 large onion 19p
2 tsp curry power 5p
1 green pepper 30p
2 garlic clove 4
1 tbsp sunflower oil 1p
400g can chopped tomato 25p
300g of boiled sweet potato 25p
2 tbsp mango chutney 4
rice 20p, naan bread 45p
Total: £1.78 that's 45p a head.
Slow Cooked Ribs
Despite their restaurant prices, spare ribs are actually one of the cheapest meat you can buy. This uses barbecue sauce and cooks them slow for tenderness.
1kg Pork ribs £2
350g Barbecue Sauce £1
2 stock cubes 4p
2 bay leaves 2p
tsp coriander seeds 2p
tsp mustard seed 2p
tsp peppercorn 2p
Total: £3.12 that's 78p a head.
Spaghetti Bolognese
This spaghetti bolognese recipe is so simple and the longer you leave it in the more intense the flavour.
The sauce can be left to cook all day, ready to be mixed with freshly-cooked pasta when you get home. Here's how we cook our amazingly tasty Spaghetti Bolognese that comes in at under £1 a head.
1 onion chopped 22p
1 tbsp tomato puree 10p
2 tins chopped tomato 58p
1 tbsp caster sugar or to taste 4p
1 celery stick chopped 10p
250g minced beef 83p
1 carrot chopped 7p
2 cloves garlic chopped 4p
1 tsp oregano 2p
2 large mushrooms chopped 75p
1 beef stock cubes 6p
1 hand full Parmesan for sprinkling 20p.
Total: £3.01, that's 75p a head.
Irish Stew
We don't eat a lot of meat due to its cost, but when we do, we look for the middle neck of the lamb. This budget stew does need to be cooked on low to make sure its soft to eat but is tender after a day of cooking.
This dish can be bulked out with potatoes, and the cooking liquor is optional.
tbsp oil 5p
100g bacon 56p
400g lamb £1.50
onion 22p
2 carrots 18p
2 potatoes 46p
2 stock cubes 12p
Leek 52p
Total: £3.61 that's 90p a head.
Chilli Con Carne
This kid-friendly beef mince chili is an easy family meal. Just pop all the ingredients into the slow cooker together and your job is done. Leftovers taste even better the next day too.
Our Chilli Con Carne recipe comes in at under £1 a head.
tbsp. oil 5p,
onion 22p
2 garlic cloves 60p
450g mince £1.50
tsp cumin 9p
tsp paprika 9p
tsp oregano 9p
tsp chilli flakes 9p
stock 6p
tomato paste 17p
400g kidney beans 30p
400g tinned tomatoes 34p
Total: £3.60 that's 90p a head.
Beans with Potato Wedges
You can make this budget-friendly bean with potato wedges recipe even cheaper by leaving the meat out. My kids love this for breakfast and I love the fact it can be frozen too.
3 tsp Oil 15p
1 onion 22p
2 rashes of bacon 26p
1 tsp sugar 4p
400g chopped tomatoes 29p
200ml stock 4p
410g can of cannellini beans 60p
1 tbsp white flour 4p
tsp mild chilli powder 9p
tsp dried mixed herbs 9p
2 potatoes 42p.
Total: £2.24 thats 56p a head.
Mac 'n' Cheese
Cheesy pasta is a family favourite in my house. Try it in the slow cooker for an extra easy weeknight dinner.
200g macaroni pasta 13p
200g cheese £1
100g plain flour 10p
stock cube 6p
25g butter 3p
Total: £1.32 that's 33p a head.
Slow Cooked Crumble
Stew the apples with jam and orange juice, then top it off with an oaty, spicy 'flapjack' crumble mix. Yum!
1kg apples £1.35
3 tbsp apricot jam 9p
orange 30p
140g porridge oats 19p
100g plain flour 10p
ground cinnamon 9p
100g butter 10p
100g sugar 30p
tbsp. syrup 10p
Total: £2.62 that's 65p a head.
Bread Pudding
Using leftover bread (I use any), and coated in a rich, cinnamon and nutmeg-scented custard helps this to become an easy dessert that will satisfy your kid's sugar cravings.
8 cups of old bread 44p
100g raisins 31p
2 cups of milk 48p
4 eggs 52p
100g sugar 30p
100g butter 10p
ground cinnamon 9p
vanilla extract 5p
ground nutmeg 9p.
Total: £2.38 that's 60p a head.
Slow cooker recipes for families
Having a bank of crock pot or slow cooking recipes to hand stops you from having to think about what you're going to cook.
Take the guesswork away and cook your family a healthy delicious meal within a few hours using one of the below 21 recipes that you can chuck in and leave.
These recipes are all mega easy and include meals like chicken curry and beef stew.
If you shop at Aldi or another budget supermarkets, then check out our One Month of Aldi Slow Cooker Recipes here.
1. Peri – Peri Chicken
2. Chicken Tikka Masala
3. Chicken and dumplings
4. BBQ Chicken
5. Beef stew
6. Garlic Cheese Chicken
7. Pot roast
8. Cola gammon
9. Beef Stroganoff
10. Chicken Enchiladas
11. Ham and Potato Casserole
12. Tomato chicken
13. Sweet and sour chicken
14. Creamy chicken
15. Whole bird (like turkey or chicken)
16. Salsa chicken
17. Lasagna
18. Sticky tomato pasta
19. Fajita Casserole
20. Chicken Balti
Meal Planning and Budget Planning
Being prepared is the key here. Meal planning and knowing what staples you have in the kitchen can really save you money.
Owning a slow cooker makes preparing food so much easier. You can even make them ahead of time to be ready when you get in and use them as leftovers if you too much.
Before you do anything though make sure you have a great slow cooker. We use a slow cooker that has different heat settings.
Then the week before you plan to use your slow cooker or even shop, start by using these 4 tips to really get your food shopping bill down.
1. Meal Plan Sheets – Depending on how comfortable you are, either find a spare pad or print out 8-10 copies of a weekly meal plan sheet.
You'll need enough space to write down a simple menu for each day and a shopping list as you go.
You can make your own weekly meal plan or download my meal plans and shopping lists for free from the Resource Vault. Having several copies on hand will help inspire you to get started and keep up the meal plans for several weeks.
If you've never meal planned before then start here by reading how it can save you hundreds of pounds!
2. Look at the below stores to see if you can save some money:
Get FREE FOOD with this app: checkoutsmart*
Muscle Food lean meat hamper – muscle food*
Get your groceries up to 70% off RRP – approved food*
Remember to come join our FREE Facebook Group for all the latest deals, freebies and quick family money saving tips!
Of course there are plenty of other ways to save money, and once you start seeking them out then you will be amazed at what you find.
Every time you buy online you could be getting cashback. Have a look at:
OhMyDosh – You can make money by buying your normal open shop through OhMyDosh. They are easy to use and payout once you've reached £10.
Sign up to OhMyDosh* here for free and get £1 added to your account for free.
Read what we think about OhMyDosh here.
Quidco – Quidco is a great and easy site to use. They offer great extra bonuses too.
Sign up for Quidco here for free.*
Swagbucks – Swagbucks is well know and an easy site to use if you've never used a cashback site before.
Sign up for Swagbucks here for free.
Go to these sites first before you buy anything online and see if you can get money back. Anything goes from hotel stays to toys and train tickets.
3. Use an app like Snoop to keep track of your spending and to help you save. Using Snoop* can help you build up your savings, pay off dent quicker and invest to make your money work harder. It's free to join!
4. Join our 6-week FREE money-saving course that walks you through how you can save your family money. No filler. Just real tips and advice from us on how we save money daily.
Related Posts:
The good thing about a slow cooker is that you can chuck almost anything in. Food waste can be a huge issue if you forget to meal plan or the kids have suddenly gone off a few meals so use what you have.
Buy wonky vegetables, make sure all your fridge items are stored correctly and shop weekly. It's been shown that if your fridge is empty the food in it stays cooler for longer. Read more about how you can reduce your family food waste here.
I hope these have helped you come up with some ideas this week on what you can cook in your slow cooker.
Laura x
If you enjoyed this post and would like some more family friendly budget recipes or meal plan ideas, then head over to the budget food section here on Savings 4 Savvy Mums where you'll find over 30 cheap posts dedicated to helping you cook and shop wiser for less. There's enough tips to help you save over £300 a month! You could also pop over and follow my family food Pinterest boards for lots more ideas on how to eat well and spend less; Family Meal Plans on a Budget, Budget Family Meals & Budget Slimming World Recipes for Families.
Love this post? Then why not save it to Pinterest so you can easily find it later.
What the * means
If a link has an * by it, then this means it is an affiliate link and helps S4SM stay free for all. If you use the link, it may mean that we receive a very small payment. It will not cost you anymore that it would normally.
You shouldn't notice any difference and the link will never negatively impact the product. The items we write about are NEVER dictated by these links. We aim to look at all products on the market. If it isn't possible to get an affiliate link, then the link, or product is still included in the same way, just with a non-paying link.