Including how to feed a family of four on £2.50 a day
Feeding the family on a budget isn't easy, but with these tasty budget meals below, you can make feeding your family not only more affordable but less stressful too.
You really can feed your family on just £2.50 a day. By using your store cupboard ingredients and meal planning before you shop.
Cheap meals for a week for a family
If you are struggling to fill up your meal plan every week then have a look at our 31 meal ideas below. This gives you a month on breakfast, lunch and dinner ideas that you can use.
These are all extremely cheap meals, many coming in at under £1 a head. Make sure you have a look at at our full list of £1 meals here:
The Ultimate Budget Meal Planning List: 31 Meals Under £1 Per Serving
Feeding a Family on a Budget: This Weekly Shop is Just £18
21 Budget Family Meals and a £16 Aldi Meal Plan
Breakfast
1. Eggless Pancakes: Vegan Pancakes For Just 56p
2. Porridge or overnight oats
3. Banana nut oatmeal
4. Frittata
5. Bagel & eggs
6. Jam filled muffins
7. French toast
8. Baked granola bars
9. Breakfast sandwich
10. Blueberry donuts
If you are looking for more breakfast ideas then have a look at our post here called 21 Vegan Breakfast Ideas For The Whole Family On A Budget.
Lunch
1. Cheap & Easy Sweet Potato & Carrot Soup for 44p
2. Turkey Carcass Soup: Cheap and Easy Lunch for just 37p a Head
3. Cheap and Easy Pancakes For Just 86p
4. Ham or cheese sandwiches
5. Homemade tomato soup
6. Scrambled egg toast with tomatoes
7. 3 egg omelette with your choice of filling (Bacon, Ham, Spinach, Tomatoes, Mushroom, Onion)
8. Roasted Stuffed Peppers
If you are looking for more budget lunch ideas then have a look at:
Our Slimming World lunch ideas here
Under £1 a head lunch ideas for toddlers here
Dinner
1. Low Cost & Healthy Slow Cooked Traditional Spaghetti Bolognese 97p a head
2. Turkey Stir Fry with Brown Rice: Feed Four for 67p a Head
3. An Easy Sweet & Sour Chicken Recipe For Just 58p
4. Beginner Chilli Con Carne Recipe for Just 95p a Head
5. Vegan Shepherd's Pie For Just 82p Per Portion
6. Spaghetti Meatball Recipe For 73p a Head
7. Easy Chicken Fajita Recipe: A Family Meal for 94p a Person
8. A baked potato with a choice of toppings
9. Italian Meatball marinara
10. Chinese Chicken Curry
11. Southern fried chicken
12. Beef burgers
13. Chicken Tikka Masala
If you are looking for more dinner meals on a budget then have a look at:
21 Cheap Meals for a Week for a Family
Family Meal Ideas on a Budget
If you're family are big meat eaters, and you're struggling to keep the food bill down, then there are a number of great butchers online that provide you with meat straight to your door fresh, but also for a lot less than you would normally find in your normal supermarket.
Muscle Foods offers fresh high-quality meat delivered directly to your door at a price that you can't compare to anyone else.
Another great idea is Spicentice. They are great for families that are stuck in a rut with food and want some help keeping to a budget.
We tried them at the start of the year and loved them. They send out little spice packs with full ingredients and detailed instructions on how to make the meal. They are perfect if you've never cooked from scratch before or you want to learn.
What we loved the most about them was that there was so many simple meal choices like homemade burgers and kebabs.
Try them yourself here by using our code LASAVE20 and save 20% off every purchase*.
Meal planning tips to save you money
Now, let's start saving your family money and take away the thinking process that happens when you try and meal plan.
Write Everything Down
As soon as you use it write it down on a list. you should be doing this everyday so that when it comes to shopping most of your list is done.
Go Through Your Store Cupboard
Before you go shopping, make sure you check what you have already. Can you make a meal out of what you have? That's a few less things to buy.
Remember that cupboard items are important too like dried chilli powder and pasta for days when you need a quick meal.
Use Cashback Sites
It's always best to check the cashback websites before you go shopping anyway. They offer loads of deals and you can really get money off by using them!
Our favorites are:
OhMyDosh – OhMyDosh is really to use and free! Search it before you shop for anything to see how much money you could get back.
Use our link here and get £1* added to your account for free!
Read our review here of OhMyDosh and what we think about them.
Quidco – Is great for getting the family treats at really low prices. Anything goes from takeaways to days out.
Sign up here free using our link.*
Swagbucks – Another great site that's easy to use. You can also earn money by filling out surveys and watching videos.
Use our link here to join for free.*
Read more about Swagbucks here and what we think about them.
Go Down a Scale
Wherever you shop, there's always a cheaper level of food. Start from the bottom and work your way up. If you don't like the cheapest version, then go one up and try that. Chances are, with most products, the family won't even be able to tell the difference.
Eating More Veg
Meat and fish are currently pretty pricey. Try grating vegetables into everything to try and bulk it out then freeze any leftovers for the next day.
Have a Meat Free Day
On weeks' things are really tight, leave out meat. Eat Vegetarian. Swap all your favorite meals for veggie ones. Try veggie stir fry, fajitas or a Spaghetti Bolognese all meat free. It still tastes lush, but costs almost half as much to make.
Know What's in Your Kitchen
Check the cupboards and the fridge before you go shopping. Is there anything you could use for next week? Is there anything in your freezer that could go with a meal? Any leftovers that need to be used?
Incorporate all these into your meal plan to bring the price down.
Buy Frozen
Frozen fruits and vegetables are just as good for you as their fresh counterparts. Everything can be bought frozen, from pineapples and strawberries to peppers and mushrooms.
We buy much of our meat frozen like chicken thighs and breasts.
Waste Nothing
Easier said than done with kids, but by being really strict, you can reduce what goes into the bin.
Anything that goes on your shopping list needs to have a meal allocated to it.
If your kids don't eat much, then try serving everything all together and getting the kids to pick how much they want.
They can always come back for seconds, but it means you can freeze whatever isn't eaten for another time.
Write a List
Plan what you're going to eat and stick to it as much as you can. You can swap and change meals around, so as long as everything is eaten, it doesn't matter when it's used.
A list or meal plan just stops you going crazy at the supermarket!
Use our 101 Aldi Recipes That Will Give You Dinner Ideas For Tonight list for some inspiration.
Use Your Slow Cooker
Having a slow cooker to hand means that you can cook loads of meals while you are out. You can also make bulk out slow cooker meals easily with cans of kidney beans or baked beans.
Have a look at our 31 Aldi Slow Cooker Recipes For The Whole Family that has loads of ideas.
Meals on a budget
The key to keeping your costs down is meal planning.
Before you even start check your calendar. There's no point adding and buying a meal when you aren't home.
Check your freezer, fridge and cupboards. Try and use one meal a week from them, remembering to write down when and if you run out of a kitchen staple. This helps to keep your food bill in check.
Remember to plan for every meal. Do the kids need lunches this week? Are you going to be late home and need a slow cooker meal?
Keeping it simple will help you stick to your meal plan. These family meals really will save you money.
Free Printables From Our Resource Vault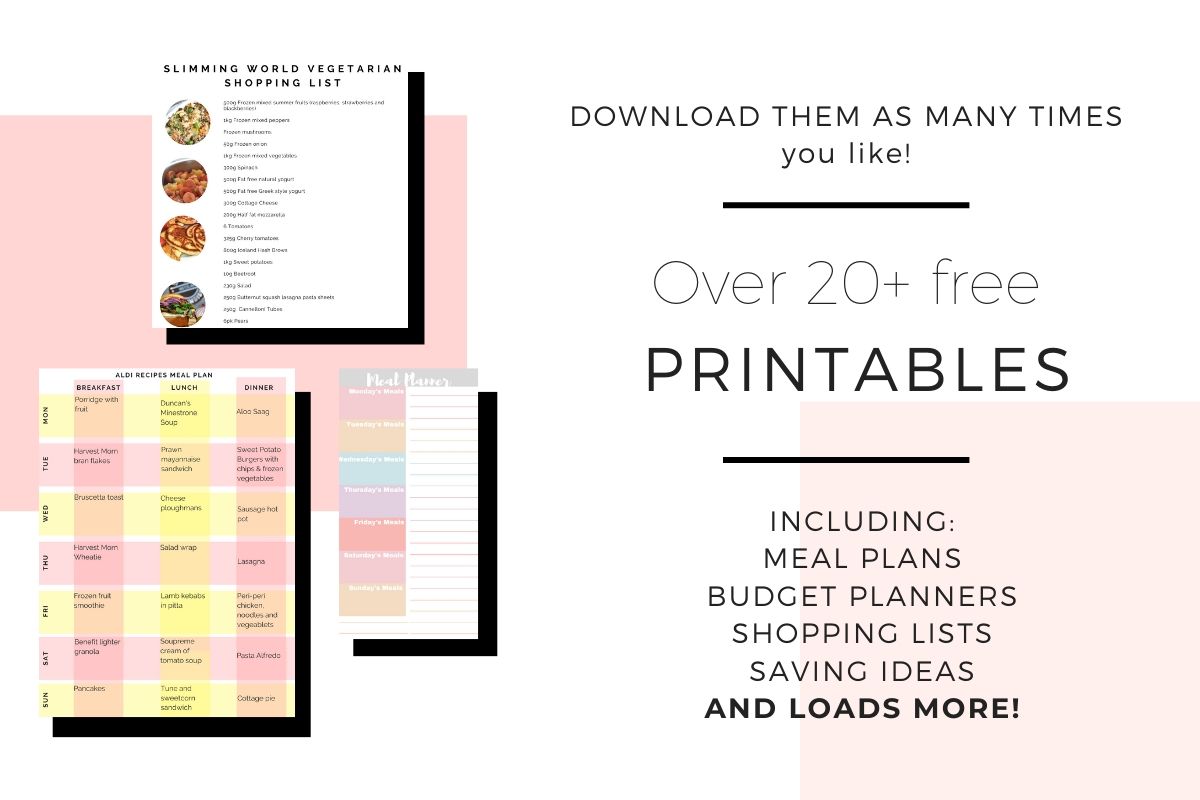 If you are struggling to meal plan or are looking for ideas on how to save money as a family then why not join our free Resource Vault.
It gives you access to over 20+ free printables that you can download as many times as you like.
Join our free Resource Vault here
(By joining giving us your email address you are consenting to us emailing you about our other travel, home and lifestyle ideas. You can unsubscribe at any time by clicking the link at the bottom of every email.)
£2.50 Family Meal Planner on a Budget
This budget meal plan will feed your family of 4 for a week excluding drinks.
Most of these meals can be frozen for leftovers or prepared the night before and the vegetables be left in a air tight container in the fridge for the next day.
This list is here to help you make a decision on what to cook your family for dinner this week.
Saturday
Breakfast: Porridge with plums
Lunch: Sweet Potato & carrot soup with Homemade Bread
Snack: Easy Peasy Biscuits – 2 each
Dinner: Hidden vegetable Pasta and sauce
Sunday
Breakfast: Toast & Banana
Lunch: Ham & Onion Omelette
Snack: Homemade Fruit Flapjacks
Dinner: Chicken roast
Monday
Breakfast: Porridge & Cooked Apple
Lunch: Egg & Soldiers
Snack: Banana
Dinner: Sweet & Sour Chicken with Rice
Tuesday
Breakfast: Fried Egg & Tomato
Lunch: Scotch Pancakes
Snack: Homemade Fruit flapjack
Dinner: Sweet Potato & Chicken Curry
Wednesday
Breakfast: Porridge with plums
Lunch: Cheese & Onion Omelette
Snack: Easy Biscuits 2 each
Dinner: Chicken Pasta Bake
Related Posts:
Thursday
Breakfast: Egg & Soldiers
Lunch: Sweet Potato & carrot soup with Homemade bread
Snack: Left over fruit smoothies
Dinner: Sweet Potato & Chicken Curry Left Overs
Friday
Breakfast: Over Night Porridge
Lunch: Scotch Pancakes
Snack: Easy Peasy Biscuits – 2 each
Dinner: Homemade Four Seasons Pizza (half of cheese, quarter of chicken & tomato, quarter Pineapple & Ham)
Money Saving Challenge
If you're struggling to save money then why not join our FREE money saving course that takes you step by step through saving money as a family. All simple steps to help you build an emergency fund or save towards that mega holiday.
Join our FREE Money Saving Course here and I can't wait to see how I can help you!
(By joining giving us your email address you are consenting to us emailing you about our other travel, home and lifestyle ideas. You can unsubscribe at any time by clicking the link at the bottom of every email.)
Feeding the Family on a Budget: The Shopping List
4 Pints of Milk 0.99
Frozen Chicken Breast 3.33
Porridge 0.59
Plums 1.00
4 Bananas 0.56
Potatoes 0.95
Onions 0.56
4 x Apples 1.16
Sweet Potatoes 0.95
Carrots 0.50
Cheese 1.85
5 Tomatoes 1.00
Tin Pineapple 0.80
Ham 0.69
Frozen Mixed Vegetables 1.00
Eggs 1.19
Total: £17.12 (All prices from Asda and correct at time of publishing)
Remember that you can swap and change meals out of this every week from the above list. That way, you will still have a low shopping bill but lovely homemade meals.
There are endless ways to feed your family on a budget. The issue is an inspiration and that's what I hope I have helped you with today.
I really hope this cheap meal plan and budget shopping list has given you some ideas and gets you and your family out from eating the same old meals every day.
Laura x
If you enjoyed this post and would like some more family friendly budget recipes or meal plan ideas, then head over to the budget food section here on Savings 4 Savvy Mums where you'll find over 30 cheap posts dedicated to helping you cook and shop wiser for less. There's enough tips to help you save over £300 a month! You could also pop over and follow my family food Pinterest boards for lots more ideas on how to eat well and spend less; Family Meal Plans on a Budget, Budget Family Meals & Budget Slimming World Recipes for Families.
Love this post? Then why not save it to Pinterest so you can easily find it later.
What the * means
If a link has an * by it, then this means it is an affiliate link and helps S4SM stay free for all. If you use the link, it may mean that we receive a very small payment. It will not cost you anymore that it would normally.
You shouldn't notice any difference and the link will never negatively impact the product. The items we write about are NEVER dictated by these links. We aim to look at all products on the market. If it isn't possible to get an affiliate link, then the link, or product is still included in the same way, just with a non-paying link.