These are cheap easy healthy meals on a budget
It's hard to find cheap family meals that the whole family love. This post gives you a whole week's meal plan that you can use.
It includes easy family dinners for the whole family that are delicious and that can be frozen if needed.
These cheap meals could help you reduce your food waste, help you shop your cupboard for a week or even get your food budget back on track.
If you have fussy eaters at home then hopefully these recipes are still for you. They are pretty classic and can be spiced up or down depending on taste.
A lot of these can be made from store cupboard ingredients that help keep the cost down.
If you are looking for more meals that are family friendly and cheap then have a look at:
£18 a Week Food Budget Shopping List UK
The Ultimate Budget Meal Planning List: 31 Meals Under £1 Per Serving
21 Budget Family Meals and a £16 Aldi Meal Plan
Top Tips for cooking for beginners
If you are a beginner cook or a family who needs to cut down on your food spending then why not try:
Buying frozen vegetables – They are cheap, pre-cut and you can grab as much as you need.
Stop peeling vegetables – If you decide to buy fresh then grate them instead of chopping them. It saves time.
Freeze bread – Even with the four of us, we can't use a whole loaf, and most of it went in the bin. Now, it gets frozen and eaten when needed.
Weigh out food like pasta and rice – This helps with portion control and stops you cooking too much.
Leftover fruit – Turn it into smoothies or bread pudding, and ripe banana and carrots make great cakes with dried raisins.
Printable Meal Plans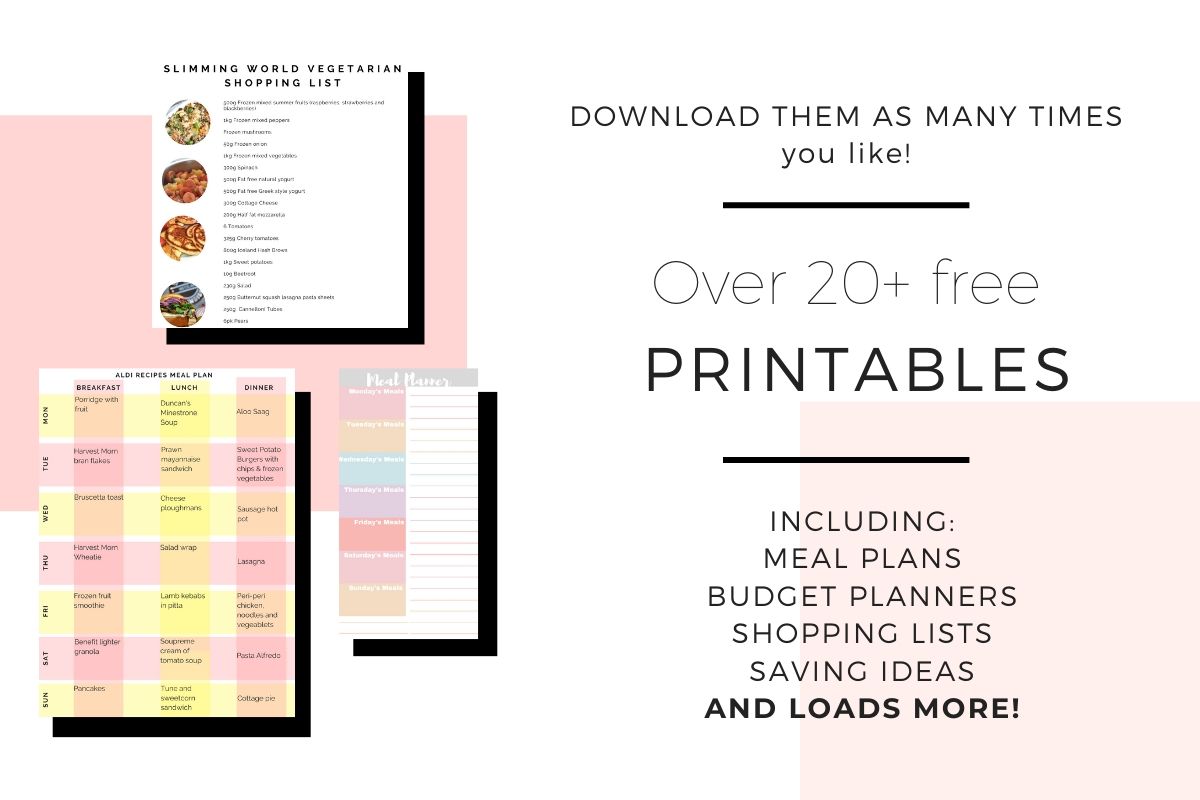 Come join our free Resource Vault that has pre-made meal plans like this one that you can download as many times as you like.
Everything is included from budget planners to meal plans and pre-made shopping lists plus a link to our Money Saving Mums Facebook group!
(By giving us your email address you are agreeing to us emailing you.)
Cheap family meal ideas
These yummy value meals can be frozen for another night or bulked up with cupboard staples like baked beans or lentils if needed.
All of these cheap recipes can be made with frozen vegetables or frozen meat so that you only use what you need.
Don't be scared to freeze any leftovers. As long as most food is cooled before it's frozen then re-heated properly it's fine to eat and so much healthier then a pre-packed sandwich.
Have a look at Spicentice – They send out packets of spices with full instructions and shopping list on. We use them when we get stuck in a rut with food and need help thinking of easy and healthy food to eat.
What we liked is that all the food ideas are gluten free and can be made vegetarian as well, plus they are all cheap to make!
You can try them here with our link. Remember to use our code LASAVE20 for 20% off*.
We've used them for over a year and have cooked a years worth of dinner recipes:
Beginner Chilli Con Carne Recipe for Just 95p a Head
Easy Chicken Fajita Recipe: A Family Meal for 94p a Person
Chinese Chicken Curry For Just £1.54 For 4
Really Easy Homemade Beef Burgers For Under £1 a Head
The Best Southern Fried Chicken Recipe For Under £1 a Head
Chicken Tikka Masala Curry For Under £4 a Head
The Best Katsu Curry Recipe For Under £1 a Head
The Best Firecracker Chicken For Just 99p a Head
So here are 21 easy and cheap recipes you can use. All are adaptable and leftover-friendly.
All of these come in at under £1 a head for a family of 4.
Monday
Breakfast:
Easy Overnight Porridge
This overnight oats recipe is great if the whole family needs a filling breakfast that's quick. Like the name suggests you can make it the night before so it's ready when everyone wakes up!
¼ tsp ground cinnamon 5p
50g rolled porridge oats 8p
2 tbsp natural yogurt 10p
50g mixed berries 25p
drizzle of honey 5p
Total: 53p that's 13p per person.
Lunch:
Sweet Potato & Carrot Soup
At just 44p, this lovely homemade sweet potato and carrot soup is perfect for those "I can't be bothered" lunches. It's such an easy and tasty soup to make, that I purposely cook more to fridge for the rest of the week.
Find our recipe for our cheap & easy sweet potato & carrot soup for 44p here.
500g chopped and cubed sweet potatoes 55p
400g tin carrots 49p
3 tbsp olive oil 5p
100g frozen onion 16p
2 garlic cloves 5p
1L vegetable stock 5p
100ml tin coconut milk 82p
10g pinch chilli flakes 10p
Total: £2.27 that's 56p a person.
Dinner:
Spaghetti Bolognese
Lost cost and healthy, Spag Bol is a huge hit in my house and is one of the only things I can get everyone to eat.
I normally buy the mince then split it, putting half in the freezer if I don't plan on using the rest of week. It works well with extra grated vegetables too if you have any going off, and can be slow-cooked to perfection while you're out.
Here's my own traditional Spaghetti Bolognese for just 97p a head
1 onion chopped 22p
1 tbsp tomato puree 9.5p
2 tins chopped tomato 58p
1 tbsp caster sugar or to taste 4p
1 celery stick chopped 10p
Quorn Mince Frozen £1.79
1 carrot chopped 7p
2 cloves garlic chopped 4p
1 tsp oregano 2p
2 large mushrooms chopped 75p
1 vegetable stock cubes 6p
1 hand full Parmesan for sprinkling 20p
Total: £3.87 that's 96p a person.
Tuesday
Breakfast:
Vegan Pancakes
This eggless pancake recipe makes a batch for just 56p and they're really thick and delicious. You can freeze these and have them another day by waiting for them to cool then wrapping them into greaseproof paper. Then put them into an airtight container. Here's our vegan pancakes for just 56p.
150g self-raising flour 10p
1 tablespoon baking powder 2p
1/2 teaspoon salt 2p
2 spoonfuls of maple syrup, or granulated sugar 10p
2 tablespoons coconut oil, melted 15p
250ml soya milk 17p
Total: 56p that's 14p per person.
Lunch:
Smoky beans on toast
This is such an easy recipe that is great for the whole family. We like ours spicy but you can easily tone down the spices and mustard if you prefer.
150g rashers streaky bacon 95p
100g frozen onion 16p
400g can baked beans 29p
1 teaspoon brown sugar 6p
1 teaspoon English mustard 5p
1 teaspoon smoked paprika 5p
1 teaspoon ground cumin 5p
10g chopped chillis 5p
250g ciabatta bread £1
Total: £2.66 that's 66p per person.
Dinner:
Sweet & Sour Chicken
At just 58p a portion, this is a bargain of a meal as well. It takes just 15 minutes to cook, and can all be bundled in together. It serves four; two little mouths and two big ones, but I've bulked it out with some extra veg or rice before.
Here's how we make our sweet and sour chicken recipe.
1 x 425g can pineapple chunks in natural juice 50p
chicken breasts £1.16
2 tbsp cornflour 2p
½ tsp dried chilli flakes 2p
2 tbsp dark soy sauce 5p
2 tbsp tomato puree 2p
1 medium onion 8p
300g frozen peppers 43p
2 garlic cloves, peeled and crushed 5p
Total: £2.33 that's 58p per person.
Wednesday
Breakfast:
Eggy cheese crumpets
These eggy cheese crumpets can be grilled once submerged in the egg mixture. They make a great treat breakfast for the whole family.
3 eggs 24p
50ml milk 10p
6 crumpets 25p
250g cherry tomatoes £1
drizzle of vegetable oil 5p
40g cheddar 35p
Total: £1.99 that's 49p per person.
Lunch:
Spicy mixed bean tortillas
These Spicy mixed bean tortillas are great for weekend days when you want something quick and easy. All of these ingredients come from tins or the freezer.
8 tortilla wraps 85p
200g onion 10p
1 tin of carrots 49p
400g can chopped tomatoes 39p
400g can kidney beans 30p
400g can of mixed beans in a mild chili sauce 30p
100g mature cheddar cheese, grated 49p
Total: £2.92 that's 73p for 4 people.
Dinner:
Vegan Shepherd's Pie
This is a great recipe if you need to feed a lot of people quickly. Make this in the morning and just chuck it in the oven when you need it. Read how to make our vegan shepherd's pie here.
1 tin chickpeas 33p
1 tin lentils 55p
2 large tin potatoes 20p
1 frozen onion 8p
4 tin tomatoes 20p
5 mushrooms 40p
2 carrots 14p
2 celery sticks 60p
2 garlic cloves 5p
300ml vegan stock 3p
2 tbsp balsamic vinegar 6p
2 tbsp tomato puree 10p
2 tbsp low cal spray 10p.
Total: £3.31 that's 82p for four people.
Thursday
Breakfast:
Eggy bread
This is a quick and easy breakfast for the whole family. We griddle pan ours on high heat once the egg is mixture is on the bread.
Bread 14p
4 eggs 32p
Total: 46p that's 11p per person.
Lunch:
Pasta with Cherry Tomatoes
This is one of those "chuck in whatever you have" recipes. It's mega easy and even grilling the tomatoes only takes minutes.
500g wholemeal penne 55p
250g cherry tomatoes 53p
14g Dried basil 69p
Total: £1.77 that's 44p a person.
Dinner:
Homemade pizza
This is an easy quick Friday night dinner. You can make the dough in the morning or straight away as it doesn't need to sit. We use plain flour, dried yeast, and some water to make the dough.
375g plain flour 20p
1 teaspoon salt 5p
1 tablespoon caster sugar 5p
7g dried active baking yeast 8p
225ml warm water 0p
100g Mature Cheddar 85p
400g chopped tomatoes 31p
400g tin mushrooms 20p
Total: £2.36 that's 59p a person.
Friday
Breakfast:
Waffles
These are great for a waffle maker and make a great weekend treat. We have them with frozen fruit or with chocolate spread.
4 large eggs 32p
300g plain flour 30p
½ tsp bicarbonate of soda 5p
2 tbsp golden caster sugar 5p
50g butter 25p
600ml semi-skimmed milk £1.20
Total: £2.17 that's 54p a person.
Lunch:
Vegan tacos
These vegan tacos are really easy to make. They aren't spicy at all, and the homemade salsa is really fruity.
175g pack baby corn £1.20
190g frozen red onion 25p
100g frozen peppers 20p
½ tsp cumin seeds 5p
2 tsp olive oil 5p
110g kiwi 11p
400g tin tomato 42p
100g wholemeal flour 20p
1 large garlic clove 5p
5g dried coriander 5p
1 tsp vegan bouillon powder 5p
½ tsp smoked paprika 5p
85g red cabbage 20p
Total: £2.88 that's 72p a person.
Dinner:
Spaghetti Meatballs
This spaghetti meatball recipe comes in at just 73p per person for a family of four. This spaghetti meatball recipe is so easy to cook and is great if you are a beginner cook looking for something gorgeous that the whole can eat.
This meatball recipe includes making homemade meatballs and the sauce yourself. Please don't be put off! It's really simple to do and tastes so much better then the shop brought version.
500g minced meat £1.99
2 onion 16p
3 glove garlic 7p
1 egg 10p
1 tsp salt 2p
2 tsp low cal spray 10p
1 tin passata 32p
1 tbsp balsamic vinegar 3p
Half tablespoon sugar 5p
Half tablespoon salt 3p
210g Spaghetti 8p
Total: £2.95 = 73p a head
Saturday
Breakfast:
Omelette
Perfectly when you get to the end of the week and have nothing left.
Throw everything in; from the tiny chunk of cheese to those weltering spring onions and peppers.
3 eggs 24p
1 tsp sunflower oil 5p
1 tsp butter 5p
Total: 34p that's 8p per person.
Lunch:
Vegetarian quesadillas
This is a really quick and easy vegetarian lunch recipe that works well in a lunch box. They are great for the whole family to enjoy as a cheap snack too.
2 x 400g cans mixed bean salad £1.20
3 tbsp chipotle sauce 6p
1tbsp dried coriander 5p
140g red Leicester cheese £1.50
8 flour tortillas £1
Total: £3.81 that's 95p a person.
Dinner:
Chicken fajita
Chicken fajitas are a great family meal idea if your kids like to help themselves. The great thing about fajitas is that you can make this different everything depending on what your family like or how spicy they like meals.
This fajita recipe is really simple to cook and can be made vegetarian or vegan if you prefer.
4 frozen chicken breasts £1.40
200g frozen peppers 30p
200g frozen onion 16p
3 garlic cloves 9p
1 tbsp salt 2p
1 tsp sugar 5p
Tortillas £1
Total: £3.08 that's 75p a person.
Sunday
Breakfast:
Breakfast egg wraps
These are great for four people and make a great breakfast on the go. You can add anything to these but our favourite is below:
500g pack closed cup mushrooms £1.50
4 tsp sunflower oil 5p
320g cherry tomatoes 90p
2tbsp parsley 5p
40g porridge oats 10p
10 eggs 80p
4 tsp English mustard powder 7p
Total: £3.92 that's 98p a person for 4 people.
Lunch:
Egg muffins
These egg muffins are really easy to make and are great for lunch boxes. They are super cheap and you can add anything to them. All you do is mix the ingredients up and then oven cook them for 20 minutes on 180 degrees.
3 eggs 24p
40g red Leicester cheese 75p
Total: 99p that's 24 a person.
Dinner:
Tuna pasta bake
This pasta dish is easy to make and great if you need a quick and cheap meal.
500g pasta 50p
50g butter 10p
50g plain flour 5p
600ml milk 80p
250g strong cheddar £2.15
2 x 160g cans tuna steak in spring water £2.40
330g can sweetcorn 47p
Total: £6.47 that's £1.61 a person.
Related Posts:
Other cheap recipe ideas:
Sausages
A cheap meal that uses up a bit of everything. I normally freeze my sausages anyway, but if I have any leftover sweet potatoes or vegetables kicking around, sausages help beef it (sorry) up a little, and make it feel more like a meal.
If the sausages are the item you have left, then you're very lucky, because the possibilities are almost endless. We like sausage pasta bake with caramelized onions while the kids love tortillas made with leftover sausages and potatoes.
Curry
Depending on cost, we choose a different meat every week. Normally a gammon or chicken as that tends to go further and can last us up to three days.
I use this recipe, as it involves sweet potatoes and peppers, something we always have over.
Whatever meat you have throw in. I've used turkey, chicken, fish and gammon and they all taste lush.
Pasta Bake
From leftover meats to almost off vegetables, anything goes.
Whatever you have around the fridge or cupboards going off can go in. Nothing is wrong in a pasta bake!
Stir Fry
Don't throw all those gorgeous vegetables away. Stir fry them up with a bit of meat (I use chicken, but whatever you have) and sprinkle over some herbs. Serve with rice or a packet of noodles, both what I would call cupboard staples.
Stew/Casserole
So easy and so good. Roasted root vegetables go really well as does any leftover meat.
The classic Beef and Ale Stew is a winner here and uses so much leftover meat from Sunday lunch, that it's become a Monday favorite.
Onions, carrots, mushrooms, cheese, even leftover herbs get chucked in to simmer away.
Cheap dessert ideas:
The Very BEST Chocolate Cupcakes for 88p
My kids love making these cupcakes, mainly because they're quick and easy to make, and only take around 20 minutes to cook!
This recipe makes 12 cupcakes. You can't freeze them, but to be honest, they won't be around that long, if your house is anything like mine.
Crumble
Like most families I'm guessing, we have a lot of leftover fruit. Smoothies are my go to normally, but the kids would eat crumble every night if I let them.
I freeze a lot of my ripe fruit and defrost it when I need it, but there are just some fruits that hate being defrosted, hence a crumble to use them all.
Rhubarb, ginger, apple and pear all go well. Blackberries, gooseberries, and strawberries in season, when we've all had enough of eating them raw.
But really anything does go. I've added cherries, mango plums to mine and it's worked. Whatever you have, use.
Chocolate Rice Krispie/Cornflake Cakes
If your cornflakes or rice crispies have gone soft, then melt some chocolate and stir them in. It's as simple as that.
Scones
Never throw flour, milk or eggs away again. The three things I always have leftover at the end of the week, and that used to be thrown, in till recently.
To empty it all down, I make scones for the kid's lunchboxes, adding any chopped fruit I can to the mix.
Victoria sponge, fairy cakes or any other sponge mix works with just flour, eggs and milk too, not forgetting pancakes up above.
Laura x
If you enjoyed this post and would like some more family friendly budget recipes or meal plan ideas, then head over to the budget food section here on Savings 4 Savvy Mums where you'll find over 30 cheap posts dedicated to helping you cook and shop wiser for less. There's enough tips to help you save over £300 a month! You could also pop over and follow my family food Pinterest boards for lots more ideas on how to eat well and spend less; Family Meal Plans on a Budget, Budget Family Meals & Budget Slimming World Recipes for Families.
Love this post? Then why not save it to Pinterest so you can easily find it later.
What the * means
If a link has an * by it, then this means it is an affiliate link and helps S4SM stay free for all. If you use the link, it may mean that we receive a very small payment. It will not cost you anymore that it would normally.
You shouldn't notice any difference and the link will never negatively impact the product. The items we write about are NEVER dictated by these links. We aim to look at all products on the market. If it isn't possible to get an affiliate link, then the link, or product is still included in the same way, just with a non-paying link.