Including how to make this for under £1 a head
This is the best family-friendly spaghetti bolognese recipe that can be made in the slow cooker or in a wok or deep pan. It's really easy for beginners to cook and can be made in advance if you are short of time.
Please don't be scared of making the bolognese sauce yourself. It is really easy, cheap to make and healthy for the whole family to enjoy.
This low calorie, dairy free budget friendly spaghetti bolognese recipe is perfect for those nights that you want a healthy meal that only takes 15 minutes to cook.
If you are looking for more Slimming World recipes then have a look at:
Aldi Slimming World Shopping List 2021 – This walks you through everything you need to start shopping for your Slimming World journey. We've included syn values on everything from drinks to meals and snacks.
Cheap and Easy Slimming World 7 Day Plan – This is a Slimming World meal plan that you can follow. It can give you some ideas of what your family could eat for the week.
27 Slimming World Breakfast Ideas for the Whole Family – This post is packed full of quick and easy Slimming World breakfast ideas that will help you stay on plan.
71 Slimming World Packed Lunch Ideas – This is full of lunch ideas for the whole family including grab and go ideas and lunches for lazy weekends.
101 Easy Slimming World Meals For The Whole Family – This is our complete guide to eating Slimming World. With over one hundred meal ideas that are family friendly and low cost that you can pick from. This means that you never have to think about what to cook for dinner ever again!
Free 20+ money saving printables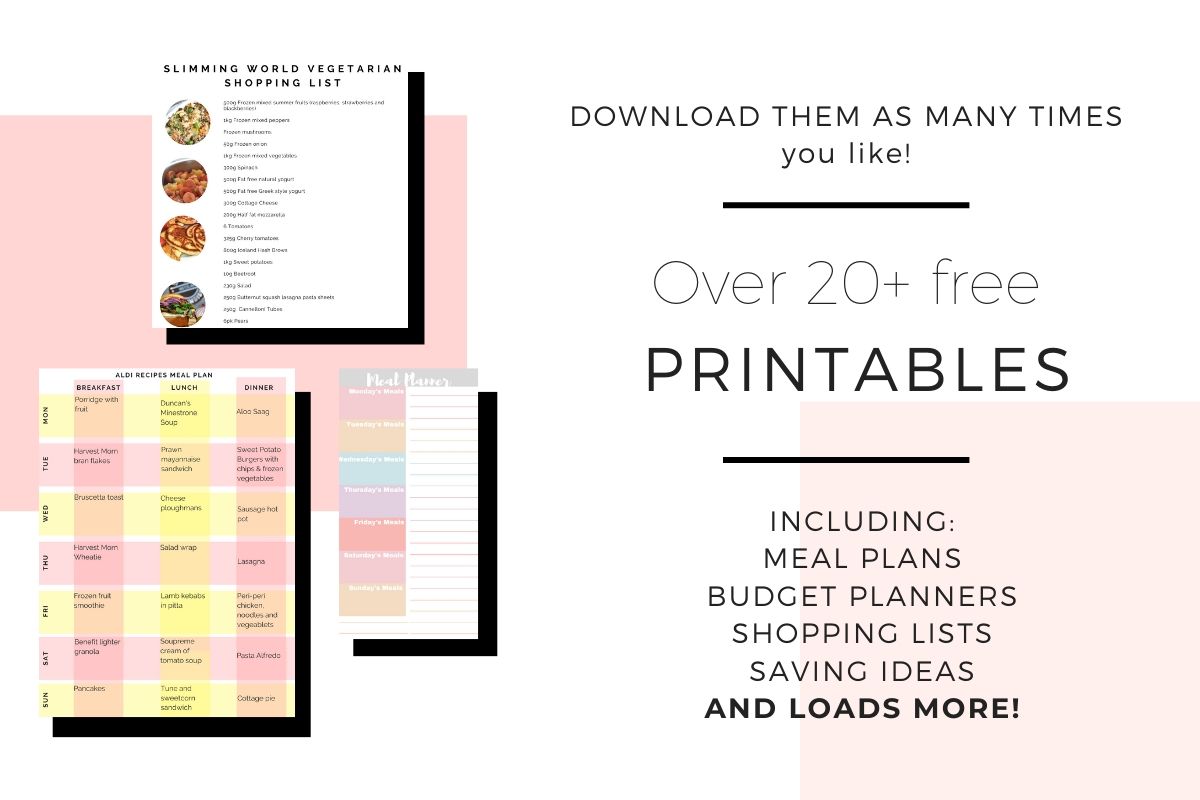 If you are looking to save your family money then join our free Resource Vault which is packed full of meal plans and budget planners that you can use to gain back control of your money. You can use them as many times as you like.
Join our free Resource Vault here
(By joining giving us your email address you are consenting to us emailing you about our other travel, home and lifestyle ideas. You can unsubscribe at any time by clicking the link at the bottom of every email.)
Making Slimming World Meals
If you are new to Slimming World or any weight loss group then knowing what to cook can sometimes feel like a minefield.
Remember that all the food you cook is great for your family to eat too. There is no need to cook separate meals.
Think of Slimming World like you would anything else. Plan out your meals; exactly what you are going to eat that day. You can swap and change it but it means that you should have everything you need to hand and won't be looking for a quick snack.
Also, meal planning is a great way to help you save money. If you need help meal planning or saving money on your food then please have a look at:
19 Cheap Food Shopping Hacks That Could Save You Hundreds
The Ultimate Guide to Food Shopping on a Budget
If you do feel out of your depth then have a look at Spicentice. They send you packets of spices that can help liven up your mealtimes. What we love the best about Spicentice though is that the packets include an exact shopping list and easy to follow instructions. You can then use them over and over again.
Spicentice are Slimming World and Weight Watchers friendly, offer gluten-free spices and dairy-free.
They are great to use if you are new to cooking from scratch or if you are looking to get your family eating new budget-friendly meals and have no clue where to start.
We tried them at the start of this year and loved them. We got stuck in a food rut and they helped by giving us ideas while keeping our food budget really low.
If you'd like to try Spicentice yourself then make sure you use our link here with our code LASAVE20 to get 20% off every purchase.*
Using Spicentice we have cooked:
The Best Southern Fried Chicken Recipe For Under £1 a Head
Chicken Tikka Masala Curry For Under £4 a Head
The Best Katsu Curry Recipe For Under £1 a Head
The Best Turkey Curry For Under £1 a Head
The Best Firecracker Chicken For Just 99p a Head
Slimming World Spaghetti Bolognese
Spaghetti Bolognese is a huge hit in my house, mainly because the kids think they aren't eating any veg and because I actually stick as much vegetables in as I can! It's so easy to hide, compared to many of the other recipes I cook, which gets picked to pieces!
It's really simple too and can be done with Mince or Quorn. I've used both, and they're lush either way. I also grate ALL the vegetables. Nothing is left to chance in this house, but cutting things small would work well too if your kids aren't as picky as mine.
This serves four of us, two adults and two kids, but could be bulked up by either doubling it or adding more vegetables and an extra can of chopped tomatoes. It also freezes really well, so if you make to much, don't worry, just bung it in the freezer for a day you can't be bothered to cook!
Slimming World Spaghetti Bolognese Ingredients
Low-calorie cooking spray 5p
1 onion, grated 10p
2 carrots, grated 8p
1 garlic clove, grated 5p
500g 5% lean beef mince £2.59
400g can chopped tomatoes 39p
2 tsp dried oregano 2p
1 beef stock cube 5p
350g dried spaghetti 30p
Total: £3.63 (that's 91p a head for four people)
If you are cooking this in the slow cooker then brown the mince off first, then add everything except the spaghetti to the slow cooker and leave on a low to medium heat for about 6 to 8 hours. When you get in, cook the spaghetti for 12 minutes then serve.
If you are new to slow cooking then have a look at our meal ideas here:
31 Aldi Slow Cooker Recipes For The Whole Family
31 Easy Family Slow Cooker Recipes
7 Gammon Slow Cooker Recipes That Are Budget Friendly
9 Slow Cooker Chicken Curry Recipes That Are Budget Friendly
If you are looking for a slow cooker then we have this one: Morphy Richards Slow Cooker Sear and Stew 460012 3.5L Black Slowcooker*.
It's easy to use, dishwasher friendly and has three different heat settings.
Slimming friendly bolognese sauce
Start by boiling the kettle and pouring the water into a large pan. Add the dried spaghetti to the pan and leave to cook for 12 minutes.
Add the cooking spray to the wok or deep pan and add the mince on a low heat.
Grate the onions, garlic, and carrots and add them when the mince is brown.
Once the vegetables are cooked down a little, add the chopped tomatoes and stock cube to the pan with the dried oregano.
Put the lid on and leave to simmer until it's all cooked down.
This normally takes about 10 minutes or so. Stirring occasionally can help it stop sticking to the bottom of the pan.
Related Posts:
Once the spaghetti is cooked, drain and add to the mince mix.
Then serve!
Laura x
If you enjoyed this post and would like some more family friendly budget recipes or meal plan ideas, then head over to the budget food section here on Savings 4 Savvy Mums where you'll find over 30 cheap posts dedicated to helping you cook and shop wiser for less. There's enough tips to help you save over £300 a month! You could also pop over and follow my family food Pinterest boards for lots more ideas on how to eat well and spend less; Family Meal Plans on a Budget, Budget Family Meals & Budget Slimming World Recipes for Families.
Love this post? Then why not save it to Pinterest so you can easily find it later.
What the * means
If a link has an * by it, then this means it is an affiliate link and helps S4SM stay free for all. If you use the link, it may mean that we receive a very small payment. It will not cost you anymore that it would normally.
You shouldn't notice any difference and the link will never negatively impact the product. The items we write about are NEVER dictated by these links. We aim to look at all products on the market. If it isn't possible to get an affiliate link, then the link, or product is still included in the same way, just with a non-paying link.