Including 13 cheap food shopping ideas
Many of us struggle to save money when it comes to our food shop, but what if we told you that you could shave £100 off your shopping bill every month, just by doing a few simple things?
By changing your shopping habits a little and how you cook at home, could help save you and your family money. Saving money really is this simple!
You don't need to go mega frugal here. We are talking about supermarket shopping in a more savvy way that makes it work for you.
If you are looking for more ways to save your family money then make sure you have a look at:
19 Cheap Food Shopping Hacks That Could Save You Hundreds

15 Free Baby Stuff For Expecting UK Mothers

Understanding Best Before Dates and Beating Food Waste

7 Cheap Online Shopping Hacks That Will Save You Thousands
How to do food shopping on a budget?
We have 13 cheap food shopping ideas for you that can really help you save money. All of these tips are easy to do and really aren't rocket science. It's all about being prepared and a little bit of planning.
Try and get the whole family involved as that really helps to keep your money-saving on track.
If you are struggling with money right now then please have a look at:
103 Frugal Living Tips That Will Save You Thousands in 2021

23 Best Ways to Save Money and Reduce Food Waste in the UK

No Money for Food? This is What You Do When You Really Have No Money To Feed your Family
Meal planning
It's so simple, we all should be doing it. Just by looking through your cupboards, fridge, and freezer, you can plan what you need, and what you plan on eating that week.
Don't feel like it needs to be set in stone though. If you have leftovers in the freezer and prefer them, use them, just stick what you were going to eat in the freezer for next time.
Meal planning also stops you from going crazy at the supermarket and buying stuff you already have at home or aren't really going to use.
Plan out your meals with the ingredients you're going to need. Reducing your food waste doesn't have to be boring, it's all about planning.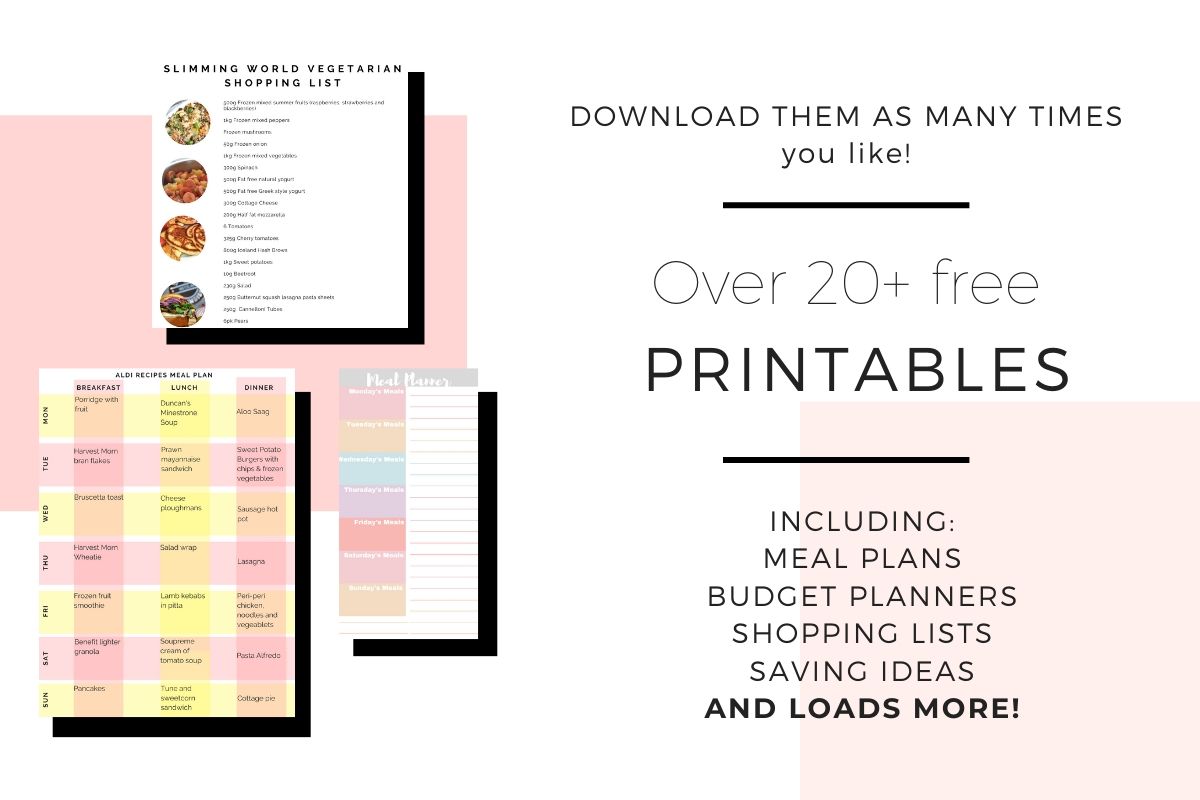 If you are looking for more ways to save money as a family then come join our free Resource Vault. It's packed full of ideas that that you can print off again and again.
Join our free Resource Vault here
(By joining giving us your email address you are consenting to us emailing you about our other travel, home and lifestyle ideas. You can unsubscribe at any time by clicking the link at the bottom of every email.)
How to make a grocery list on a budget
If you are new to meal planning then start by getting a pen and pad or even Notes on your phone. Sit down with the family and talk through everything you are going to eat this week. That's all meals, snacks, and drinks.
Remember that if you have any activities that mean you may be coming home late, that those days may need quick and easy meals.
Then go through your cupboards, freezer, and fridge and see what you have. There's no point stockpiling food. If you shop weekly you really don't need that much food sat in your cupboards and freezer.
Once you know what you have, it's time to write that shopping list of what you need to make your meal plan happen.
After it's complete, share it with your family either by phone or by putting it up on the fridge so everyone can see it.
Remember to take your shopping list with you or take a picture of it before you go!
If you are struggling to come up with meals to fill your meal plan then have a look at:

21 Budget Family Meals and a £16 Aldi Meal Plan

Feeding a Family on a Budget: This Weekly Shop is Just £18

101 Aldi Recipes That Will Give You Dinner Ideas For Tonight
Cook from scratch
Cooking from scratch can seem daunting if you've never done it before but it really is easy to do and saves you money. You don't need to be a chef to be able to cook up your own sauce or make a really delicious budget-friendly meal for the whole family.
Start with the basics that you eat. So, we when started cooking from scratch our favourite meal was Spaghetti Bolgense but it was all out of a jar.
We learned to make the sauce ourselves, which is cheaper and healthier and you can make extra for pasta sauces when you are in a rush.
You really can cook a whole meal for under £1 a head. We cook everything from homemade burgers to fakeaway Chinese meals that cost less than a fiver.
Have a look at our full range of £1 a head family meals here:
One Month of Family Meal Ideas on a Budget

A Week of Budget Family Meals For Under £1 a Head

The Ultimate £1 Per Head Budget Meal Planning List

31 Cheap Family Meals That Are Under £1 a Head
If you are a real beginner cook then have a look at Spicentice. Spicentice sends you out little packets of spices that talk you through, easily, step by step how to cook something. We use them every three months or so when we are stuck in a food rut.
If you'd like to try Spicentice yourself then make sure you use our link here with our code LASAVE20 to get 20% off every purchase.*
They helped teach us how to make homemade burgers without them breaking up while cooking, chicken fajitas that tasted better than our takeaway, and helped us make southern fried chicken that even the kids loved.
These really are easy means with simple instructions that you can use to cook a budget-friendly dinner for the whole family. You can then keep them to use again without the spices for next time.
We have made loads of budget meals with Spicentice including:
Beginner Chilli Con Carne Recipe for Just 95p a Head

Vegan Shepherd's Pie For Just 82p Per Portion

Spaghetti Meatball Recipe For 73p a Head

Easy Chicken Fajita Recipe: A Family Meal for 94p a Person

Chinese Chicken Curry For Just £1.54 For 4

Really Easy Homemade Beef Burgers For Under £1 a Head

The Best Southern Fried Chicken Recipe For Under £1 a Head

Chicken Tikka Masala Curry For Under £4 a Head

The Best Katsu Curry Recipe For Under £1 a Head

The Best Firecracker Chicken For Just 99p a Head
If you'd like to try Spicentice yourself then make sure you use our link here with our code LASAVE20 to get 20% off every purchase.*
If you are time-poor then have a look at a slow cooker. Owning a slow cooker means that you can just dump all your food in it in the morning and come home to an amazing meal that's all ready for you.
Our favorite slow cooker meals are:
Spaghetti Meatballs

Chinese Chicken Curry

Cola Gammon
If you like the sound of any of this or want some more slow cooker meal ideas then have a look at:

31 Aldi Slow Cooker Recipes For The Whole Family

31 Easy Family Slow Cooker Recipes

7 Gammon Slow Cooker Recipes That Are Budget Friendly

9 Slow Cooker Chicken Curry Recipes That Are Budget Friendly
Shopping online
If you prefer to shop online then make sure you use cashback sites. We recommend OhMyDosh, Quidco and Swagbucks. You get money off whenever you shop online through their sites which can really come in handy once baby is born.
It doesn't cost you a penny to use them. If you make a purchase through their site you receive the money. It's that simple!
We use OhMyDosh for making money through surveys and getting cashback on anything we buy online. Find out more OhMyDosh here and what we think of them.
Join OhMyDosh* here for free and get £1 added to your account.
Downshifting your brands
Buying value ranges is a great way to save money. You don't have to buy everything fresh either. Use cans or frozen food to make cooking your meals quick and easy.
Start by buying the lowest range items first and slowly work your way up depending on if you liked the product taste or not.
You'll be really surprised how much you can save by buying a shop's own brand of food. Challenge the family to see if they even notice.
Frozen over fresh
You don't need to buy all your fruit and vegetables fresh. Think about buying them frozen. Not only does it work out cheaper, it means that they won't go off.
It also means that you can grab as much as you need and then put the rest back for another meal. We use this for everything from frozen strawberries and mango for our smoothies to frozen onions and peppers. You just add them straight to the pan, no mess.
Another good thing about frozen is that it's already precut so no chopping is needed!
Go wonky
Many supermarkets are now doing wonky or odd-shaped bags of fruit and vegetables. They are a lot cheaper and still taste the same.
Reduce meat
If you are on a strict budget then start by reducing your meat intake. You could have one day a week that you only eat vegetarian. We only do this on months when money is really tight though as you can buy frozen chicken quite cheap or a join of gammon that can last three meals.
If you like the sound of this then have a look at our vegetarian meal ideas here. Going meat-free can be empowering and taste great:

77 Slimming World Vegetarian Recipes That The Whole Family Will Enjoy
Avoid supermarket tricks
It's easy to get excited when you see buy one get one free offers but they are only going to save you money if you actually plan on using them. Try and work out the cost per KG and see if it really is a saving.
Kitchen staples
Having a packed store cupboard of food that covers the basics can really help save you money in the longer term.
Food like flour, tin chopped tomatoes, puree, and dried pasta can help get you through when you are on a tight budget.
Have a look at our full list of store cupboard food that can help you make a meal out of anything!
Portion sizes
It's very easy to serve big family meals and get carried away. We have two fussy children and used to cook as if we were cooking for four people, just in case the kids were hungry.
In truth, they hardly eat anything at dinnertime, so we have reduced the portions right down to cooking for two, and skimming off of our portions.
Using smaller plates for us adults help, and weighing out food like pasta and rice saves us overcooking then throwing it away.
We generally say for pasta, 75g each per adult and one to two small cups each per adult with rice.
Keep those leftovers
It's well known that the average UK family throws away at least £60 worth of food a month and buys way more than they need.
If you're only using half a vegetable, like peppers or carrots, remember to wrap them and leave them in plain sight in the fridge, to remind you they're still there.
It's so easy to incorporate any leftovers into your daily or weekly routine, simply by just grating them up to bulk a meal out.
Take pizza for example. If the kids can't manage it all that night, wrap it up and serve it again for lunch with a salad. Who doesn't like pizza twice a week right?
For gone off fruit, smoothie them up for a healthy snack or bake them into banana or carrot cakes, or a crumble.
If you tend to buy food out then why not cook a bit more the night before and use it the next day. It makes sense!
Freezing
We all cook more than we can eat. Instead of feeding the bin, put it all together in a freezer-safe container once cool, and label then freeze.
Next week when you go to write your meal plan, you'll already have a meal complete. Win!
Storing correctly
It always baffled us why my milk went off so quickly or why the mince browned after a few days. It wasn't in till we starting to research why that we realized we were putting all the food in the wrong places.
Just by moving the milk and the meat to the middle, and the vegetables to the bottom, did we start to see not only a difference in taste and freshness but on how long my food was lasting?
Food labels
This catches all of us out.
The thing about food labels is that they are meant to keep us safe, but none of us really understand what they all mean, which results in a lot of good food getting thrown away.
The only one you really need to know is "Use by". Even if food still looks or smells good after the date, don't use it.
Best before is about food quality and is more of a suggestion. Use your judgment to decide if it's safe to use or not, and if it is and going out of date, then freeze it to use later.
Related Posts:
Weekly shopping for 4 people
It really is simple to save money on your food. If you need to stick to a strict budget then we would suggest you:
Doing a weekly food shop can save you money instead of shopping daily.
Meal plan to stop you over buying then throwing it away. Remember to check your freezer and fridge for any leftovers you can use for meals that week.
Use small plates and skim off your meals if you have young children. If they are still hungry after, then fruit smoothies or yogurt are great fillers, and can also be used in other meals if they're leftover at the end of the week.
Anything left vegetable-wise can be grated up and added to dinner while fruit can be put into cakes and treats. Meat can be frozen or used for two or three meals in the week.
Freezing food can save it. Curry, cottage pie, spaghetti Bolognese; all defrost and taste perfect again once reheated. Bread, crumpets, and hot cross buns can all be added to and defrosted when needed.
Rearrange the fridge to put everything with a quick date at the front and make sure anything dairy or meat-related is in the middle.
Know your food labels and what they mean. This could be the difference between a £50 shop and an £80 shop.
Keep your cupboard staples topped up. If you suddenly have meat or fish going off, use these to make a quick and simple meal to eat or freeze.
Laura x
If you enjoyed this post and would like some more money saving ideas, then head over to the saving my family money section here on Savings 4 Savvy Mums where you'll find over 50 money saving tips to help you save your family more. There's enough tips to help you save over £300 a month! You could also pop over and follow my family saving Pinterest boards for lots more ideas on how to stop spending and save more; Money Saving Tips for Families and Managing Money for Families.
Love this post? Then why not save it to Pinterest so you can easily find it later.
What the * means
If a link has an * by it, then this means it is an affiliate link and helps S4SM stay free for all. If you use the link, it may mean that we receive a very small payment. It will not cost you anymore that it would normally.
You shouldn't notice any difference and the link will never negatively impact the product. The items we write about are NEVER dictated by these links. We aim to look at all products on the market. If it isn't possible to get an affiliate link, then the link, or product is still included in the same way, just with a non-paying link.