Including a month of meal ideas
If you are looking for comfort food family meals or healthy family meals on a budget then this post is for you. These cheap dinner recipes are not just delicious but also come in at under £1 a head for a family of four.
These aren't hard recipes either. They are all easy and beginner dinner ideas that you can use for a whole month. They range from pasta dishes to easy chicken recipes at a very low cost.
Cheap meals for a week for a family
If you're struggling to plan meals for a week or a month then why not use our meal plan below. These are cheap family dinners that come in at under £1 a person.
Now I have a confession, this week's meals come in at £5.04. The shopping list is £5.41, as I didn't use all the onions, so they'd be ready for the following week.
Everything is made for 4 people and most of the meals can either be frozen or used from frozen ingredients.
The good thing about these meals is they lean heavily on the kitchen staples, so if we're struggling money-wise for a week, I start to come up with recipes, like below, that we can use, without spending too much extra money.
If you are looking for more £1 a head meals then have a look at:
The Ultimate £1 Per Head Budget Meal Planning List
A Week of Budget Family Meals For Under £1 a Head
Keep reading down below for a whole month of £1 meal ideas.
If you are a beginner cook or would like to increase the amount of recipes you know then have a look at Spicentice. We used them over a three-month period as we got stuck in a food rut cooking the same meals.
Spicentice send out packets of spices with easy to follow instructions so you can make a meal from scratch.
They are great to use if you are new to cooking from scratch or if you are looking to get your family eating new budget-friendly meals and have no clue where to start.
We tried them at the start of this year and loved them. We got stuck in a food rut and they helped by giving us ideas while keeping our food budget really low.
We made the below meals using Spicentice. Try them for yourself here:
Really Easy Homemade Beef Burgers For Under £1 a Head
Easy Chicken Fajita Recipe: A Family Meal for 94p a Person
Spaghetti Meatball Recipe For 73p a Head
Vegan Shepherd's Pie For Just 82p Per Portion
Beginner Chilli Con Carne Recipe for Just 95p a Head
Chinese Chicken Curry For Just £1.54 For 4
If you'd like to try Spicentice yourself then make sure you use our link here with our code LASAVE20 to get 20% off every purchase.*
Free Resource Vault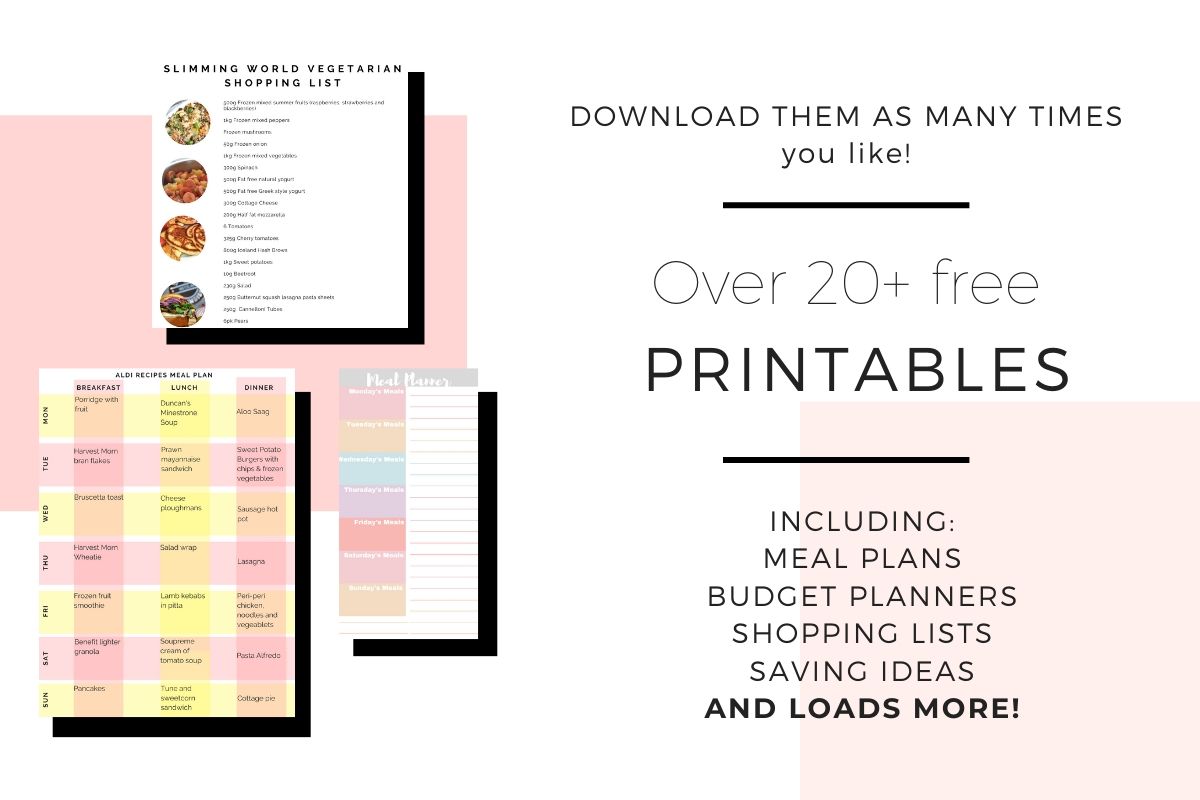 If you find meal planning hard then come join our Facebook group Money Saving Mums and get access to The Resource Vault with access to over 20+ money saving printables. This includes our easy slow cooker meals meal plan, available exclusively to subscribers!
Everything is included from budget planners to meal plans and pre-made shopping lists plus a link to our Money Saving Mums Facebook group!
Come join our free Resource Vault here.
(By joining giving us your email address you are consenting to us emailing you about our other travel, home and lifestyle ideas. You can unsubscribe at any time by clicking the link at the bottom of every email.)
Cheap Meals Shopping List:
Wafer Thin Ham 200g £1
Courgette 900g (3 Pack) 90p
Onions 1kg (9 pack) 59p
Mascarpone Cheese 250g 89p
Frozen Mixed Peppers 600g £1
Tomatoes (6 pack) 69p
Tin Tomatoes 400g 34p
Total: £5.41 (All prices are correct at time of publication and based on a Asda shop.)
Monday Night:
Creamy Tomato Courgetti
Low in calories but really high in taste, this Creamy Tomato Courgetti meal is a great way to hide vegetables. I use my spiralizer for everything!!
The original recipe calls for a sauce, but I make my own using mascarpone cheese, which takes about 2 minutes.
Ingredients: Onion 7p, three big tablespoons of mascarpone cheese, 44p, Ham, 25p and 2 x Courgette, 60p.
Total: £1.36
Tuesday Night:
Stir Fry
Simple and quick, just chuck what ever you have in. I use rice noodles, as you can chuck them in with a sauce and just fry it all together, but any will do.
Ingredients: 3x Tomatoes, 34p, 200g Frozen Peppers, 40p, Onion, 7p, Ham, 25p.
Total: £1.06
Wednesday Night:
Risotto with Ham & Peas
Using just one pot, this risotto is an easy mid-week meal when you really can't be bothered to cook. Just chuck it all in and let it cook!
Ingredients: Onion, 7p, Ham, 50p.
Total: 57p
Thursday Night:
Penne with Arrabbiata
I love arrabbiata, but the kids aren't so keen. This calls for chili, which they hate, so I cook everyones and add some chili flakes at the end for me.
Ingredients: Three big tablespoons of mascarpone cheese, 44p.
Total: 44p
Friday Night:
Vegetarian Chili
4 of your 5 a day, this Vegetarian Chilli only takes about 30 minutes and can be bunged into a pan and left to its own devices.
Itself of buying a bag of vegetables, I cut up my own and roast, and mix and match every time, depending on what we have left over in the fridge. I've thrown in ham, pineapple, frozen vegetables and even sweet potato. Anything goes!
Ingredients: Courgette, 30p, Onion, 7p, 400g of Frozen Peppers, 60p, 3x Tomatoes, 34p, Tin of Kidney Beans, 30p.
Total: £1.61
Menu Planning for me is the hardest, but the most important part of eating on a budget. It gives you a plan you can use to help you buy food more wisely and stop you staring in the fridge for 5 minutes trying to think what to make for dinner tonight. This happens more then I would like… So I designed a few menu planners that work best for me and I thought I would share them. Enjoy!
So after the week, I'd then write what I've used from my kitchen staples onto my list for the following week, or on a week I could afford. Here they are below for ease:
Store cupboard ingredients:
Garlic
Dried basil
2 x Tin Tomatoes
Rice 1kg
Vegetable Stock
Frozen Mixed Vegetables (like peas, carrots, and sweetcorn.)
Puree
1kg Pasta
Chilli Flakes
Noodles (2 pack)
Soy Sauce
Passata
More super cheap family meals
Make sure you have a look at our another cheap meal idea posts here that could help you to fill up your meal plan and keep your grocery bill down:
Feeding a Family on a Budget: This Weekly Shop is Just £18
21 Budget Family Meals and a £16 Aldi Meal Plan
Chilli Con Carne
This chili con carne recipe is easy to do and can be frozen for another night. Read how we cooked our Chilli Con Carne recipe here.
500g minced meat £1.99
4 onions 32p
3 garlic gloves 7p
300ml tinned tomatoes 28p
400g tinned kidney beans 30p
3 tbsp tomato puree 15p
Half a lime 12p
220ml stock 3p
4 tbsp low cal spray 20p
1 tsp salt 2p
Half tsp sugar 5p
180g Rice 24p
Total: £3.77
Vegan Shepherd's Pie
This is a great recipe if you need to feed a lot of people quickly. Make this in the morning and just chuck it in the oven when you need it. Read how to make our vegan shepherd's pie here.
1 tin chickpeas 33p
1 tin lentils 55
2 large potatoes 20p
3 sweet potatoes 47p
1 onion 8p
4 sundried tomatoes 20p
5 mushrooms 40p
2 carrots 14p
2 celery sticks 60p
2 garlic cloves 5p
300ml vegan stock 3p
2 tbsp balsamic vinegar 6p
2 tbsp tomato puree 10p
2 tbsp low cal spray 10p.
Total: £3.31
Italian Meatball Marinara
This is a gorgeous meatball recipe that the whole family will love. It's a healthy meal that uses a basic tomato sauce recipe that can be used for loads of meals. Make this amazing meatball marinara here.
500g minced meat £1.99
2 onion 16p
3 glove garlic 7p
1 egg 10p
1 tsp salt 2p
2 tsp low cal spray 10p
1 tin passata 32p
1 tbsp balsamic vinegar 3p
Half tablespoon sugar 5p
Half tablespoon salt 3p
210g Spaghetti 8p
Total: £2.95
Chinese Chicken Curry
This family-friendly meal is a great fakeaway recipe for a Friday night. It's not very spicy and you can use frozen vegetables if you are short of time.
Here's how we cooked our Chinese chicken curry.
2 chicken breasts 65p
2 onions 16p
Small piece of ginger 15p
2 garlic cloves 6p
400ml stock 3p
2 tbsp low cal spray 10p
3 tbsp plain flour 10p
1 tsp sugar 5p
180g Rice 24p
Total: £1.54
Southern Fried Chicken
These are one of my family's favorite meals. This friendly meal is great with homemade chips and corn of cob. Get the kids to help you make them too.
This is how we make our Southern Fried Chicken.
4 chicken breasts £1.40
150g breadcrumbs 65p
2 eggs 20p
4 tbsp plain flour 15p
4 tbsp milk 10p
2 tbsp low cal spray 10p
4 potatoes 40p
4 corn of cob 52p
Total: £3.52
Homemade Burgers
These are gourmet burgers that can be spiced up or down depending on what your family like spice wise. We also cook our homemade chips and add cheese slices.
Here's how we make our Homemade Burgers. You can make them in the morning if you don't have time in the evening.
500g minced meat £1.99
1 onion 8p
2 garlic cloves 6p
1 egg 10p
Pinch of salt 3p
6 burger buns 56p
Lettuce leave 25p
Tomato 50p
Cheese slices 35p
4 potatoes 40p
Total: £4.32
Chicken Tikka Masala
This serves four and is a medium heat. This really does just take 10 minutes to make but does take up to 40 minutes to cook so make sure you have some time as it's worth it.
We make our homemade naan bread with this too.
4 chicken breasts £1.40
2 onion 16p
2 garlic cloves 6p
1 small piece of ginger 15p
200ml tinned tomatoes 28p
100ml single cream 60p
1 tsp lemon juice 5p
4 tbsp low cal spray 20p
1 tsp salt 3p
180g Rice 24p
Total: £3.17
Tomato-Baked Chicken
This is great if you have toddlers in the house too. It's healthy and will keep you all full up.
Smartprice Chicken wings (1kg) £1.65
Tomato & garlic pasta sauce (560g) 92p
Smartprice British small potatoes (1kg) 50p
Baby button mushrooms (150g) 86p
Total: £3.95
Chicken Balti
This serves four people and isn't as spicy as it sounds. If you prefer it light then don't add any chillis or paprika. This takes about 20 minutes to cook and does perfect with our egg fried rice recipe too.
Make our Chicken Balti recipe here.
4 chicken breasts £1.40
2 onions 16p
200ml tinned tomatoes 28p
3 garlic cloves 9p
Small piece of ginger 2p
1 tbsp tomato puree 3p
2 tbsp cooking oil 3p
1 tsp salt 2p
1 red chilli 5p
Pinch of dried paprika 3p
Total: £2.11
Chicken Jalfrezi
This curry serves 4 people and is of medium spice. It takes 30 minutes to cook but you can make it in the morning and then throw it all in one pan when you get home.
Make our Chicken Jalfrezi with egg fried rice and our homemade naan.
4 chicken breasts £1.40
2 onions 16p
1 red pepper 15p
1 tomato 16p
3 garlic cloves 9p
Small piece of ginger 2p
2 tbsp tomato puree 6p
2 tbsp cooking oil 3p
1 tsp salt 2p
Total: £2.09
Peri-Peri Chicken
This does take a bit of prep but is perfect for a weekend fakeaway. It takes about 30 minutes to cook and goes with wedges, rice and salad.
You can also have this with tortillas and salad if you prefer.
4 chicken breasts £1.40
3 garlic cloves 9p
Small piece of ginger 2p
Rind of lemon 3p
5 tbsp lemon juice 9p
2 tbsp cooking oil 3p
1 tsp salt 2p
4 potatoes 40p
180g Rice 24p
Total: £2.32
Chicken Fajitas
Making your own fajitas is a great family treat! Make sure you marinate the chicken and peppers before you cook as it does make them taste amazing! Here's how we cook our yummy fajitas.
This takes about 40 minutes to cook. If you like it spicy then add some chillis too.
4 chicken breasts £1.40
2 peppers 30p
2 onion 16p
Lime 6p
3 garlic cloves 9p
1 tbsp salt 2p
1 tsp sugar 5p
Tortillas £3.08
Burritos
I do these burritos when I know friends are coming over. I love the idea of everyone helping themselves and tucking straight in.
Items: Onion 10p
Long-grain rice (1kg) 40p
Red kidney beans in water (400g) 21p
Tortilla wraps (8) 92p
Little Gem lettuce (2) 75p
Fresh basil (31g) 80p
Salsa (300g) 69p.
Total: £3.87
Cottage Pie
This is a classic cottage pie recipe! Just chuck it all in and grill at the end.
Tin of New Potatoes (550g) 32p
Pork mince (500g) £2
Onion 22p, carrots x2 9p
Mushrooms 68p
Everyday Value soft cheese (200g) 49p
Total: £3.89
One-pot Chicken Pepper Bake
With little washing up involved, this one-pot chicken pepper bake is one of my personal favorites. It's great for Sunday lunch or if the extended family comes round.
Chicken Thighs (1kg) £2.75
Green Pepper 50p
Tin of Baby potatoes (550g) 32p
Total: £3.99
Lamb Kebabs in Pitta
This is a great fakeaway recipe for a Saturday night. You can change this up and add any meat or even have this vegetarian.
Lamb & mutton mince (500g) £1.59
Paxo natural breadcrumbs 65p
Natural Greek-style yogurt (200g) 65p
Garlic 25p
Cucumber portion 38p
White Pitta (6) 25p
Total: £3.77
Homemade Pizza
This is an easy quick Friday night dinner. You can make the dough in the morning or straight away as it doesn't need to sit. We use plain flour, dried yeast and some water to make the dough.
Taw Valley Mature Cheddar (approx 100g) 85p
Onion 10p
Chopped tomatoes (400g) 31p
2 x mozzarella (125g) 44p each
Loose closed cup mushrooms 20p
Total: £2.34
Mango and Tomato Curry
Who needs a takeaway when you can cook this mango and tomato curry for less at home. This is so simple and is a hit with the whole family.
Red onion 17p
Green chillies (50g) 65p
Loose tomatoes 60p
Small mango £1.15
Organic 2% Fat natural yogurt (150g) 49p
Basics long-grain rice (1kg) 40p
Total: £3.46
Fish and Double-Cooked Chips
This is a huge hit in our house. It does take a while to double fry the chips, I normally do this in a large pan with sunflower oil but if you have a deep fat fryer than all the better.
Frozen pollock portions (368g) £2.50
White baking potatoes (1kg) £1
Smart price mushy peas (300g) 20p
Total: £3.70
Bacon and Cheese Pasta
This bacon and cheese pasta is my little one's favorite dinner. She'd eat this every night if we let her, and I have to say, at just £3.41 for the four of us, this is a bargain!
Mushrooms 22p
English medium Cheddar cheese £1.74
Smartprice unsmoked middle bacon £1.04
Smartprice Pasta 31p
Onion 8p
Garlic 24p
Total: £3.41
Sweat and Sour Chicken
This easy to make sweet and sour chicken recipe is perfect if you have friends coming over. Make a huge batch with brown rice and add as many vegetables as you like! Here's how we make our sweet and sour chicken recipe here.
2 boneless, skinless chicken breasts £1.16
1 x 425g can pineapple chunks in natural juice 50p
2 tbsp cornflour 2p
½ tsp dried chilli flakes 2p
2 tbsp dark soy sauce 5p
2 tbsp tomato puree 2p
1 medium onion 8p
300g frozen peppers 43p
2 garlic cloves, peeled and crushed 5p
Total: £2.33
Pasta with Cherry Tomatoes
This is one of those "chuck in whatever you have" recipes. It's mega easy and even grilling the tomatoes only takes minutes.
Wholemeal penne (500g) 55p
cherry tomatoes (250g) 53p
Dried basil (14g) 69p
Total: £1.77
Spicy Sausage and Cheese Bake
As long as you have butter, flour, and milk in your cupboards, then this sausage and cheese bake comes in way under budget.
Smartprice pasta shapes (500g) 30p
Smartprice thick sausages (12 per pack – 681g) 88p
Chosen by You English Mature Cheddar (200g) £1.27
Smartprice mozzarella (125g) 44p
Total: £2.89
Easy Sausage and Potato Casserole
This Sausage and potato casserole is so easy to make and really cheap to buy. A lot of these ingredients, including the sausages and puree, can go toward other meals too.
Onion 22p
Tin of New Potatoes 32p
Frozen Sliced Peppers (600g) £1
Frozen Value pork sausages (20 pack) 99p
Chopped Tomatoes 29p
Puree (80g) 75p
Total: £3.57
Mac 'n' Cheese
Cheesy pasta is a family favourite in my house. Try it in the slow cooker for an extra easy weeknight dinner.
200g macaroni pasta 13p
200g cheese £1
100g plain flour 10p
Stock cube 6p
25g butter 3p.
Total: £1.32
Related Posts:
Spaghetti Bolognese
This spaghetti bolognese recipe is so simple and the longer you leave it in the more intense the flavour.
The sauce can be left to cook all day, ready to be mixed with freshly-cooked pasta when you get home.
1 onion chopped 22p
1 tbsp tomato puree 10p
2 tins chopped tomato 58p
1 tbsp caster sugar or to taste 4p
1 celery stick chopped 10p
250g minced beef 83p
1 carrot chopped 7p
2 cloves garlic chopped 4p
1 tsp oregano 2p
2 large mushrooms chopped 75p
1 beef stock cubes 6p
1 handfull Parmesan for sprinkling 20p.
Total: £3.01, that's 75p a head.
Laura x
If you enjoyed this post and would like some more family friendly budget recipes or meal plan ideas, then head over to the budget food section here on Savings 4 Savvy Mums where you'll find over 30 cheap posts dedicated to helping you cook and shop wiser for less. There's enough tips to help you save over £300 a month! You could also pop over and follow my family food Pinterest boards for lots more ideas on how to eat well and spend less; Family Meal Plans on a Budget, Budget Family Meals & Budget Slimming World Recipes for Families.
Love this post? Then why not save it to Pinterest so you can easily find it later.
What the * means
If a link has an * by it, then this means it is an affiliate link and helps S4SM stay free for all. If you use the link, it may mean that we receive a very small payment. It will not cost you anymore that it would normally.
You shouldn't notice any difference and the link will never negatively impact the product. The items we write about are NEVER dictated by these links. We aim to look at all products on the market. If it isn't possible to get an affiliate link, then the link, or product is still included in the same way, just with a non-paying link.