The Best Budgeting Apps For Families
After too many sleepless nights, keeping track of all your bills suddenly becomes a minefield. Using a daily expense tracker app might just be what you need to keep your finances in order, but which one is the best?
As dull as it may be, managing your money and budgeting is crucial. In fact, ignoring your cash flow completely could be one of the most dangerous things you do as an adult.
But budgets don't have to be boring and keeping track of your money takes minimal effort.
Are budgeting apps safe?
Most budgeting apps are safe. Before you commit though, make sure that your money management app you are looking for is regulated by the Financial Conduct Authority. Just like a high street bank, all these apps have a responsibility to look after you and your money.
How do budgeting apps work?
All the budgeting apps on our list use open banking. This means that, with your permission, they can access all your bank accounts and pull the information through to their app. It doesn't matter if you hold different accounts with different banks. With open banking, they can use this information to serve you the current accounts.
This includes current accounts and saving accounts.
The good thing about open banking is that you don't need more than one of these apps as they pull all the information for you.
Free Money Saving Printables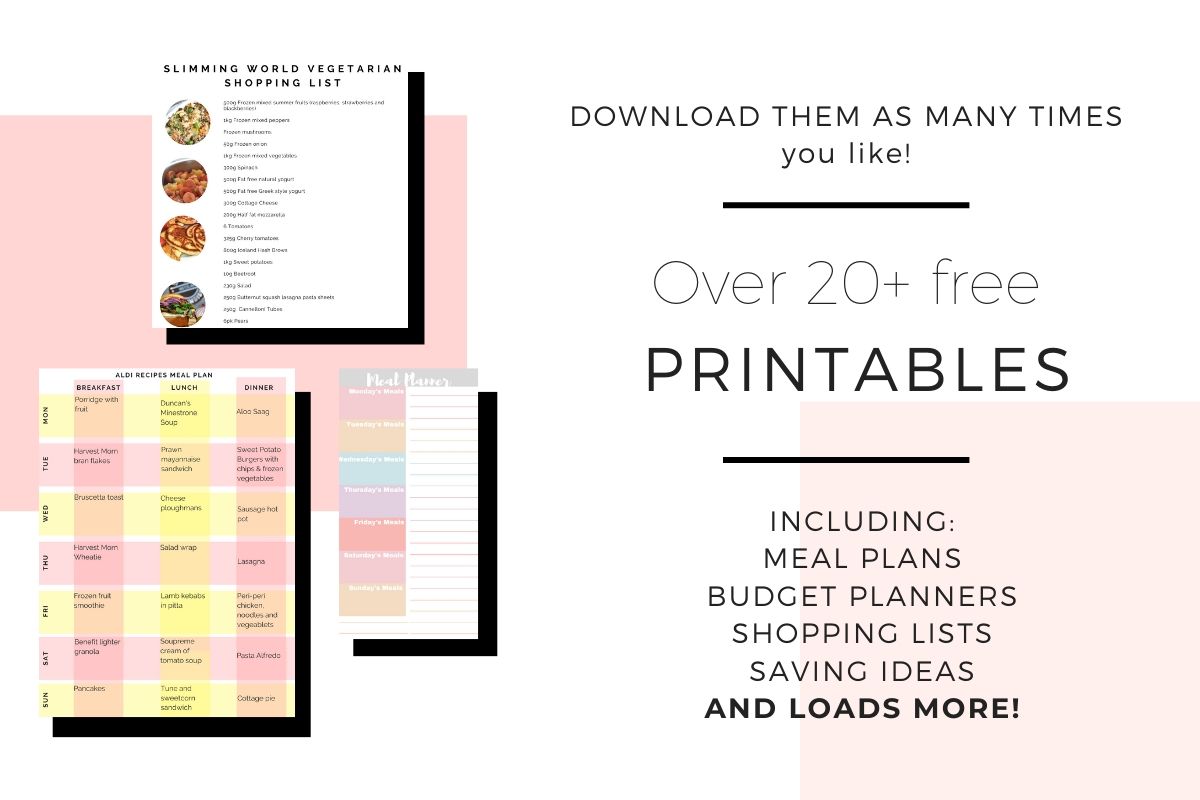 If you are looking to save your family money then come join our free Resource Vault. It's packed full of money saving printables that you can print off again and again.
This includes our Budget Planner and loads of meal plans.
Join our free Resource Vault here
(By joining giving us your email address you are consenting to us emailing you about our other travel, home and lifestyle ideas. You can unsubscribe at any time by clicking the link at the bottom of every email.)
The Best Personal Finance Apps UK
So here are 7 of the best apps that make it super easy to keep tabs on your money. The best thing about all these are that they don't just show you what you are spending but also give you tips on how to save money based on your own accounts.
They can even help you set financial goals and give you free budgeting ideas to keep you on track. These budget apps are great if you are technology-driven and have everything else on your phone.
These apps are available now and can link to savings accounts too.
Fore more money saving ideas, please have a look at:
25 of the Best Ways To Save Money In The UK Right Now – This post gives you money saving ideas for the whole family.
103 Frugal Living Tips That Will Save You Thousands – This is our full list of money saving ideas. Everything is included from food budgeting to ways to cut down your bills.
Penny Saving Challenge: Save Over £600 in a Year – If you prefer to do your saving with a jar and Excel then this is for you. This talks you through how the penny challenge works and how to stick to it.
Best App for Money Tracking
Snoop
Snoop is a free money management app that was created to help you manage and save money. Snoop wants to help you make smarter choices and get on top of your money.
What we love about Snoop
We love the money-saving tips that the app gives you and the ideas on how you can cut your bills by offering you switching opportunities. This saves you from having to look around yourself and making sure you are on the best deal.
They also give you daily balance alerts for all your connected accounts. This means that you know exactly how much money is in each account which is great when you are trying to budget.
Snoop is free to use and offers you loads of features from warning you before money comes out and reminding you about any annual bills.
Read more about we think about Snoop here
You can download the Snoop app onto your Android or Apple device for free here
Plum
Plum is a free app that helps boosts your bank balance. It's the smartest app for managing your money. It analyses your spending patterns and automatically puts your money away for you, so you don't have to think about it.
What we love about Plum
What we love best about Plum is that it keeps track of your money for you. You can adjust how much you want to put away and withdraw your money or move it at any time.
Plum helps you to identify if you're overpaying on bills and can switch you to a better supplier quickly, helping you save money.
Read more about how Plum works here
Download Plum for free here. It works on iPhones and Android*.
Best Spending Tracker
Yolt
Part of ING, Yolt is a great expense tracker tool if you want to manage your overall spending.
Using categories, this expense app sets out your budget simply. You can view all your accounts together, including any joint accounts from multiple banks.
What we love about Yolt
Using their "Smart Money Insights" tab, you see week by week how you've been spending, with the categories telling you how much of your wage has been used.
Giving you an idea of how much you have left to spend over the month, it also takes expected bills into account.
It can track everything, from your energy providers to subscriptions. Tracking and monitoring your cash is easy, especially if you want to try and keep a certain category down.
Star Feature: Being able to compare energy deals so you know you're getting the best deal.
It's free to use and a great way to see your money clearly.
Money Dashboard
This clever personal expense tracker lets you view all your incomings and outgoings all in one place.
No matter the supplier or bank, you can view your financial portfolio all in one place.
What we love about Money Dashboard
Money Dash gives you a weekly snapshot via email and a quick dashboard overall when you're out and about.
Everything is group together so you can easily see what you've been spending and the simple charts help lay it out.
Star Feature: If you want to start saving, then you can set up goals and the app will help predict how much you will have leftover every month to save.
Money Dashboard is free to download here
Best Budgeting Apps UK
Squirrel
This is a great expenses app for anyone with very low self-restraint as it works on a "can't see it, can't spend it" policy.
Squirrel slowly gives you your money bit by bit, by portioning your money into three groups; commitments (bills, mortgage etc), saving, and spending.
It then puts your money into your current account when it's needed.
What we love about Squirrel
Any money left over is classed as spending money, and the app will divide it up for you, letting you know how much you have day by day.
The only downside is it does take a day to update, so if you need minute by minute numbers, then this may not be for you.
Star Feature: Really clear to see where your money is going, and you don't need to think about anything, it tells you exactly what you have.
it does cost £9.99 a month to use but that does give you access to all their features.
Chip
If you need to save in a hurry, then this personal tracker app is for you.
With read-only access to your incomings and outgoings, Chip quickly works out how much you can afford to save without affecting your spending.
It then divides your cash into separate accounts and saves with Barclays. The only input it then needs is if you need to save more than £100 a month, then it requires you to move this manually.
What we love about Chip
We love the One-click saving. You save a set amount every month with no need to think about how much that is. You can also really quickly set saving goals that Chip will help you meet.
Chip is free to use up to £100 money saved. After that it is £1.50 every 28 days to use their full features.
Related Posts:
MoneyHub
Like the others, MoneyHub tracks your daily expenses and puts your financial portfolio all in one place. It includes loans, investments, and credit cards, to give a total view of where you are.
It helps you set up budget goals and tracks how you're going.
What we love about MoneyHub
Star Features: The handy calculators are great. Taxes, pensions and house prices can be added, to help you reach your long-term goals.
MoneyHub is free to use.
Laura x
If you enjoyed this post and would like some more money saving ideas, then head over to the saving my family money section here on Savings 4 Savvy Mums where you'll find over 50 money saving tips to help you save your family more. There's enough tips to help you save over £300 a month! You could also pop over and follow my family saving Pinterest boards for lots more ideas on how to stop spending and save more; Money Saving Tips for Families and Managing Money for Families.
Love this post? Then why not save it to Pinterest so you can easily find it later.
What the * means
If a link has an * by it, then this means it is an affiliate link and helps S4SM stay free for all. If you use the link, it may mean that we receive a very small payment. It will not cost you anymore that it would normally.
You shouldn't notice any difference and the link will never negatively impact the product. The items we write about are NEVER dictated by these links. We aim to look at all products on the market. If it isn't possible to get an affiliate link, then the link, or product is still included in the same way, just with a non-paying link.