Including money saving tips around the house
Saving money doesn't mean being boring – the cash you save can help pay for treats and fun days out with the family.
Spending less and putting more into your savings may not come naturally, but there are so many different ways to save, some, involving you doing nothing!
Ways to save money on a tight budget
For us, spending less than we earn means that we can start putting some money back into the saving pot again and work toward our goal of Mr. Savvy dropping a few hours at work.
But whatever your motivation, there are lots of easy ways to save.
Many of us don't even have an emergency fund to fullback on. A pot of money just sat there for those "just in case" times, like when the washing machine breaks or the car fails its MOT.
Without this fund, you could start slipping into debt which none of us want to do. I aim to have three months sat there in our fund, in case I can't get work or Mr.Savvy is sick and doesn't get paid.
To be honest, most months we've had to dig into it for the very reasons above. The washing machine went (it was only 4 years old), my car was written off (I wasn't even in it) and we had a leak from upstairs into the kitchen!
Saving more money means that we all have it, without having to borrow.
For more ways to save money, make sure you have a look at:
101 Frugal Living Tips That Will Save You Thousands in 2020
99 Saving Tips That Will Save You Money in 2020
1p Saving Challenge: How to Save Over £100 in 30 Days
Money Saving Printables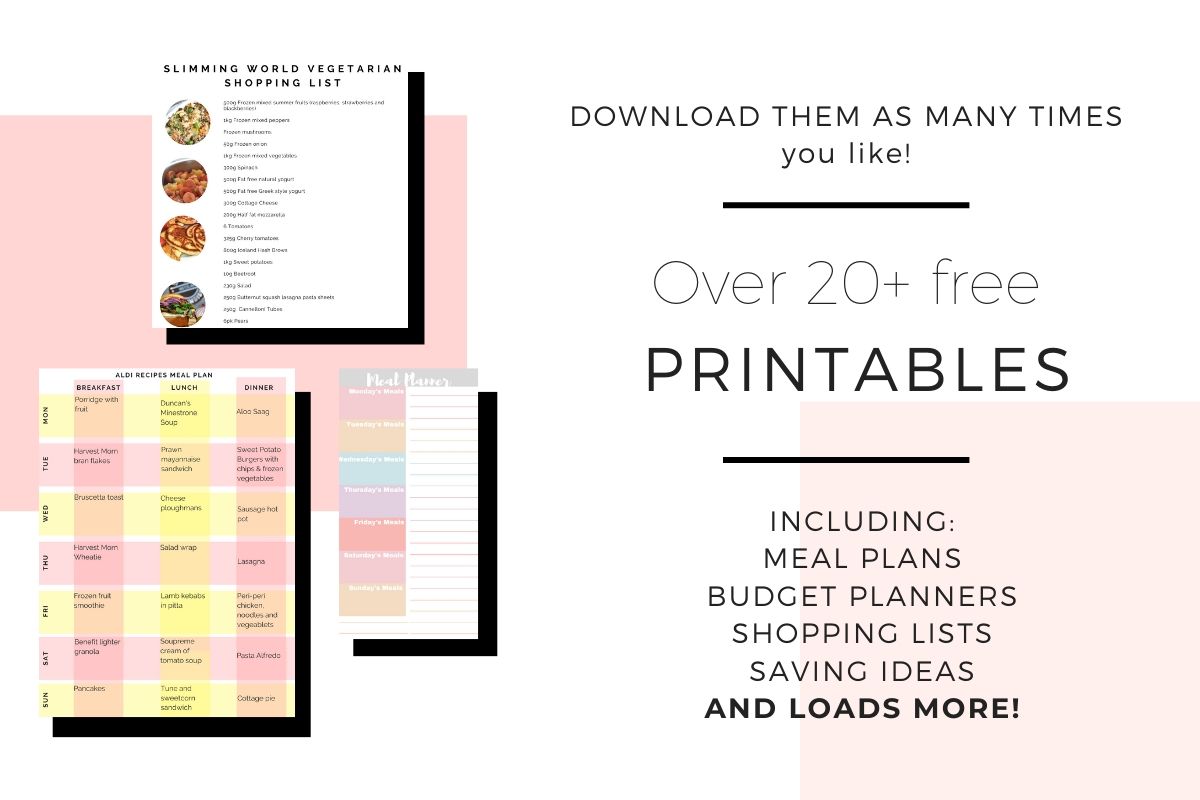 If you are looking for ways to save money as a family then make sure you use our free Resource Vault. It's packed full of meal plans, shopping lists and money saving ideas. You can use these as many times as you like!
Join our free Resource Vault here
(By joining giving us your email address you are consenting to us emailing you about our other travel, home and lifestyle ideas. You can unsubscribe at any time by clicking the link at the bottom of every email.)
What is the best way to save money
These are best money-saving tips that we use ourselves daily. Please remember that if you are in real money difficulty then get help now. The Money Advice Service offers free advice to help you get out of debt as soon as possible.
If you have a credit card and are not paying it off in full every month then it's not saving you money. It's dragging you down.
Always pay off your debt first before you start to save as this will save you money in the longer term.
Cut costs by doing these 25 simple money saving ideas.
If you need to make money quickly from a side hustle then have a look at these posts here:
This is How to Make Money Dropshipping in the UK
Matched Betting Guide: Start Matched Betting from Home
Easy ways to save money in the UK
1. Switch Your Utilities
I do this every year without fail. I spend half a morning running our current usage through a price comparison site and look out for the best deals.
It may not be the cheapest, but it will be the best one for us, to make sure we aren't paying extra every month.
Everything gets looked at. Gas, electric, broadband, line rental, home and car insurance plus anything else subscription wise we have.
We recently switched to Bulb which helped us saved over a hundred pounds on our energy bills.
Get a free quote with Bulb here and see if they can save you money too*
Last year, by switching and haggling, we saved a massive £250. It does take time but is really worth phoning around and haggling.
Know your limit though, in case they call your bluff.
2. Automate Your Savings
There are loads of these about, but our favorite is Plum. We find it really easy to use and because its automated, it takes the thinking out.
You have total control of your money. No ifs or buts!
Download Plum on Iphone and Andriod for free here*
We like that the automatic savings can be canceled at any time and it's easy to tell the app to save less or more. The only thing that grates me is the speed of the transactions, sometimes they can be pending for a few days before they are added to your account.
Read more about what we think about Plum here.
We also like using Snoop. It's quite new to us but it's another easy to use app that is free to use.
Download Snoop here for free on Iphone and Andriod.*
3. Meal Plan
Seriously, if you aren't meal planning then you need to, right now! Since meal planning, I can now shop for as little as £16 a week for four of us.
Meal planning is really simple to do.
I start by going through everything I have and deciding what I can use that week to make a meal and only buy what I need.
Stick the meal plan to the wall so nothing comes as a big shock when dinner time comes around.
I find meal planning hard, but it's the most important part of eating on a budget. It gives you a plan you can use to help you buy food more wisely and stop you looking in the fridge for 5 minutes trying to think what to make for dinner tonight.
This happens more then I would like… So I designed a few menu planners that work best for me and I thought I would share them. Enjoy!
Sign up to receive our FREE budget saving printables, including our slow cooker meal plan, available exclusively to subscribers!
If you are looking for meal planning ideas or how to do it then have a look at:
7 Cheap Online Shopping Hacks That Will Save You Thousands
19 Cheap Food Shopping Hacks That Could Save You Hundreds
The Ultimate £1 Per Head Budget Meal Planning List
4. Get cheap insurance
Insurance can be a bit outlay every year. Making sure you have the right package with the right people at the price is really important.
Make sure you shop around before you renew anything!
Get a free quote with Buzzvault here*
We recently switched to Buzzvault which gave us a great price on our home and content insurance. What we like the most is that they do an online valuation of all your items, so if something happens, your items can be replaced like for like without having to find proof of purchase.
Read about what we think of Buzzvault here.
5. Cashback Websites
We use cashback websites everything we buy something one.
Our favorites are:
OhMyDosh
OhMyDosh is an easy to use cashback site that's free to use. It's not like a normal cashback site though. OhMyDosh gives you loads of ways you can make money including:
The refer a friend scheme. Refer your friends to OhMyDosh and earn yourself £5 for every sign up and your friend £1*.
Competitions: Enter them for free and receive money.
Shop through them to earn the bigger rewards.
The best thing about OhMyDosh is that you only need to make £10 to "dosh out" and they pay out through your bank or through PayPal.
If you are new to OhMyDosh* then use our link here to get your first free £1*.
You can read more about how OhMyDosh works here.
Swagbucks
Swagbucks is free to join and like Quidco you can save money while shopping online. The good thing about Swagbucks is that you can also earn money by watching videos, playing games and taking part in surveys.
There's an option to download their SwagButton* for free which pops-up and reminds you about the cashback you could earn.
You can collect points which then can be used as cash and transferred via PayPal or gift cards.
Read more about what we think about Swagbucks here.
Quidco
Quidco* is a great way to save money. We've saved over £200 in the last few months and their site is really easy to use.
Use our link here and get a £10 cashback bonus when you make your first purchase on Quidco*.
It's free to join Quidco* and they have access to over 4,000 retailers, and a lot of these are big household names.
You can also use Quidco* to even save money on your weekly food shop with their Click Snap app.
It's really easy to get your money out. It can go straight into your bank account or via PayPal.
There's loads of Quidco member offers!
Dominos Pizza – If you're looking for a treat for the whole family then try Dominos. You can get cashback by joining Quidco* here.
Fashion – Quidco has so many high street retailers including Geroge at Asda, GAP and New Look. Check out
Quidco's Fashion category for the full list.
Utilities – If you're looking to switch provider then make money while you're doing it. By joining Quidco you can switch and make money at the same time.
Toys – Whatever you're looking for make sure you look at the Quidco toys category. They have some of the top retailers that can offer money back on your must-have purchases.
While it's true that sometimes the best offers are for new customers, Quidco do offer some great deals for existing members too.
If you are an existing customer then try:
* looking at Quidco's hottest cashback offers. It shows all the best offers in one place.
* Use Clip Slip to get money back on your food
* Contact Quidco directly and see if they can offer more discount then they are offering everyone else
You can earn money back by just visiting one of these before you buy. I've earned a good couple of hundred quid from Quidco this year on items I was going to buy anyway! Seriously, this is a no-brainer and costs you nothing!
6. Ignore the Takeaway
We now have a "fakeaway fund", so every time we resist Pizza Hut or anywhere else, we stick the money in the pot to use on a day out instead.
When we fancy something, WE tend to make it now.
Nothing is out of bounds, from fake KFC to homemade pizza (which the kids love making) to Maccy Ds quarter pounders. Lush!
If you fancy a fakeaway night and save money on a takeaway then have a look at:
An Easy Sweet & Sour Chicken Recipe For Just 58p
Easy Chicken Fajita Recipe: A Family Meal for 94p a Person
Chinese Chicken Curry For Just £1.54 For 4
Really Easy Homemade Beef Burgers For Under £1 a Head
The Best Southern Fried Chicken Recipe For Under £1 a Head
Chicken Tikka Masala Curry For Under £4 a Head
7. Mystery shopping
I've just started this and love it. Going out, even for a date night is sometimes too expensive, but this way we get to have dinner and still make money!
It works like this. We visit a store or restaurant and have a meal within the agreed requirements (as in, by three courses and a cocktail or buy two desserts and a drink) then rate our experience, or asses the staff, quality of food etc.
We get reimbursed for the meal and have the option to make extra on top. It's pretty much a win-win!
8. Free Food
Yep, not a coupon in sight.
I use Checkout Smart and Shopmium which allow you to get free food without having to shove a coupon in someone's face.
Check the offers on the apps first, purchase the item, upload your receipt and get your money back. It really is that simple.
If you are struggling for food, then please get help. This post talks you through everything you need.
No Money for Food? This is What You Do When You Really Have No Money To Feed your Family
9. Downgrade Your TV Packages
Loyalty doesn't pay! Haggle away and see what you can get? What's the worst that can happen?
If you decide to cancel completely, then have a look into Freeview, which offers a lot of the paid channels (like Dave, Film 4 and Magic) for free!
BBC iPlayer, ITV Hub, Channel 4 and loads more also offer free apps, where you can stream there shows anytime for nothing!
There's also an Amazon Fire HD Stick (for a one-off payment, then a range of different services you can try for free.
Amazon Prime is £79 a year after the free trial, Netflix is £7.99 and that lets you stream across two devices. Hayu is another one, that's £3.99 a month after the trial.
If you can't live without your current subscription, then phone and get them to lower it. Most of the time they will, or will ask you to downgrade a little for a lot less a month.
10. Budget for Christmas
It happens to all of us before we know it, the shops are rushing in Christmas trees and every advert on TV is a toy one.
Make this year different and save before December. I've been saving all year using the pound a day challenge.
You can use our money-saving challenge here which really does help you save money quickly.
My version is like the poor person's version of the traditional savings challenges as it's much more achievable than the ones I've seen doing the rounds.
This will give you £364 by the first week of December, and at its maximum, it's just £7 a week.
This is such an easy way to save and stops your panicking or relying on Christmas savers every year.
11. Use sites like Facebay
Gumtree to pick up free toys for your kids. Look at our 15 Free Baby Stuff For Expecting UK Mothers post for more help on getting freebies.
12. Pay off your biggest debt
Work out your biggest debt and aim to pay that off before you save. For us, it's the mortgage as that's not only our biggest outlay but also has the highest interest. Aim to overpay if you can, leaving you with less interest to pay as you go.
13. Loyalty doesn't pay.
Switching banks or suppliers can normally earn you special deals with your new provider or even extra cash in your pocket.
14. Cancel any subscriptions
The ones you just can't live without call. Threatening to leave or downgrade your package normally works but don't go too far in case they call your bluff!
Alternatively, if you do use products regularly then it's worth checking if they have a subscription service which can save you money, such as CBD oil from Evopure.
15. Go through your wardrobe
Anything you haven't worn in the last year sale on Facebook or eBay. You may only get a couple of quid, but it's better than a cupboard full of dusty old clothes.
15. Avoid store cards at all costs.
Don't let the introductory 10% or 20% offers to tempt you.
16. If you need to buy new, then look online first.
Many sites like Everything 5 Pound or Very offer good quality clothes for low prices and normally offer free delivery too.
17. Make discounts count.
Use any loyalty card points or coupons when you need something new. No one sees the label or how much it cost.
18. Car share
Does anyone come close to where you live? Even if you share the petrol costs, it's still cheaper than a bus, train or driving yourself to work.
19. Walk or cycle if you can.
If you're just nipping to the shops, chuck the kids in the buggy or on a scooter and walk. Might as well burn some calories and think of all that petrol you've saved.
Related Posts:
20. Fuel offers
If you have a loyalty card then some supermarkets offer fuel deals, like 1p off a litre when you spend £25. Use them, they are worth it!
21. Use sites like Compare the Market
These offer you buy one get one free on cinema tickets if you buy a product through them. We bought a £2.99 travel plan with them and now receive this offer for a whole year. So even if we go once, we would have already made our money back.
22. Go out for free
If you need a FREE day out then there are plenty of museums that offer a fun family experience.
23. Take lunch
Take your own lunch everywhere you go. Use these budget-friendly lunch ideas for when you go out and about.
24. Use loyalty cards
Some supermarket loyalty cards offer money off top attractions certain times of the year. Find out when and go.
25. Ask for tap water while out
If the restaurant serves alcohol then by law they have to supply free tap water.
So How Many of these are you doing?
Even if you started these now, there is a good chance you can make some serious savings and see a real difference in your bank balance.
How many have you tried? Let me know in the comments below.
Laura x If you enjoyed this post and would like some more money saving ideas, then head over to the saving my family money section here on Savings 4 Savvy Mums where you'll find over 50 money saving tips to help you save your family more. There's enough tips to help you save over £300 a month! You could also pop over and follow my family saving Pinterest boards for lots more ideas on how to stop spending and save more; Money Saving Tips for Families and Managing Money for Families.
Love this post? Then why not save it to Pinterest so you can easily find it later.
What the * means
If a link has an * by it, then this means it is an affiliate link and helps S4SM stay free for all. If you use the link, it may mean that we receive a very small payment. It will not cost you anymore that it would normally.
You shouldn't notice any difference and the link will never negatively impact the product. The items we write about are NEVER dictated by these links. We aim to look at all products on the market. If it isn't possible to get an affiliate link, then the link, or product is still included in the same way, just with a non-paying link.