Including a budget meal plan with low-syn options
Finding Slimming World breakfast ideas when you are on a budget can be hard. You want healthy and easy family recipes but don't want to break the bank.
Having a pre-made list like our breakfast ideas below help you to plan ahead and know what you are going to make. It makes it a lot easier when you are running out of time in the morning and just need to feed the family a healthy extra easy meal.
If you've just started your healthy eating journey or are struggling to find Slimming World breakfast ideas that are cheap and easy then this post will help you.
Make sure have a look at our other Slimming World posts which will help you to meal plan on a budget:
71 Budget Vegan Slimming World Recipes for the Whole Family
Aldi Slimming World Shopping List 2020
Slimming World Meal Plan: 7 Days of Cheap Slimming World Meals
75 Slimming World Vegetarian Recipes That The Whole Family Will Enjoy
Join our free Resource Vault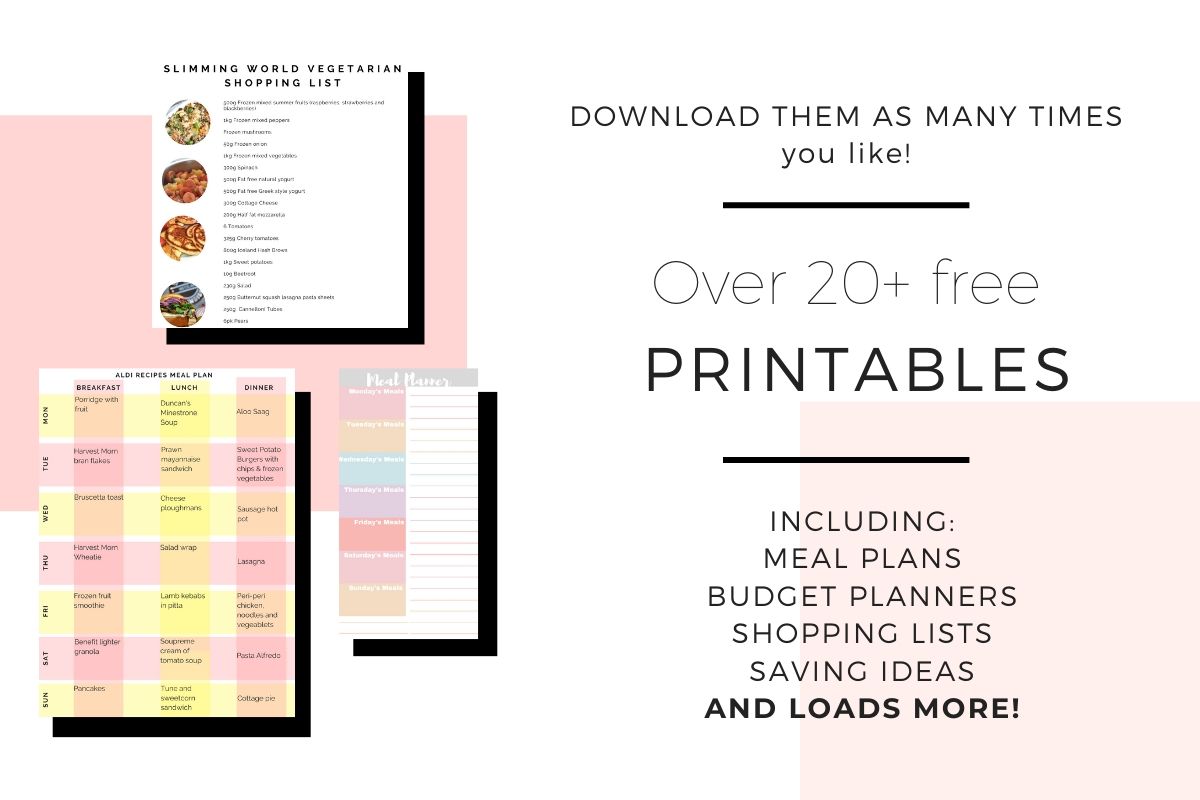 Come join our free Resource Vault that's packed full of money saving ideas. We have downloadable meal plans, shopping lists and budget planners that you can print off as many times as you like.
Come join our free Resource Vault here
(By joining giving us your email address you are consenting to us emailing you about our other travel, home and lifestyle ideas. You can unsubscribe at any time by clicking the link at the bottom of every email.)
Slimming World Money Saving Ideas
If you are new to Aldi or even to budget food shopping then our top five tips are:
1. Set a meal plan
Let everyone pick a meal to fill up your meal plan. Use our Slimming World posts from above to help and takes the thinking time out of it. You can use our free meal plan templates from our Resource Vault here, which is free to join.
2. Go through your cupboards
This takes into account your kitchen staples. A full list of kitchen staples can be found here but normally food like chopped tomatoes, passata, tomato puree, wholemeal bread mix, noodles, Frylight, eggs, dried mixed herbs, garlic, vegetable stock and pasta all count as staples.
If your family like to try something different then have a look at Spicentice*. They offer quick meal ideas through spice packs. They are vegan and slimming friendly and serve a family of four. If you are a beginner cook then these are perfect as they have the exact ingredients on the back and really detailed instructions on how to the meal.
We tried them for a week and loved them. If you would like to give Spicentice* a go then remember to use my code LASAVE20 for 20% off at the checkout.
3. Use Your Slow Cooker
Having a slow cooker to hand means that you can cook loads of meals while you are out. You can also make bulk out slow cooker meals easily with cans of kidney beans or baked beans.
Have a look at our 31 Aldi Slow Cooker Recipes For The Whole Family that has loads of ideas. (These aren't all Slimming World friendly)
If you don't own a slow cooker then we use this one, which is a Morphy Richards Slow Cooker Sear and Stew 460012 3.5L Black Slowcooker*.
4. Eating More Veg
Meat and fish are currently pretty pricey. Try grating vegetables into everything to try and bulk it out then freeze any leftovers for the next day. Also, frozen vegetables are great as you only need to use what you need.
5. Waste Nothing
Easier said than done with kids, but by being really strict, you can reduce what goes into the bin.
Anything that goes on your shopping list needs to have a meal allocated to it.
If your kids don't eat much, then try serving everything all together and getting the kids to pick how much they want.
They can always come back for seconds, but it means you can freeze whatever isn't eaten for another time.
Slimming World Breakfast Ideas
All these meals are healthy and are low-syns. Remember your healthy A or B though and think about what you are eating for the rest of the day.
These will help full you and your family up till lunch. They are cheap breakfast ideas that can be made the night before and defrosted the next morning.
Egg, pepper and ham muffins
Frozen fruit baked oats
French toast with frozen fruit
Oatmeal smoothie bowl; you can use any fruit smoothed up
Banana oat bars
Ham and egg cups
Breakfast wrap with bacon (no fat), scrambled egg and tomatoes
Low Syn Pancakes with frozen fruit
Frozen strawberries with Fat-Free Natural yogurt
Fresh fruit salad and Fat-free Greek-style yogurt
Full English breakfast: 2 Eggs, 2 Slimming World sausages (grilled), 2 strips of bacon with fat cutoff (grilled), tomatoes, 2 mushrooms (grilled) and 1/2 tin of baked beans
Scrambled egg mixed with defrosted fish, any cut.
One Slimming World sausage, baked beans and scrambled eggs
Scrambled eggs, grilled tomatoes and a slice of toast
Omelette with ham or mushrooms
Poached eggs with One Slimming World sausage
Wholemeal toast
Porridge with low-fat yogurt
2 Slices of Wholemeal Toast with bacon
Overnight oats with low-fat yogurt and mixed fruit, can be frozen
Sliced banana with wholemeal bread
Poached egg sandwich
Baked beans on wholemeal toast
Slimming World sausage sandwich
Boiled eggs with two slices of wholemeal bread
Ryvita topped with Philadelphia cheese and ham
Cheese on toast
Slimming World Meal Plan
Use this meal plan to help you plan some meals and keep your shopping bill low. We have examples of budget meal plans in these posts below. They aren't Slimming World approved, but they give you an idea of what meals can be cooked on a low budget.
21 Budget Family Meals and a £16 Aldi Meal Plan
Feeding a Family on a Budget: This Weekly Shop is Just £18
Monday
B: Slimming World sausage sandwich
L: Ham and mixed Vegetable Quiche
D: Homemade beef burgers with sweet potato fries
Tuesday
B: Sliced banana with wholemeal bread
L: Syn Free French Onion Soup
D: Tomato pasta
Wednesday
B: Frozen strawberries with Fat-Free Natural yogurt
L: Sweet potato and chilli soup
D: Chilli
Thursday
B: Benefit lighter granola with strawberries
L: Syn Free French Onion Soup (leftovers)
D: Stir fry chicken noodles with vegetables
Friday
B: Breakfast wrap with bacon (no fat), scrambled egg and tomatoes
L: Sweet potato and chilli soup (leftovers)
D: Spaghetti Bolognese
Related Posts:
Saturday
B: Dried Everyday Essentials Porridge Oats with Frozen Mixed fruit
L: Omelets with handful of frozen vegetables.
D: Grilled chicken kebabs (with mushrooms, onions and peppers on skewers in soy sauce and garlic) served with boiled rice.
Sunday
B: Full English: bacon, tomatoes, mushrooms, scrambled eggs, beans and brown toast
L: Homemade sweet potato and carrot soup
D: Chicken stroganoff – fry onion, garlic, celery, pepper, carrot in fry light. Add chicken, mushrooms and paprika and fry until cooked. Remove from heat then add fat-free natural yogurt – lovely with rice!
Laura x
If you enjoyed this post and would like some more family friendly budget recipes or meal plan ideas, then head over to the budget food section here on Savings 4 Savvy Mums where you'll find over 30 cheap posts dedicated to helping you cook and shop wiser for less. There's enough tips to help you save over £300 a month! You could also pop over and follow my family food Pinterest boards for lots more ideas on how to eat well and spend less; Family Meal Plans on a Budget, Budget Family Meals & Budget Slimming World Recipes for Families.
Love this post? Then why not save it to Pinterest so you can easily find it later.
What the * means
If a link has an * by it, then this means it is an affiliate link and helps S4SM stay free for all. If you use the link, it may mean that we receive a very small payment. It will not cost you anymore that it would normally.
You shouldn't notice any difference and the link will never negatively impact the product. The items we write about are NEVER dictated by these links. We aim to look at all products on the market. If it isn't possible to get an affiliate link, then the link, or product is still included in the same way, just with a non-paying link.