Including vegetarian and vegan Slimming World ideas
Finding delicious Slimming World family-friendly meals isn't easy. We all know that cooking one meal saves us money but what if you can't find a meal that the whole family like?
This post brings you over 100 easy Slimming World meal ideas that are either syn free or low syn. This includes slow cooker ideas and even fakeaway meals like a great chicken curry.
Just because you are following Slimming World doesn't mean that you can't eat all the food you or your family love. You can! You can still eat egg fried rice, potato salad and chicken korma all in moderation.
If you are looking for vegan or vegetarian ideas then look at:
71 Budget Vegan Slimming World Recipes for the Whole Family
75 Slimming World Vegetarian Recipes That The Whole Family Will Enjoy
Free meal plans and shopping lists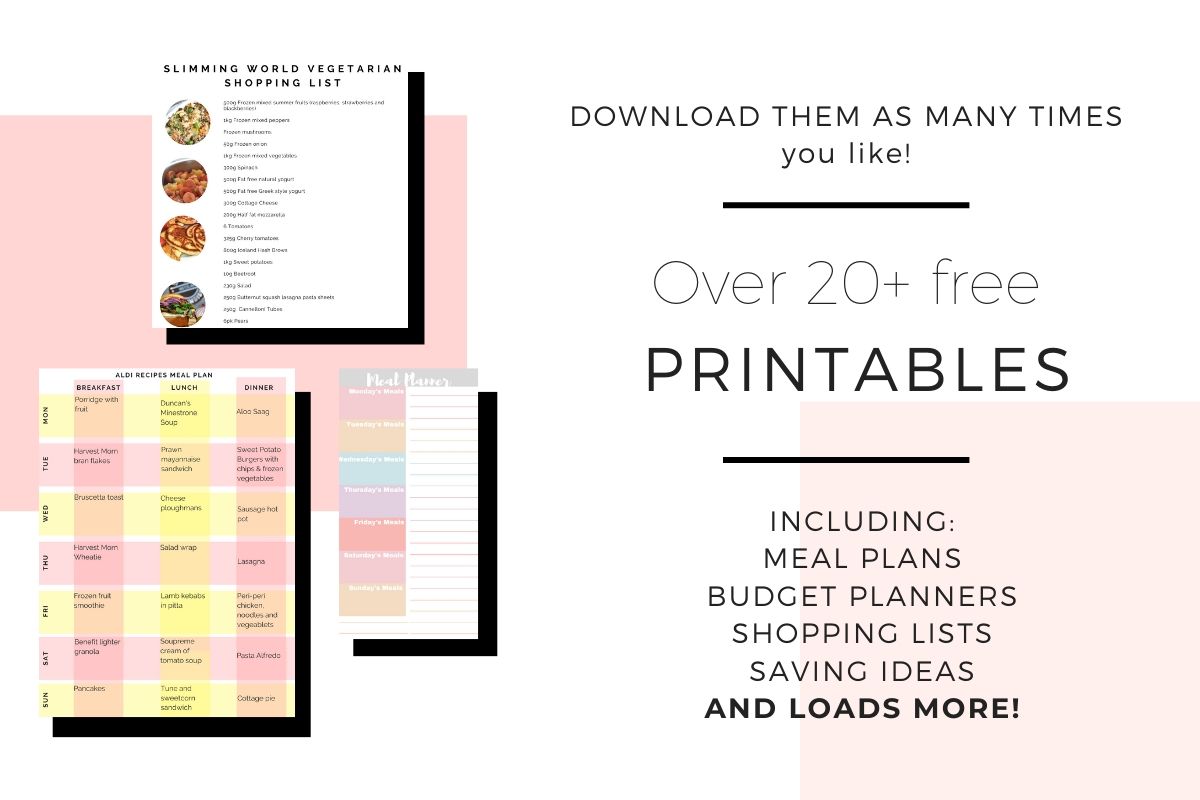 If you are looking for free meal plans or shopping lists to have you budget then come join our free Resource Vault. It's packed full of ideas and printables that you can download as many times as you like.
Join our free Resource Vault here
(By joining giving us your email address you are consenting to us emailing you about our other travel, home and lifestyle ideas. You can unsubscribe at any time by clicking the link at the bottom of every email.)
Slimming World Budget Ideas
If the idea of trying to feed your family using Slimming World fills you with dread then use our 5 money-saving tips to help keep your food shopping down:
If you're worried about buying groceries while on Slimming World or think that the plan can't work for the whole family then use these 5 tips below to keep your shopping bill down.
Meal plan
Meal planning is the best easy to save money as a family. Use our templates in our Resource Vault to help you plan.
Write down the meals you want for a week. These don't have to be set in stone but means that you are less likely to go for a takeaway and will cook from scratch.
Look here for budget Slimming World meal plans for the whole family:
Cheap and Easy Slimming World 7 Day Plan
Aldi Slimming World Shopping List 2020
Use money-saving apps
Use money managing apps like Snoop to keep your shopping bill under control. Using an app like Snoop can really help you keep your money in check. Snoop* can help you build up your savings while showing you exactly where your money is going.
You can link all your accounts to it. It's very transparent! It's free to use and perfect if you prefer all your knowledge in one place.
Switch suppliers
Go through all your bills and check you're on the best deal. This should be done at least every 6 months. We all know we should be doing it regularly and it really can save you money. If the whole idea fills you with dread then have a look at Bulb. They make switching really simple, promote going green and also offer you a bonus when you switch.
We recently swapped to Bulb* and saved over £100. You can get a quote here and find out how much you could save. It costs nothing to find out.
Use cashback sites
Use cashbacks if you shop online for anything. We recommend OhMyDosh, Quidco and Swagbucks. You get money off whenever you shop online through their sites which can really come in handy once baby is born.
It doesn't cost you a penny to use them. If you make a purchase through their site you receive the money. It's that simple!
We use OhMyDosh* for making money through surveys and getting cashback on anything we buy online. Find out more OhMyDosh here and what we think of them.
Join OhMyDosh* here for free and get £1 added to your account.
Downshift your food
Buying value ranges is a great way to save money. You don't have to buy everything fresh either. Use cans or frozen food to make cooking your meals quick and easy. Start by buying the lower range items and slowly work your way up depending on if you liked the product taste or not.
Recipes for Slimming World
If you are a beginner cook, looking for more Slimming World ideas or even family meals in general then have a look at Spicentice.
They send out packets of spices with easy to follow instructions so you can make a meal from scratch.
They are great to use if you are new to cooking from scratch or if you are looking to get your family eating new budget-friendly meals and have no clue where to start.
We tried them at the start of this year and loved them. We got stuck in a food rut and they helped by giving us ideas while keeping our food budget really low.
Most of their spices are Slimming World friendly and can be made for all kinds of diets.
If you'd like to try Spicentice yourself then make sure you use our link here with our code LASAVE20 to get 20% off every purchase.*

We made the below meals using Spicentice. Try them for yourself here:
Easy Chicken Fajita Recipe: A Family Meal for 94p a Person
Spaghetti Meatball Recipe For 73p a Head
Vegan Shepherd's Pie For Just 82p Per Portion
Beginner Chilli Con Carne Recipe for Just 95p a Head
Best Slimming World Recipes
Here are the best Slimming World recipes that the whole family can enjoy. A lot of these are budget friendly but all of them are easy to make. Please don't get put off. As long as you meal plan you really can eat well for very little cost.
Remember to use your freezer too. Making an extra portion will mean that you have some for the next day too.
Have a look at Just Average Jen for some Slimming World dessert ideas here.
If you are looking for inspiration on cheap family meals then have a look at:
The Ultimate £1 Per Head Budget Meal Planning List
31 Cheap Family Meals That Are Under £1 a Head
One Month of Family Meal Ideas on a Budget
Slimming World recipes breakfast
These Slimming World breakfast ideas are a mixture of quick week day recipes and a bit longer weekend ones. These are great for the whole family to eat on a budget.
For more Slimming World breakfast ideas please see this post.
Syn Free Strawberry and Vanilla Waffles
Syn Free Melon and Berries
Syn Free Full Breakfast Brunch
Syn Free Courgette and Butterbean Frittata
Blueberry and Lemon Baked Oats
3 Ingredient Peanut Butter Granola
Easy Syn Free Waffle Omelette
Frozen mixed summer fruits (raspberries, strawberries and blackberries) covered in fat free natural yogurt.
Poached eggs with a Syn free Hash Brown
Sliced pear, honeydew melon, strawberries and fat free Greek style yogurt
2 syn free hash browns, 1/2 tin of baked beans and scrambled eggs
Sliced banana topped with a Mullerlight yogurt
Omelette with your choice of Syn free toppings
Overnight Oats
Sweet Potato Breakfast Stacks
Breakfast Sandwich
Banana Granola
Breakfast Hash
Oatmeal Smoothie Bowl
Hot Cross Bun Pots
Banana Raisin Oats
Apple Oat Bites
Peanut Butter Oats
Syn free hash brown cheese and ham
Chocolate and banana pancakes
Pouched egg with garlic mushrooms
French toast with strawberries
Pear muffins
Carrot cake flapjack cookies
Slimming World recipes lunch
These Slimming World lunch ideas are yummy and budget friendly. This is a month of ideas for the whole family to enjoy. If you are looking for packed lunch ideas then please see this post here.
Syn Free Minestrone Soup
Syn Free Apple and Beetroot Salad
Low Syn Garlic and Chilli Pasta
Curried Butternut Squash and Brown Rice Soup
Low Syn Bagels
Sweet baked potato, beetroot and a salad
A baked potato with choice of toppings
Creamy tomato sauce from Iceland mixed with cooked pasta
Low Syn Scrambled Egg Toast with Tomatoes
Tex-Mex Omelette Wraps
Roasted Stuffed Peppers
Bubble and Squeak Cakes
Bean and Rice Burritos
Onion and Potato Tortilla
Beetroot Bistro Salad
Baked Vegetable Frittata
Carrot and Lentil Soup
Greek Pasta Salad
Cheesy Couscous Bites
Watermelon and Feta Salad
Onion Masala Toast
Cauliflower Pizza
One Pot Beef Pasta
Cranberry Bliss Baked Oat Bars
Syn Free Sausage Rolls
Lemon Oat Pancakes
Syn Free Tomato and Basil Soup
Related Posts:
Slimming World recipes dinners
These Slimming World dinner recipes fit in with the whole family. Some can be made in advanced or even in a slow cooker if you are short of time. We've made some of these with Spicentice, who helped turn our boring meals into exciting family recipes again.
If you'd like to try Spicentice yourself then make sure you use our link here with our code LASAVE20 to get 20% off every purchase.*
Vegetable Stew
Quorn Chicken Burger Wrap
Syn Free Ricotta and Spinach Stuffed Pasta
Syn Free Spicy Sweet Potato and Lentils
Vegetable Noodle Stir Fry
One Pot Speed Pasta
Syn free tomato and garlic pasta
Syn free butternut squash lasagna
Low Syn Roast
Syn free vegetarian chickpea curry
Macaroni Cheese
Vegetable and Lentil Lasagna
Vegetable Filo Tart
Homity Pie
Vegetable Antipasti
Wild Mushroom and chestnut Pies
Quorn Cottage Pie
Vegetable Pad Tai
Italian Bean Stew
Mashed Potato Casserole
Garlic and Carrot Noodles
Quick Mac and Cheese
Chicken stroganoff
Grilled chicken kebabs
Stir fry chicken noodles with vegetables
Mediterranean chicken
Chicken Jalfrezi with wholemeal rice
Laura x
If you enjoyed this post and would like some more family friendly budget recipes or meal plan ideas, then head over to the budget food section here on Savings 4 Savvy Mums where you'll find over 30 cheap posts dedicated to helping you cook and shop wiser for less. There's enough tips to help you save over £300 a month! You could also pop over and follow my family food Pinterest boards for lots more ideas on how to eat well and spend less; Family Meal Plans on a Budget, Budget Family Meals & Budget Slimming World Recipes for Families.
Love this post? Then why not save it to Pinterest so you can easily find it later.
What the * means
If a link has an * by it, then this means it is an affiliate link and helps S4SM stay free for all. If you use the link, it may mean that we receive a very small payment. It will not cost you anymore that it would normally.
You shouldn't notice any difference and the link will never negatively impact the product. The items we write about are NEVER dictated by these links. We aim to look at all products on the market. If it isn't possible to get an affiliate link, then the link, or product is still included in the same way, just with a non-paying link.