Including a bolognese sauce recipe
Spaghetti Bolognese is a huge hit in my house, mainly because the kids think they aren't eating any veg and because I actually stick as much vegetables in as I can! It's so easy to hide, and by using frozen vegetables, this recipe is actually really cheap.
This easy Quorn bolognese recipe comes in at under £1 a head and is great if you are vegetarian or if you are trying to cut down on how much meat you buy.
If you are looking for other £1 meal ideas then have a look at:
One Month of Family Meal Ideas on a Budget
A Week of Budget Family Meals For Under £1 a Head
The Ultimate £1 Per Head Budget Meal Planning List
31 Cheap Family Meals That Are Under £1 a Head
Cheap and easy meal plans
If you are looking for easy-to-cook family meals that help you stick to a budget then have a look at Spicentice.
Spicentice sends out packs of spices that help to liven up your meals. What we love the most about Spicentice is that they include the exact ingredients you need and instructions down to the letter. This means that if you are a beginner cook then you can use this to start to cook your family great homecooked meals.
You can keep using them again and again. We started using them when we got stuck in a food rut and we didn't know what to cook. What we liked was that they had family-friendly meal ideas that you could pick from.
Try Spicentice here using our code LASAVE20 and save 20% off every purchase*.
We have cooked loads of meals with Spicentice including:
Beginner Chilli Con Carne Recipe for Just 95p a Head
Vegan Shepherd's Pie For Just 82p Per Portion
Spaghetti Meatball Recipe For 73p a Head
Easy Chicken Fajita Recipe: A Family Meal for 94p a Person
Chinese Chicken Curry For Just £1.54 For 4
Really Easy Homemade Beef Burgers For Under £1 a Head
The Best Southern Fried Chicken Recipe For Under £1 a Head
Chicken Tikka Masala Curry For Under £4 a Head
The Best Katsu Curry Recipe For Under £1 a Head
The Best Turkey Curry For Under £1 a Head
The Best Firecracker Chicken For Just 99p a Head
Free Meal Plan and Shopping List Essentials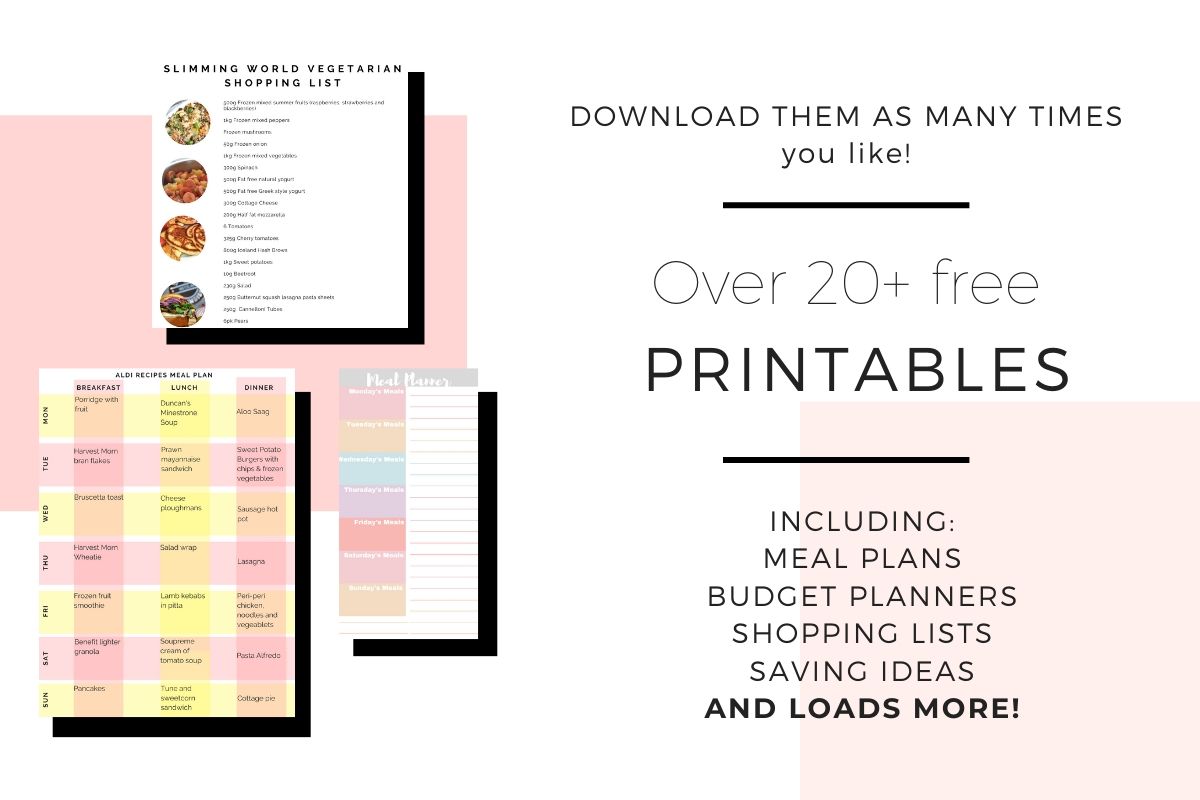 Receive your FREE Aldi Slimming World Shopping List & 7 day Slimming World meal plan PLUS budget shopping lists and 16+ FREE money saving printables you can download straight away.
Grab your FREE money saving printables here.
(By entering your email address you are agreeing to be added to my mailing list. You can unsubscribe at any time.)
If you are struggling to meal plan to save money then have our post here called The Ultimate Guide to Food Shopping on a Budget. This will talk you through exactly how to meal plan.
Our top tips for keeping your food bill down are:
Meal plan – This means writing down everything you plan to eat. Every meal and every drink. That way you won't go off track and there shouldn't be a need for you to go to the shops more than once a week.
Shopping list – Using your meal plan, write everything down that you'll need this week. Check your cupboards, freezer and fridge and use up what you have. There's no point in buying more!
Cooking from scratch – This can seem daunting if you've never done it before but it really is easy to do and saves you money. You don't need to be a chef to be able to cook up your own sauce or make a really delicious budget-friendly meal for the whole family. Use Spicentice above to help you gain confidence in cooking healthy homecooked meals.
Slow cooker – If you are time-poor then have a look at a slow cooker. Owning a slow cooker means that you can just dump all your food in it in the morning and come home to an amazing meal that's all ready for you.
Easy Quorn Spaghetti Bolognese
It's really simple too and can be done with Quorn mince. You can cook this in the slow cooker as well. I also grate ALL the vegetables. Nothing is left to chance in this house, but cutting things small would work well too if your kids aren't as picky as mine.
This serves four of us, two adults and two kids, but could be bulked up by either doubling it or adding more vegetables and an extra can of chopped tomatoes. It also freezes really well, so if you make too much, don't worry, just bung it in the freezer for a day you can't be bothered to cook!
1 onion chopped 22p
1 tbsp tomato puree 9.5p
2 tins chopped tomato 58p
1 tbsp caster sugar or to taste 4p
1 celery stick chopped 10p
Quorn Mince Frozen £1.79
1 carrot chopped 7p
2 cloves garlic chopped 4p
1 tsp oregano 2p
2 large mushrooms chopped 75p
1 vegetable stock cubes 6p
1 hand full Parmesan for sprinkling 20p
Total: £3.87
The original recipe said 250ml red wine, but I don't use it because of the kids, but it does add an extra nice tang to the dish.
Quorn spaghetti Bolognese Method
Add the finely chopped vegetables to the slow cooker if you are using it. If not, hold off putting them in right now.
Cook the mince, then add it to the slow cooker if using, breaking it up as you add it and crumble the stock cube over the veg.
Add the wine if using, tomato puree, oregano, tomatoes, and add the vegetables to the pan here.
Mix well.
Cover and cook for about 6.5 to 7 hours if using the slow cooker. In a pan, leave to simmer for 10 minutes.
Related Posts:
Season well and add the sugar to taste
Serve with spaghetti which should be cooked as per pack instructions, sprinkled with a hard cheese to taste, and a fresh green salad on the side.
Laura x
If you enjoyed this post and would like some more family friendly budget recipes or meal plan ideas, then head over to the budget food section here on Savings 4 Savvy Mums where you'll find over 30 cheap posts dedicated to helping you cook and shop wiser for less. There's enough tips to help you save over £300 a month! You could also pop over and follow my family food Pinterest boards for lots more ideas on how to eat well and spend less; Family Meal Plans on a Budget, Budget Family Meals & Budget Slimming World Recipes for Families.
What the * means
If a link has an * by it, then this means it is an affiliate link and helps S4SM stay free for all. If you use the link, it may mean that we receive a very small payment. It will not cost you anymore that it would normally.
You shouldn't notice any difference and the link will never negatively impact the product. The items we write about are NEVER dictated by these links. We aim to look at all products on the market. If it isn't possible to get an affiliate link, then the link, or product is still included in the same way, just with a non-paying link.