Make Money Online Surveys
Earn extra money now ready for Christmas. You can make money online from the comfort of your own home, around the kids or any of jobs you have.
Making money at home really isn't hard but can be time-consuming but the extra cash is well needed leading up to Christmas.
Regardless of what mobile phone you have, even as a beginner, there'll a load of ways you can boost your income from home. Some may be slow burners, but you could earn an extra £500 plus by just sitting on your sofa.
This guide includes 19 legit ways to earn money online for free. So if you need money for Christmas, then read on, as this includes everything from watching videos online at home to getting out and about in your local town to doing surveys at home.
Remember to grab your free share from Trading 212 which could be worth up to £100 when you deposit just £1*.
Find out how what we think about Trading 212 here.
If you'd prefer to look for a home based job more than a side hustle, then have a look at:
101 Genuine Work From Home Jobs in the UK – This gives you loads of work from home ideas. Not all of them need experience and can all be done around the kids.
31 Work From Home Jobs for Mums – These are great work from home jobs that all mums can do. These can be done part-time or around the kids.
21 Online Work From Home Ideas – These give you online work from home ideas that could boost your income.
17 Ways to Make Money Online in the UK – These give you quick and easy ways to make money from home.
7 Typing Jobs From Home That All Mums Could Do – These are great typing jobs that any mum can do from home around the kids.
19 top paying ways to earn money online without paying anything
Before you start, there are a few things you need to know.
One thing to remember is that each of these sites may only pay small amounts when you add it together, it's actually a lot.
Cash Out Straight Away
These companies aren't banks, there is no protection for your money. If the company goes under, so does your cash, so withdraw all your earnings straight away.
Use a Different email address
You'll be inundated with emails. Setting up a dedicated online earning email address will make it easier for you to see when the paid tasks are available.
Patience is key
It can take a while to earn enough to cash out. Keep going, as otherwise, you've done all that work for nothing!
Tax
Everything you earn has to be declared. Chances are, this won't push you over the threshold if you're close, but it makes zero difference.
Whatever you earn, must be declared so that HMRC can take their cut. It's normally around a third but does depend on your circumstances.
Registering as self-employed is easy, but make sure you keep as much paperwork and a little spreadsheet of all your extra income handy, so when it comes to declaring, you're not frantically trying to find the details.
Spend Vouchers quickly
Always choose cash if you can, but if you don't have the option then spend the cards straight away. This reduces the chance of them going out of date or becoming invalid.
Free Printables With Our Resource Vault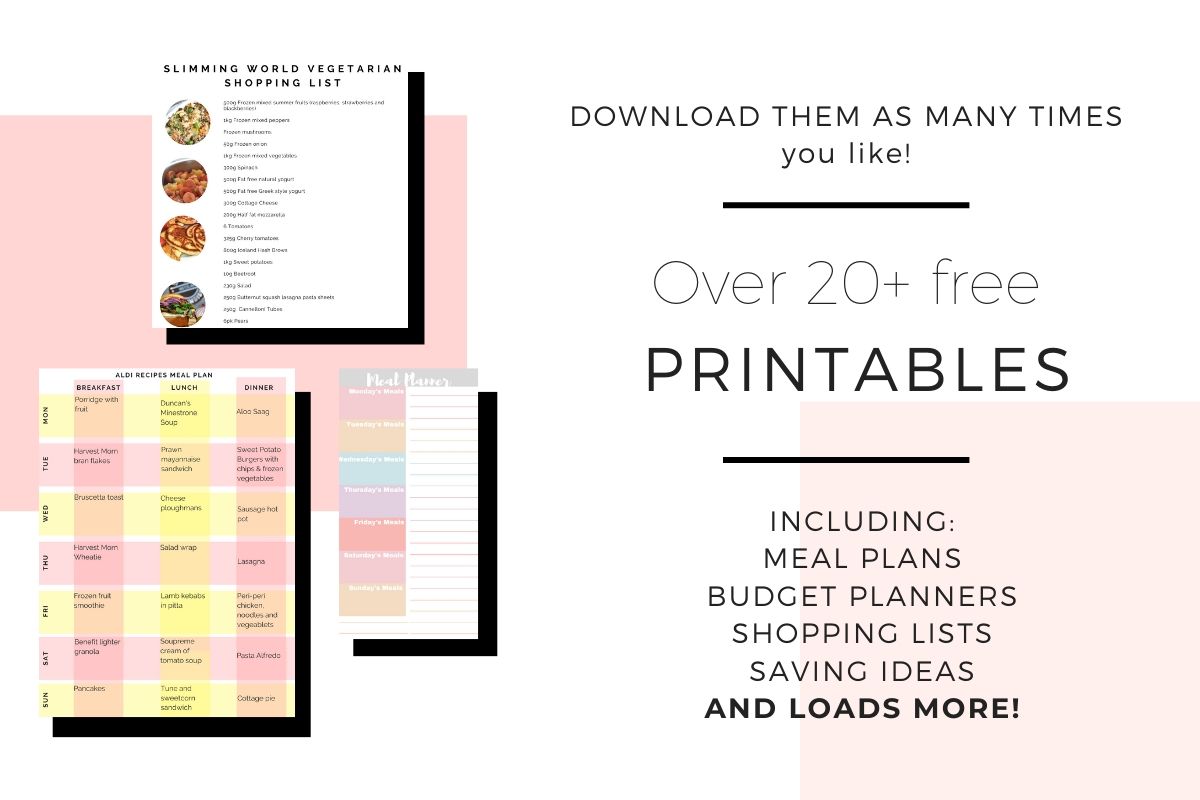 If you are looking to save money as a family then come join our free Resource Vault. It's packed full of meal plans and shopping lists to help you and your family save as much money as possible.
Join our free Resource Vault here
(By joining giving us your email address you are consenting to us emailing you about our other travel, home and lifestyle ideas. You can unsubscribe at any time by clicking the link at the bottom of every email.)
19 Real Ways to Make Money From Home
We've come up with 19 ways to help you make extra money at home. Some of these are creative ways to make money while others are slow burners.
Matched Betting
Matched betting is a completely legal, tried and tested way to make money online while you're at home. It basically turns the tables on the bookmakers, to give you their free bet offers, so you can't loose.
If you're doing it correctly, you will never loose any money, but you do need to take your time and be really careful to avoid any mistakes. Using a company like Profit Accumulator means that you don't have to work out the odds or be worried that you're doing it all wrong.
Make sure you understand fully before you deposit any money. Follow our guide here to make your first £45 matched bet.
Start your free trial with Profit Accumulator here and they will help you make up to £45*
Read more about how matched betting works here
This is why we use Profit Accumulator when we are matched betting
OhMyDosh!
OhMyDosh!* is an easy to use website that asks you take surveys for payment. Sign up for free and start earning straight away. As soon as you reach £10 you can cash out.
Online survey sites or apps can make you £100s of pounds a year. Just give your view and watch the cash come in. Some only pay pennies but one or two I've done do pay £1 a survey. At just 3-5 minutes long sat on your bum, that's a no-brainer.
Join OhMyDosh here to have £1 added to your account straight away
Read more about what we think about OhMyDosh here
Blogging
Blogging can be a great hobby, but also a very good way to earn money and go places with your family that you've never even dreamed of before.
You need to find a topic that you are passionate about. Don't worry if you don't enjoy writing, you can vlog on YouTube or even just start with a Facebook page.
The good thing about blogging is that you can start for free and earn money in a load of different ways like advertising, through sponsored posts (this is where a brand asks a blogger to write about their branded products), affiliates (where someone buys something after a blogger has written about them), products and courses.
You can start a blog really quickly and easily but will need a domain name, host and website which you can sort yourself quickly. We use WordPress to build Savings 4 Savvy Mums and TSO Host for our domain name. They also offer hosting too and with our code S4SM10%OFF you can get 10% off*.
Don't forget to sign up to a email marketing provider. Many offer you a free service till you hit a certain amount of subscribers. This is a great way to keep all your readers involved in what you're working on. We use Mailerlite as they offer a great customer service and are very easy to use!
For a walkthrough on how to start a blog and make money, I'd suggest looking at Emma Drew's tutorial or at her Turn Your Dreams into Reality Course*, which is a great resource for all bloggers who want to make their blog their full time job.
You can also read about how we set up our blog here, which also gives you a step by step account.
eBay
Selling on eBay* as a business is easy. It's not just about selling your unwanted stuff. This website may feel outdated, but it's still widely used. Take photos of your stuff on your phone and sell them on the eBay app!
You could sell any craft items or printables on eBay. You can even drop ship from other businesses.
InstaGC
Watch videos or complete offers through InstaGC* and redeem for gift cards. As soon as you reach a pound you can start redeeming. It's really easy to use while on the move too.
You can get an extra 10 points by signing up to InstaGC* here.
Watch videos and play games
Swagbucks* is a fun and easy to use site that pays you to complete shorts online tasks in exchange for virtual money. This can then be swapped for real money or vouchers.
Read about our Swagbucks Review here about how to make money with Swagbucks.
You can sign up for Swagbucks* here and receive a few extra points.
The tasks can be random. Filling in polls, watching videos and using it to search for products instead of Google is the norm.
The more you do the more earn as each task is paid differently.
This is a great site for those who want a quick task. I've earned £25 a month for three months now, so it is possible to make money. To cash out, you need about £3 to £4 in rewards.
Quidco
Quidco* is a great cashback site that you shop through to earn money.
You shop like normal through Quidco and they pay you a commission as a thank you.
Make money watching videos
Maximilles lets you watch videos and earn high street vouchers. The clips are short, and often there are new ones every day.
You can also get points for completing surveys, reading emails or just shopping.
This is great for anyone who has zero time. I earned about £4-£5 a month. Payment is in vouchers. I chose John Lewis.
GiftHalk
This is another site where you can make money at home for free. The coin convert into rewards like Amazon vouchers and the tasks are mega easy and fun.
I've made about £5 a month. You can be paid via Paypal or Amazon vouchers.
Competitions
There are loads out there, with dedicated Facebook groups set up for them. Yep, it is luck, but if you enter enough of them, then you'll win at some point.
I've won champagne, a day out with the family and a weekend away.
Valued Opinions
With Valued Opinions* you can earn up to £5 a survey. Everything is surveyed from what you think it's fashionable to what you eat for dinner.
Read Adverts
Give Qudtodian a go. Download the app and chose what you like and they send you adverts matching your interests.
You get paid when you respond to messages or watch videos.
They pay via Paypal or BACS when you earn £10.
This is great if you have a lot of patience as it takes a while to reach the £10 payout. I think it took me about seven months.
Snap photos
Field Agent is like being a spy (or how I'd imagine it is anyway.) They send you market research tasks via an app and you choose if you want to do it.
It could be checking prices in a store or taking a photo of a product. You are competing against others for the tasks, so you won't get lucky every time.
It pays anything from £2 to £10 a task and is perfect if you don't mind popping out every now and again.
Spot Jobs
Job Spotter pays you to snap pictures of job ads as you see them.
So if you see a restaurant asking for staff or a shop pleading for help, then snap it and upload it.
Odd jobs
Roamler pays you to do market research, so you may be buying bananas to picture them or photographing a menu as you walk past.
This is an invite-only app though. If you follow them on Facebook, they give away handy tips on how to get approved.
It pays well, anything from £2-£8 a job and there's no minimum payout.
Answer questions
A bit like a treasure hunt, Streetspotr is an app that lets you carry out small tasks. You could be asked to check that an item is on a menu or to take a picture of a product or buy a drink.
This is great if you live near a high street as most jobs are shop based. I made around £10 one month and it was easy. There's no payout limit either.
Market Research with a Twist
Task 360 is an iPhone only app that helps companies solve their logistical issues, like a sat nav telling people to go down a one way for instance.
Tasks can be as simple as checking a billboard light is working or if a new street has just popped up.
They pay around £5-£10 for about 15 minutes work. The jobs go mega quick though, so check every day before 9 am to bag them.
Walk and earn
Clic and Walk is a good app if you don't mind being out and about. It pays low, but you only need to earn £3 to cash out.
Testing websites
Sign up for What Users Do to test businesses websites. It pays around £5 for 15 minutes work, and the tasks are simple, like giving feedback on a homepage or testing a page is working.
You do need a computer and microphone though as feedback recorded using your voice.
It's a good earner. I've made around £25 a month and they pay via Paypal.
Related Posts:
Real Remote working
Lionbridge is a serious earner. It offers you a real job from home. The downside, you need to offer at least ten hours a week.
Qualifications are needed, normally a degree or above, but not always, and jobs can be as simple as checking search results or testing apps.
I trialed it and was paid £150 in one month but could have made more. Jobs go fast but there have been times when I seen over 100 jobs advertised.
You could also rent out a room if you have it to make some extra money.
Have you tried any of these? Do you make money from them? Let me know in the comments below.
Laura x
If you enjoyed this post and would like some more money making ideas from home, including ways to freelance, start a blog or even earn from your phone, then head over to my making money section here on Savings 4 Savvy Mums where you'll find over 30 money making posts dedicated to helping you earn more from home and become more financially stable as a family. There's also tips in my Money Saving Mums Facebook group. You could also pop over and follow my money making Pinterest boards for lots more ways you can earn money from home; Money Making Mums and Working from Home Jobs for Mums.
What the * means
If a link has an * by it, then this means it is an affiliate link and helps S4SM stay free for all. If you use the link, it may mean that we receive a very small payment. It will not cost you anymore that it would normally.
You shouldn't notice any difference and the link will never negatively impact the product. The items we write about are NEVER dictated by these links. We aim to look at all products on the market. If it isn't possible to get an affiliate link, then the link, or product is still included in the same way, just with a non-paying link.