Including what is food pooling, food share cook meal ideas and meals to cook on a budget
Hate cooking but want your family to eat better? Then have a look at food pooling. Food share or food pooling is when a group get together and share meals throughout the working week, meaning that you cook meals once and so does everyone else in your group.
As busy mums, we all have to sometimes sacrifice feeding the family good hearty meals as we just don't have the time.
This food pooling ensures that everyone cooks meals but also receives one as well.
It's like a massive meal swap. You can team up with as many families as you like (we do it on and off with three other families) and only cook meals once, just in bulk!
Having a supper club set up means that you don't have to worry about meal planning throughout the working week but your family still gets to eat a home-cooked meal.
Have a look here at our other budget friendly recipes:
The Ultimate £1 Per Head Budget Meal Planning List
31 Cheap Family Meals That Are Under £1 a Head
21 Budget Family Meals and a £16 Aldi Meal Plan
Free Shopping Lists and Meal Plans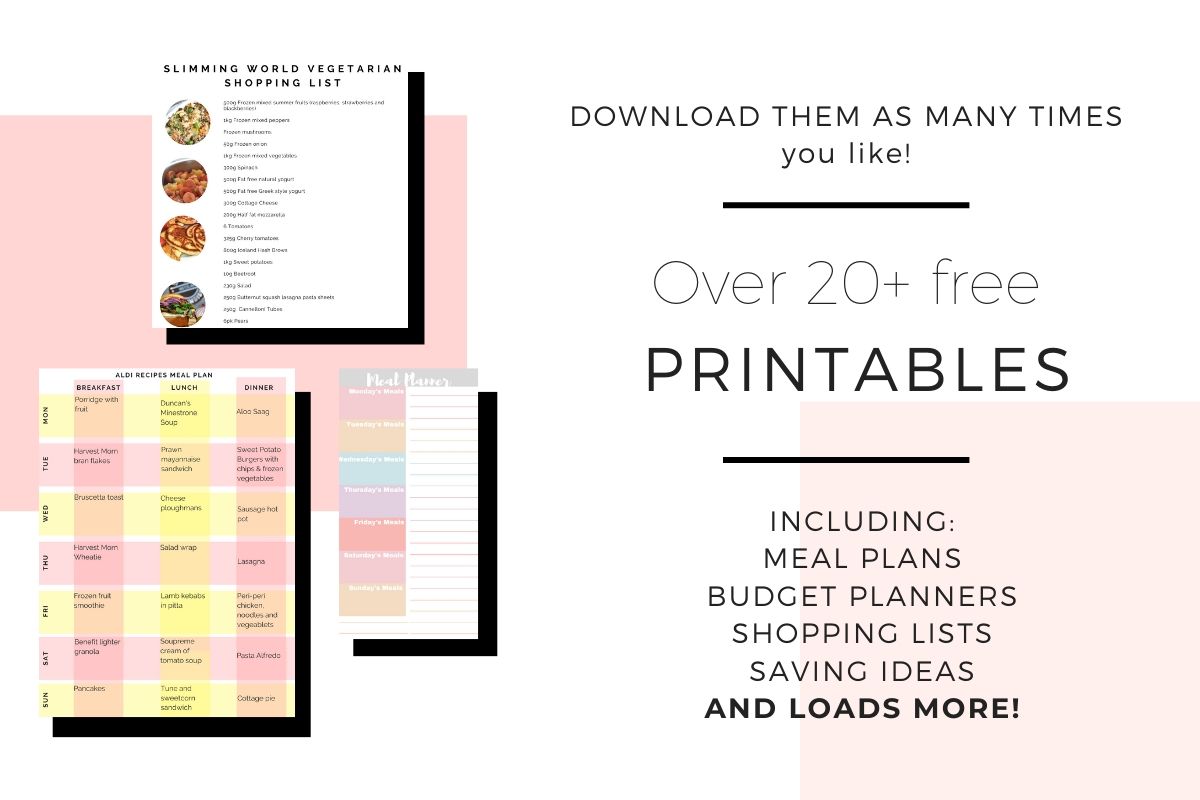 If you are looking for meal ideas or grocery shopping help then come join our free Resource Vault. It's packed full of shopping ideas and saving money ideas. You can print these meal plans off as many times as you like.
Join our free Resource Vault here
(By joining giving us your email address you are consenting to us emailing you about our other travel, home and lifestyle ideas. You can unsubscribe at any time by clicking the link at the bottom of every email.)
Quick and Easy Meals
This easy dinner ideas are budget friendly and include everything from easy chicken recipes to pasta dishes.
They are all easy recipes that a beginner can cook. You can even make these feed more by adding cupboard staples like beans or tinned vegetables.
If you are a beginner cook or are scared to share your food with a friend because you feel like you aren't an established cook then please don't worry! We all feel like that sometimes but the below recipes are really simple easy to make food.
Also, have a look at Spicentice. They send out recipes for easy dinners which include the shopping list for that easy meal and the exact instructions.
We use Spicentice when we are stuck in a food rut and don't know what to cook.
We've tried everything from their homemade burgers to chili con carne. They are cheap to buy and you can keep the cards so you can make the recipe again next time.
All the spices are family-friendly so don't blow your head off. They just help to give you meal ideas that are simple and help the recipe to taste amazing!
If you'd like to try Spicentice yourself then make sure you use our link here with our code LASAVE20 to get 20% off every purchase.*
How does a Food Share work?
Put simply you all pick one night of the week to cook and deliver the meal to the other families on your night. Of course, this only works if all the families live close together so chatting to your neighbours or school mum friends would work well here.
You'd meal plan like normal for your day and the weekend and not have to shop for the evening meal on the other days.
Example: You'd good on the Monday night and deliver it to your Food Pooling Group and they'd do the same.
Now there are of course a few pit falls. These are:
You do have to bulk your meal out to make it stretch among more people
You need to think about what meals to cook that don't take to much time
If your Food Sharing Group aren't local then you'll need some microwave containers with lids like these.
You'll have more energy and more time to do all the chores that mount up.
It doesn't cost much more to bulk your meal out so it really is a great way to save money as a family while still enjoying a home cook meal while reducing food and energy waste. You'll also have a lot more time on your hands in the evening!
You'll also slowly find that you'll be happy to eat a light lunch and save yourself for the evening meal; saving even more money. It might even become a bit of a competition. You can try the "Come Dine With Me" way and rate each other.
Not having to think about what to cook the family all week can take the pressure off, and hey, you'll still feeding everyone home cooked yummy meals.
if you have a busy week, then you still cook your meal but freeze the homemade meal you've received for a weekend night. Sharing with your friends and family guarantees you all eat a good meal. Why not ask an elderly neighbour if they want to join in too?
The more the merrier! It costs very little extra in money or your time to provide for one more person or a family.
Easy Dinner Recipes For The Family
There are so many ways you can save money to cook in bulk. Family meal planning is a great place to start if you want to food pool. Do exactly what you'd do if you were planning to feed the family simple healthy meals.
Using a weekly meal planner can really help make meal pooling a success.
You can make your own weekly meal plan or download my meal plans and shopping lists for free from the Resource Vault. Having several copies on hand will help inspire you to get started and keep up the meal plans for several weeks.
If you're worried about money and how much the below recipes could cost you going forward then these are my top 5 money saving tips to help you save more so you can enjoy family life more! (Food pooling or food sharing really shouldn't cost you must more. All the below recipes can be frozen and bulked out by using simple frozen or tinned ingredients.)
1. Join a money-saving course and set financial goals. Our free course covers everything from how to save your family money to actual tips on saving more. (Remember to join our Facebook Messenger Group as well for all the latest deals, freebies and family money saving tips.)
2. Switch energy suppliers – Make sure you're on the best energy package. Using a site like Swiftcraft* can really help you shave some money off your energy bill. They automatically switch you to the best product for you.
3. Look at the below stores to see if you can save some money:
Get FREE FOOD with this app: CheckOutSmart*
Muscle Food lean meat delivered straight to your door– Muscle Foods*
Get your groceries up to 70% off RRP – Approved Food*
4. Of course, there are plenty of other ways to save money, and once you start seeking them out then you will be amazed at what you find.
Every time you buy online you could be getting cash back. Have a look at:
Go to these sites first before you buy anything online and see if you can get money back. Anything goes from hotel stays to toys and train tickets.
5. Use an app like Plum* to keep track of your spending and to help you save. Plum* is free to use and can help you reach your financial goals while keeping your budget in check.
Related Posts:
Meals to Cook on a Budget
All these meals are family friendly and simple to cook. Our cupboard staples are featured heavily which also helps keep the costs down.
So here are 27 of the best home cooked meals for food pooling as a family.
This may be basic recipes but they are all easy to scale up to share.
Laura x
If you enjoyed this post and would like some more family friendly budget recipes or meal plan ideas, then head over to the budget food section here on Savings 4 Savvy Mums where you'll find over 30 cheap posts dedicated to helping you cook and shop wiser for less. There's enough tips to help you save over £300 a month! You could also pop over and follow my family food Pinterest boards for lots more ideas on how to eat well and spend less; Family Meal Plans on a Budget, Budget Family Meals & Budget Slimming World Recipes for Families.
What the * means
If a link has an * by it, then this means it is an affiliate link and helps S4SM stay free for all. If you use the link, it may mean that we receive a very small payment. It will not cost you anymore that it would normally.
You shouldn't notice any difference and the link will never negatively impact the product. The items we write about are NEVER dictated by these links. We aim to look at all products on the market. If it isn't possible to get an affiliate link, then the link, or product is still included in the same way, just with a non-paying link.