Including magnetic meal planners, weekly planner boards, magnetic shopping lists and recipe notebooks.
If you're looking to reduce your monthly food bill then you have to meal plan. Using something simple, like a meal planner board or a magnetic meal planner can help you reduce your grocery shop by half.
We all meal plan differently, and if you find a system that works for you then it's something that will help you week in and week out to save money.
There's loads of ways to meal plan, and none mean that you have to be stuck with what you've planned to eat. If you change your mind, then switch the days or freeze whatever you aren't using. Just remember to add that meal to the meal plan for the following week.
Many families (mine included) prefer having freedom at meal times, and planning what you're going to eat and buy doesn't take that away.
It's about checking what you have at home already, what you can make for the week and just buying what you need.
Money saving printable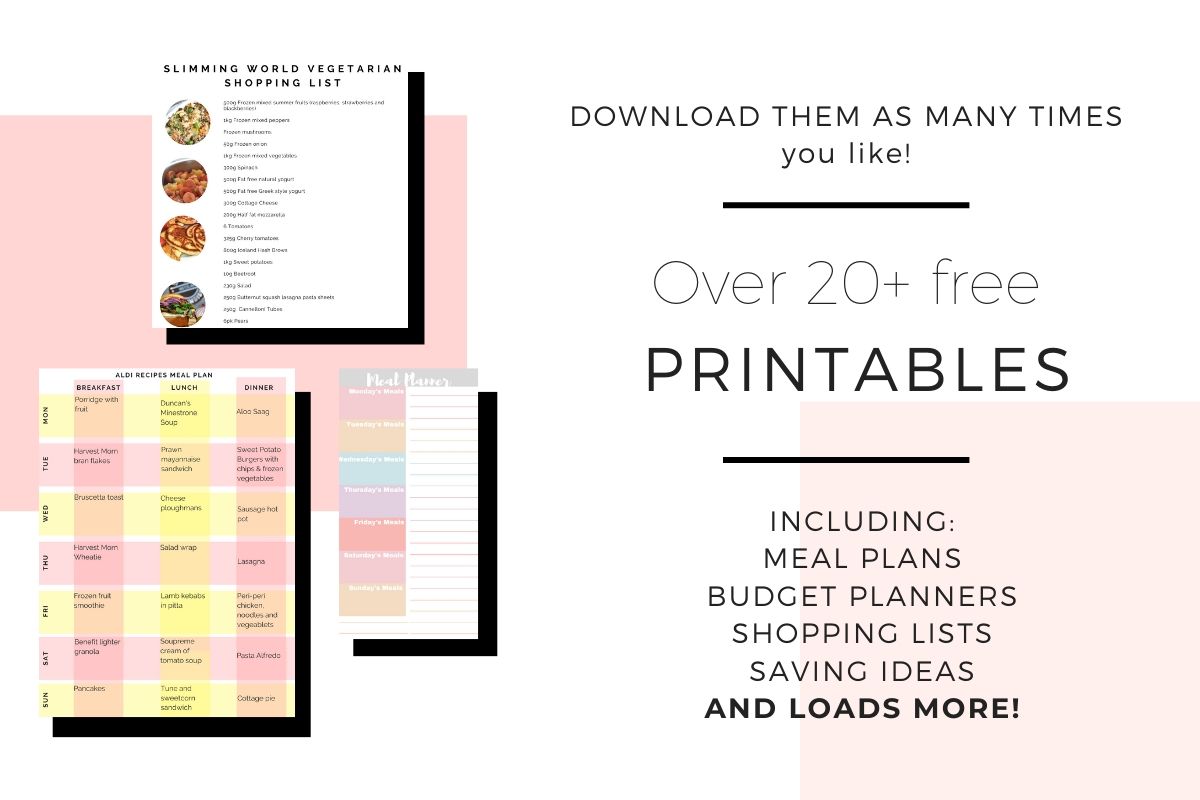 If you are looking for ways to save your family more money then come join our free Resource Vault. It's packed full of meal plans and shoppings that you can use over and over again.
Join our free Resource Vault here
(By joining giving us your email address you are consenting to us emailing you about our other travel, home and lifestyle ideas. You can unsubscribe at any time by clicking the link at the bottom of every email.)
How to meal plan
Just by looking through your cupboards, fridge, and freezer, you can plan what you need, and what you plan on eating that week.
Don't feel like it needs to be set in stone though. If you have leftovers in the freezer and prefer them, use them, just stick what you were going to eat in the freezer for next time.
Plan out your meals with the ingredients you're going to need. Reducing your food waste doesn't have to be boring, it's all about planning.
If you are looking for some cheap meal ideas then have a look at:
The Best List of Store Cupboard Essentials – This post runs through everything you should have in your cupboard to help make cheap meals.
The Ultimate £1 Per Head Budget Meal Planning List – This is a complete £1 a head family meal list that helps you to fill up your meal plan with amazing family meals.
103 Frugal Living Tips That Will Save You Thousands in 2021 – These are the best money saving tips that will save you thousands of pounds.
Weekly family menu
Sometimes it's hard to come up with meals, especially if you are a beginner cook who's never cooked from scratch. Cooking from scratch really can save you money.
If you are a real beginner cook then have a look at Spicentice. Spicentice sends you out little packets of spices that talk you through, easily, step by step how to cook something. We use them every three months or so when we are stuck in a food rut.
What we love about them is that the cards they send out have everything you need to cook with including a list of all the ingredients and exactly how to cook the meal.
They are Slimming World friendly, gluten-free and offer vegan options as well.
We tried them for a year and so far have cooked:
Beginner Chilli Con Carne Recipe for Just 95p a Head
Vegan Shepherd's Pie For Just 82p Per Portion
Spaghetti Meatball Recipe For 73p a Head
Easy Chicken Fajita Recipe: A Family Meal for 94p a Person
Chinese Chicken Curry For Just £1.54 For 4
Really Easy Homemade Beef Burgers For Under £1 a Head
The Best Southern Fried Chicken Recipe For Under £1 a Head
Chicken Tikka Masala Curry For Under £4 a Head
The Best Katsu Curry Recipe For Under £1 a Head
Meal Planner Boards
So if you'd prefer to meal plan yourself, then here are 17 meal planner boards that will help you reduce your food bill this month. They are all very different but can be adapted to suit your family's needs.
Menu Board via Jolie Mae Creations
This is a really simple way to use up any scrape wood you have while displaying your weekly meals. You write down your meals on index cards and clip them up for the whole family to see. You don't even have to hang it, it can lean as well!
Weekly Planner Chalkboard
This weekly meal planner may look simple, but it's easy to read, and does exactly what you want it to do, ie, remind you what's for dinner. It has a chalk shelf and hangs easily on any wall. It's quite small though, just 40 cm x 30 cm. This weekly menu chalkboard can also be wiped clean easily.
Menu Planning Board via unOriginal Mom
This method works well if you like to be flexible. You have a pile of tags and write out your family meals. You pick 7, and write what you need (remembering to check your cupboards) on your shopping list. At dinner time, you pick a meal out of the 7 and cook. The only downside to this is that it only covers dinners.
Newcomdigi Magnetic Calendar Board Weekly Meal Planner
This is a all singing all dancing fridge calendar meal planner board. It's big enough for you to write all your meal on and is broken down into 9 parts, 7 for the days of the week and two for your shopping list and notes. It's really simple and clear and works with liquid chalk markers, so can be removed without leaving sticky marks. It doesn't come with any pens though, so that's an added expense.
The Menu Planner to Rule Them All via The Thinking Closet
This is pretty cool. This is made up of laminated tags for each meal in your dinner repertoire. It is a DIY jobbie and you need to be a bit crafty to get this working.
Weekly Planner Whiteboard
Smart Magnetic Meal Planner Boards
It's a smudge free dry wipe magnetic weekly planner that can stick to your fridge or freezer. It comes with 4 pens and it's so big that you can plan all your meals easily. It's not made to be a actual meal planner, so you do have to adapt it to your needs.
Family Meal Planner via August Joy Studios
If you'd prefer to make your own, then this is a great DIY whiteboard weekly planner. August Joy shows you how to take a large frame and a sharpie to create a quick and easy dry erase menu board. it's really easy to make and great for the whole family to see what you're cooking.
Magnetic White Board Fridge Calendar by Smart Panda
This is a large and fully magnetic fridge calendar board that can help you stay organised. It has a little "to do box" on the bottom as well. It includes 4 pens and a eraser. Downside is that you wipe away your meals, so you don't have anything to use as inspiration on those weeks you are struggling.
CKB Ltd® Meal Diet Planner
This is a 7 day full week magnetic weekly planner that you can stick to any metal surface. It's A3, with a high gloss dry wipe whiteboard finish. There's plenty of room to write and it comes with a washable free pen. There's no where to write your shopping list though. You could use one of my FREE printables and stick it next to the meal planner board if needed.
Magnetic Meal Planner And Action Plan Whiteboard
This is a great whiteboard meal planner if you want a adaptable board. It's A3, and can hold any kind of info you need. It has a 30 mil thick magnetic sheeting for triple the stick and a "long lasting" clear dry erase PET laminate, meaning no more smudges.
Recipe Notebook
Menu Board via RobbyGurl's Creations
This is a full on bells and whistles meal planning board that has every single details sorted. It's colour coded, has printed tags and side dishes to go with the meals plus recipe cards. You will never be short of meal inspiration again!
Jodds The Weekly Meal Planner
This is a A4 spiral bound planner with a place to put the date for each week and 2 columns for meal plans, plus a useful tear off shopping list & notes area. It has 60 undated tear off pages to allow you to start your busy year whenever you want.
Weekly Meal Planner with Grocery List
This meal planner is almost A4, and has a shopping list for each week and a notes section. At the back, it has a double page tracker so you can check the prices across three stores. There's also a page for you to write down your favorite recipes.
Weekly Planner Pads
Monthly Meal Binder via The Polka Dot Posie
This is a great simple idea if you prefer to meal plan using a binder. You laminate the sheet and wipe clean every week to start again.
Meal Planner via Home Made By Carmona
This is how to meal plan using post-it notes. There's no tags to print, just write on a sticky note and move it around to plan your meals within a simple table.
Collins A4 Unique Layout Weekly Planner Pad
This is a really A4 pad. It has 60 sheets and a unique layout with a weekly view and a small space for notes.
Related Posts:
A5 Slimming Diary
For those on Slimming World, this is a great way weekly planner pad to meal plan and keep track of your exercise as well. There's also somewhere for you write your Healthy Habits, Five a day Fruit & Veg.
I really hope these budget meal planners help you to meal plan better. If you need extra help trying to meal plan for your family, then please do comment below, and I will try and help.
Laura x
If you enjoyed this post and would like some more money saving ideas, then head over to the saving my family money section here on Savings 4 Savvy Mums where you'll find over 50 money saving tips to help you save your family more. There's enough tips to help you save over £300 a month! You could also pop over and follow my family saving Pinterest boards for lots more ideas on how to stop spending and save more; Money Saving Tips for Families and Managing Money for Families.
Love this post? Then why not save it to Pinterest so you can easily find it later.
What the * means
If a link has an * by it, then this means it is an affiliate link and helps S4SM stay free for all. If you use the link, it may mean that we receive a very small payment. It will not cost you anymore that it would normally.
You shouldn't notice any difference and the link will never negatively impact the product. The items we write about are NEVER dictated by these links. We aim to look at all products on the market. If it isn't possible to get an affiliate link, then the link, or product is still included in the same way, just with a non-paying link.