Including how to make money through your phone
We are all addicted to our smartphones, so why not make some money online instantly from your phone while you're using it. There are apps for everything, from earning money while you watch videos to apps that pay you to walk or answer questions.
There are loads of money making apps that can help you make extra cash alongside your normal job.
If you are looking for more money making ideas then have a look at:
How to Get Free Money UK – You really can earn money money for doing almost nothing. Read how to make money for free here.
How to Make Money Online Without Paying Anything – You don't need to spend money to make money! This post explains how to make money online for free.
How to Make Money Online for Beginners – If you are new to making money online then use our post here that explains the safe way to make money.
Join our free Resource Vault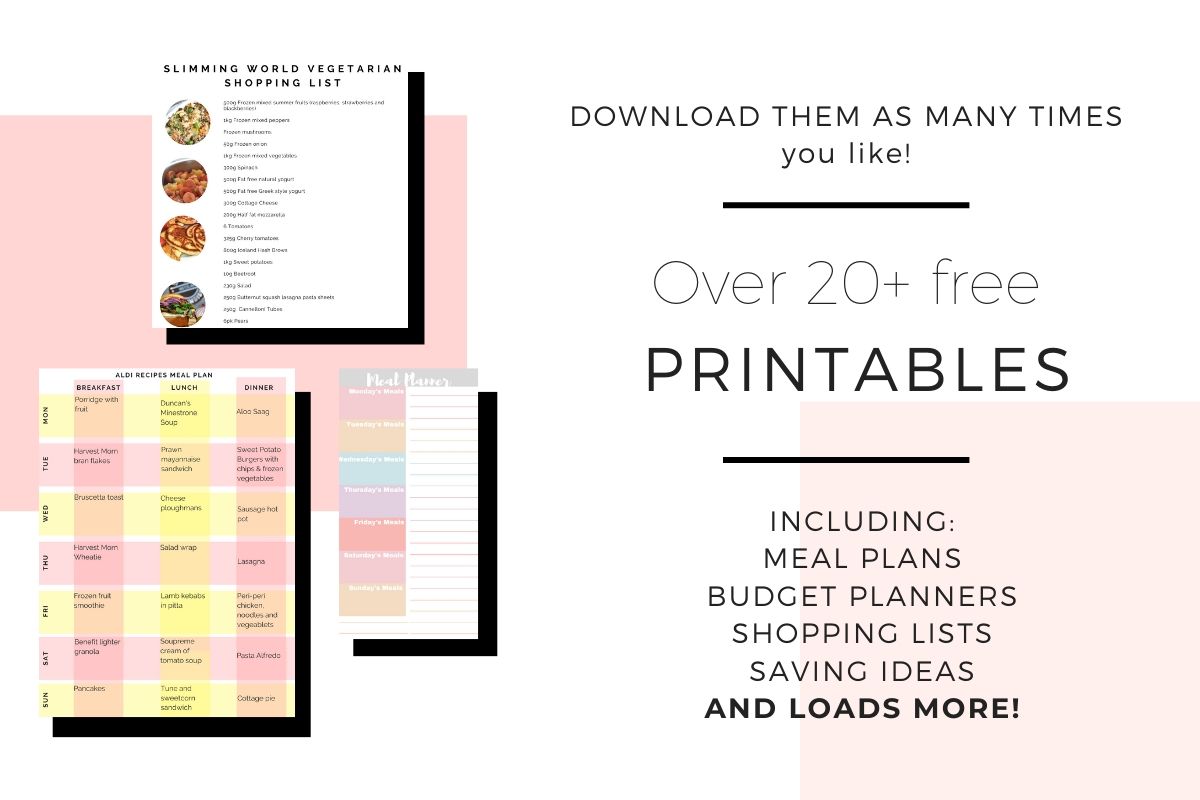 If you find meal planning hard then come join our Facebook group Money Saving Mums and get access to The Resource Vault with access to over 15+ money saving printables. This includes our easy slow cooker meals meal plan, available exclusively to subscribers!
Everything is included from budget planners to meal plans and pre-made shopping lists plus a link to our Money Saving Mums Facebook group!
Join our free Resource Vault here
(By joining giving us your email address you are consenting to us emailing you about our other travel, home and lifestyle ideas. You can unsubscribe at any time by clicking the link at the bottom of every email.)
Money earning apps
So here are apps that will help you make money online instantly and that are really easy to put down and pick up.
OhMyDosh
OhMyDosh is a great way to make extra money at home. It's completely free to use. In this OhMyDosh review we talk you through how OhMyDosh works and how you can make money by using the website.
Just like other cashback sites you can earn money by purchasing the products you would normally buy through OhMyDosh.
Unlike other cashback sites though, OhMyDosh* is completely free to use with no subscription needed for the better deals.
Once you see a deal you like, click on it and check you are happy with the terms and conditions as this could affect the payout.
You can also earn extra by referring your friends and family to OhMyDosh. More on that near the bottom of the post. You receive £5 for every person you introduce to OhMyDosh and as long as they complete the sign up you get paid and they get a £1 as a thank you for joining.
Join OhMyDosh here for free and have £1 added your account.
Read more about how ohMyDosh works here.
CheckoutSmart
CheckoutSmart lets you claim cashback on items you've bought from tons of major UK retailers. It features different items each week that you can claim cash back from.
After you've been shopping, upload your receipt to your app or via their website. It can take up to 7 days for your reward to be tracked, and the money will show in your account after this.
You can request the money directly to your bank account, or via PayPal.
Swagbucks
Swagbucks is an entertaining survey site that pays you for completing short online tasks in virtual cash for doing simple things like completing surveys, playing games, shopping, watching videos, or using their own search engine.
Swagbucks can then be swapped for real hard-cold cash, gift cards or Paypal credits.
You can also supercharge your earnings by referring your friends and family member to Swagbucks here.
Storewards
Storewards lets you scan your high street receipts in, and gives you coins, which you can then use as Amazon vouchers or cash via Paypal.
Anything goes, from corner shops and off licenses to pharmacies and pet stores.
Receipts with less than £10 spend normally earn around 5 coins. £10-£50 gets you 10 coins, £50-£100 15 coins and anything over £100 20 coins.
If you stay active, they'll also ask you to complete small surveys which give you extra turns on the slot.
Snap & Save
Made from Topcashback, the Snap & Save app can be used on the go but also as a web browser as well if you don't like apps.
Start by going through the offers page and see what you can earn money back on.
Once you've brought the product, take a photo of your receipt and you will get the cash back.
Sometimes they do great deals like 100% cashback.
ClickSnap
ClickSnap is from Quidco and stops the need to search for vouchers or money saving offers. What we like about ClickSnap is that you can snap the product through the app or upload the receipt when you get home. It's a really easy to use this app and it works with many of the major supermarkets from Asda, to Tesco to Aldi.
More ways to earn money with your ohone
None of these will bring you in a full time income, but they will help top you up if you need extra money this month.
This isn't the only way you can make money online instantly either, you can also freelance, get a home based job or even blog.
Quidco
Quidco* are a cashback website where you can earn cash by visiting their site and making a purchase.
If you choose to cash out with Amazon gift cards then Quidco will give you another 2% on top of your redemption. Sign up here for Quidco* and tell your friends so you can earn a little more on the side.
VYPR
VYPR is an app for iOS and Android that pays you for completing very short surveys. Each survey (called steers) while at home earns you points or if you're in certain supermarkets, then you can earn extra for that as well.
Just downloading the app and registering will earn you 2,000 points.
Once you reach 10,000 points you can redeem them.
10,000 points are worth around £5 which is paid out via Paypal.
The more you open the app, the more you earn, so every time you have a second, open it and earn.
Job Spotter
This app is available for iOS and Android created by Indeed, the job website.
It's as simple as seeing a job advert int he window and taking a picture of the store front and uploading it.
Once you've submitted your photos you can earn points which can be converted to vouchers.
The amount of points you could earn will depend on the advert that you upload. If you find one in a quiet area then you could earn 100 points, worth £1.
Depending on your area you could earn around £30 an hour.
MobileXpression
This is just for Android, but by signing up you receive a free £5 Amazon voucher!
MobileXpression has been designed to track trends of mobile users.
If you leave the app running for two weeks, then they are willing to offer you a free Amazon gift card worth £20.
Gift Hunter Club
Gift Hunter Club pays you to complete tasks and surveys.
There's loads of ways to earn points, which can then be swapped for Amazon gift cards once you have just £5.
InstaGC
With InstaGC you can redeem your gift cards straightaway.
Earn points by watching videos, completing offers and referring your friends. You can redeem your points as soon as you get to £1.
You can get an extra 10 points by signing up to Instagc here.
TopCashBack
Topcashback is a site that gives you cash back when you make a purchase through their site. If you sign up as a member, you get loads of great deals as well. You can sign up for Top Cash Back for free.
You can choose to have your cashback paid out via Amazon gift card.
Global Test Market
Global Test Market is really simple.
You can do around 5 surveys a day and get entered into their sweepstakes every time you complete one.
Opinion Outpost
This is a survey website where you can earn Amazon gift cards by completing surveys.
Once your balance reaches £3 you can withdraw your earnings.
i-say
You receive points for surveys, which then get turned into vouchers.
i-say tell you straight away how long the surveys are going to take before you start, so if you know you've got to pop out on the school run, you can decline.
You can get anything from 5 to 250 points a survey, and they are plentiful!
Shopprize UK
For Android users, this is another scan your receipt and earn points site. These points then add up and allow you to earn daily sweepstakes and giveaways entries, or exchange them for Amazon vouchers.
You can get points quite quickly, mainly thanks to the added bonuses. You can collect 100 points for every receipt, though, but there's a max of 5 a day.
Related Posts:
Shopitize
This one is a double whammy! Not only can you make money but also save money off your shopping bill as well.
Once you've shopped, and that's in any one of the major supermarkets including Co-Op and Waitrose, the handy app will show you how much you can earn back.
It's as simple as finding the item, taking a picture of your receipt and earn the money back.
Their offers often change, but you can usually earn money off of milk, bread, eggs and any other family favourites.
When you've saved £4, you can either have it transferred via BACS or via Paypal.
Laura x
If you enjoyed this post and would like some more money making ideas from home, including ways to freelance, start a blog or even earn from your phone, then head over to my making money section here on Savings 4 Savvy Mums where you'll find over 30 money making posts dedicated to helping you earn more from home and become more financially stable as a family. There's also tips in my Money Saving Mums Facebook group. You could also pop over and follow my money making Pinterest boards for lots more ways you can earn money from home; Money Making Mums and Working from Home Jobs for Mums.
What the * means
If a link has an * by it, then this means it is an affiliate link and helps S4SM stay free for all. If you use the link, it may mean that we receive a very small payment. It will not cost you anymore that it would normally.
You shouldn't notice any difference and the link will never negatively impact the product. The items we write about are NEVER dictated by these links. We aim to look at all products on the market. If it isn't possible to get an affiliate link, then the link, or product is still included in the same way, just with a non-paying link.