These leftover banana recipes are all under £1 a head
Using up your ripe bananas is a great way to save money and prevent amazing food going into the bin. Bananas are really versitile fruit that you can use in so many different ways.
Bananas are so full of flavor when ripe, and without that rich taste, banana bread, milkshakes or ice cream just wouldn't be the same.
So I've gathered up 15 recipes that can and should be made with over ripe bananas, to prove to you just how good they taste, plus, all come in at under £1 a head!
I've even worked it all out for you, just to prove that all these can be done cheaply, while saving on your waste.
If you are looking for more £1 a head family meal ideas then have a look at:
The Ultimate £1 Per Head Budget Meal Planning List – This is a full list of £1 a head family meals. Use this if you are struggling to find meals on a budget.
Feeding a Family on a Budget: This Weekly Shop is Just £18 – This is a pre-made meal plan and shopping list that comes in at under £18. It's not for every week but can help you to stay within a food budget.
101 Aldi Recipes That Will Give You Dinner Ideas For Tonight – These Aldi recipes are great for the whole family. Everyone can pick one which means less waste or arguments.
Free money saving printables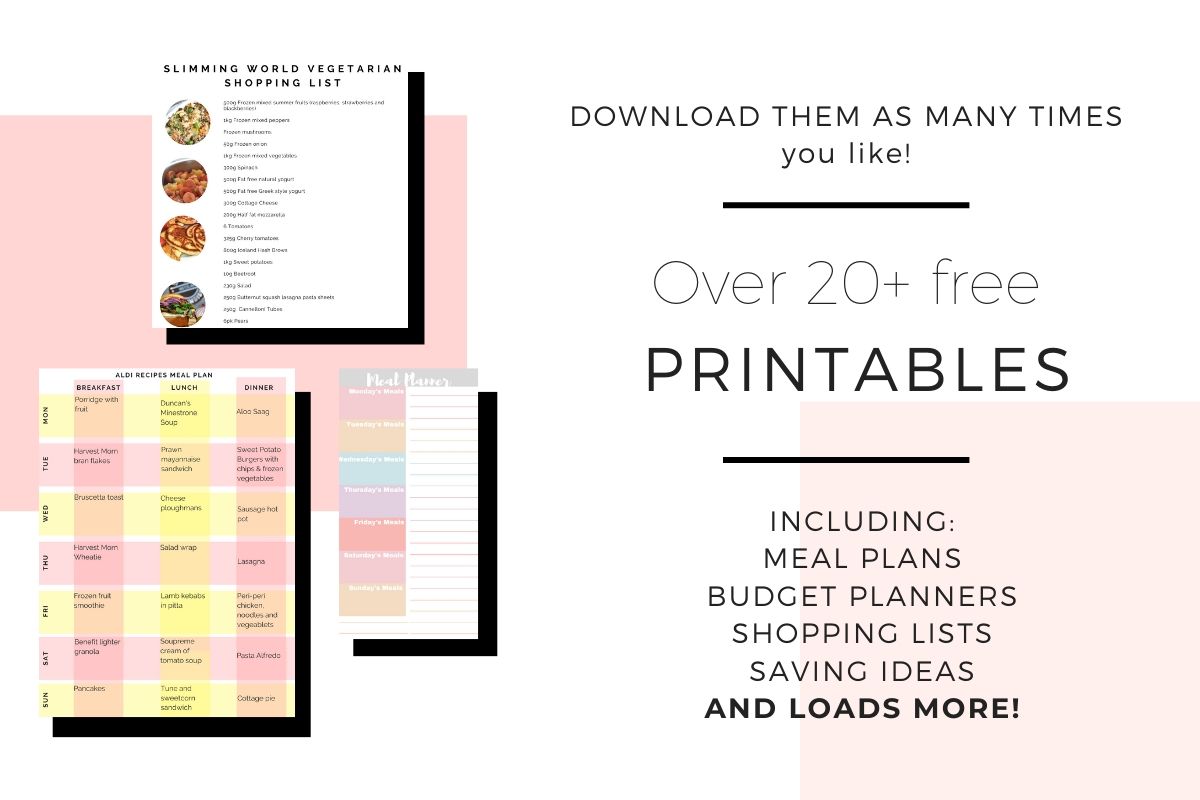 If you find meal planning hard then come join our Facebook group Money Saving Mums and get access to The Resource Vault with access to over 15+ money saving printables. This includes our easy slow cooker meals meal plan, available exclusively to subscribers!
Everything is included from budget planners to meal plans and pre-made shopping lists plus a link to our Money Saving Mums Facebook group!
Join our free Resource Vault here
(By joining giving us your email address you are consenting to us emailing you about our other travel, home and lifestyle ideas. You can unsubscribe at any time by clicking the link at the bottom of every email.)
Easy leftover ripe banana recipes

These ripe banana recipes are great for the whole family. They are all really easy banana recipes that you can use as a sweet treat or as a meal. They all come in at under £1 a head for four people and are so delicious that you'll be begging your bananas to go off quicker!
All these prices are based on Asda and are correct as of publishing.
Banana Bread Pancakes

These Banana Bread Pancakes are seriously lush! All of these ingredients are kitchen staple items and together make the perfect weekend breakfast. I use this Banana Bread Pancake recipe, but there are loads out there.
200g flour 20p
1/2 teaspoon Baking Powder 5p
1 teaspoon Ground Cinnamon 5p
2 Eggs 14p
1 ripe Banana 14p
300ml milk 30p
Total = 88p that's 22p a head for four people.
Caramelized Banana Upside Down Cake
This moist Caramelized Banana Upside Down Cake is topped with bananas and a thick caramel sauce. The cake is made upside-down, then flipped over after baking for that shinny effect. It's really easy, even the kids help me bake it.
There's nothing special ingredient-wise, again, all stuff you've probably got in the cupboards already.
150g light muscovado sugar 50p
½ tsp vanilla essence 10p
4 large bananas 56p
240g plain flour 20p
½ tsp baking powder 5p
1 tsp cinnamon 5p
½ tsp ground ginger 5p
300g golden caster sugar 77p
200g unsalted butter £1.18
3 large eggs 21p
150ml soured cream 60p
Total = £1.81 that's 82p a head for four people.
Choc Chip and Banana Muffin Recipe
After you've tried these Banana and choc chip muffins, you will never throw another banana out again! Perfect as little treats after school or as a snack for the adults. Yum!
1 large ripe banana 14p
240ml milk 43p
1 egg 7p
60g margarine 6p
180g self-raising flour 18p
125g caster sugar 45p
125g chocolate chips 53p
Total = £1.86 that's 46p a head for four people.
Banana Bread Recipe
Ok, so I'm a huge Banana Bread fan! This version tastes of pure golden caramel and crushed soft biscuit. It's really simple to make, even for a noncook like me. I'll tell you what though, it really does look impressive!
140g Butter 59p
140g Caster sugar 50p
2 eggs 14p
140g self-raising flour 15p
1tsp baking powder 5p
2 bananas 28p
50g icing sugar 11p
Total = £1.82 that's 45p a head for four people.
Banana Ice Cream
Would you believe me if I said that this Banana ice cream is actually healthy as well as tasty? It's super easy, the only annoying thing is how long it takes to set!
4 very ripe bananas 28p
¼ tsp vanilla essence 20p
4 tbsp sugar
Honey or sweetener 4p
150g Greek-style yogurt 27p
Total = 79p that's 19p a head for four people.
Banana French Toast
I think French toast and bananas go perfectly together. For a real American-style feel, decorate with fresh strawberries, a sprinkle of icing sugar, and drizzle of maple syrup.
4 ripe bananas 28p
8 slices white bread 17p
110ml semi-skimmed milk 11p
2 eggs 14p
1 teaspoon vanilla extract 20p
1/2 teaspoon ground cinnamon 5p
Total = 95p that's 23p a head for four people.
Banana Vanilla Soft Serve with Dark Chocolate Drizzle
This one is a bit of a curveball, but tastes so good! The only thing that I change is the cacao powder to actual cocoa powder and vanilla powder to an essence, but that's just cost, for me.
These Banana Vanilla Soft Serve with Dark Chocolate Drizzle is the ultimate dessert with zero hassle. That's a win in my book!
4 peeled, frozen bananas 28p
1 teaspoon vanilla essence 20p
1 tablespoon maple syrup 4p
1 teaspoon coco powder 10p
Total = 62p that's 15p a head for four people.
Chewy Banana Oatmeal Cookies
This Chewy Banana Oatmeal Cookie recipe is another one that the kids tend to help me with. They make 12, I normally half the recipe to make 6. (one each for the kids and two each for us adults)
2 bananas 14p
60ml milk 6p
1 egg 7p
1 teaspoon honey 6p
80g oats 5p
1/2 teaspoon vanilla extract 20p
1 teaspoon ground cinnamon 5p
1/2 teaspoon baking powder 10p
Total = £1.36 that's 34p a head for four people.
Banana Slow Cooker Oats
I make these overnight Banana Slow Cooker Oats once the kids have gone to bed, and by the time 6 am comes, they're ready to eat. Both of them love them and can't get enough!
These Banana Slow Cooker Oats only have three ingredients too!
200g of rolled oats 15p
2L milk 87.2p
Maple syrup 4p
Banana 13p
Total = 89p that's 22p a head for four people.
Chocolate Chip Banana Cookies
These Chocolate Chip Banana Cookies are great for overripe bananas that you need to use. This easy recipe is great for the whole family to try too.
310g plain flour 20p
2 teaspoons baking powder 20p
1/2 teaspoon salt 5p
1/4 teaspoon bicarbonate of soda 5p
200g caster sugar 47p
150g butter, softened 74p
2 eggs 14p
1 teaspoon vanilla extract 5p
250g mashed bananas 26p
340g plain chocolate chips 80p
Total = £2.96 thats' 74p a head for four.
Banana Pudding Recipe
This Banana Pudding recipe only takes 20 minutes to cook and is delicious. It comes in at under £1 a head and goes great with ice cream or custard.
100g butter 64p
2 ripe bananas 26p
100g light muscovado sugar 50p
100g self-raising flour 8p
2 tsp ground cinnamon 5p
2 eggs 14p
2 tbsp milk 5p
Total = £1.72 that's 43p a head for four.
Banana Pancakes

These Banana Pancakes are easy to make and are great if you have to many bananas and no flour in the house. They take a few minutes to cook and taste really sweet. You don't even have to add the pecans if your kids don't like them.
1 large banana 13p
2 medium eggs 14p
pinch of baking powder 5p
splash of vanilla extract 5p
1 tsp oil 5p
25g pecans 25p
125g frozen raspberries 80p
Total = £1.47 that's 36p a head for four people.
Banana Muffins

These Banana Muffins make a great midweek treat. They are really easy to cook and the bananas make them really sweet too. Make sure the bananas are really ripe to make these extra soft.
250g self-raising flour 18p
1 tsp baking powder 5p
½ tsp bicarbonate of soda 5p
110g caster sugar 37p
75g butter 55p
1 tsp vanilla extract 5p
2 eggs 14p
2 large ripe bananas 26p
125ml buttermilk 37p
50g pecans 50p
Total = £2.52 that's 63p a head for four people.
Chocolate & Banana Cake Recipe

This Chocolate & Banana Cake recipe is a real treat! It's soft and gooey which makes for a great celebration cake for the whole family.
100ml sunflower oil 11p
175g caster sugar 40p
175g self-raising flour 11p
½ tsp bicarbonate of soda 5p
4 tbsp cocoa powder 5p
100g chocolate chips 80p
175g very ripe bananas 26p
3 medium eggs 21p
50ml milk 30p
100g milk chocolate 50p
100ml soured cream 36p
Total = £3.15 that's 78p a head for four people.
Chocolate Banana Smoothie

We love this Chocolate Banana Smoothie because it's really easy to make and tastes like a real treat. It comes in under 19p a head for four people and puts a smile on all our faces.
1 cup milk dairy 30p
2 bananas frozen 26p
1 tablespoon honey 15p
1 tablespoon cocoa powder 5p
Total = 76p that's 19p a head for four people.
Related Posts:
Peanut Butter and Banana Sandwich

This Peanut Butter and Banana Sandwich is a classic! A lunchtime treat like this will never be forgotten. We find that the more ripe the bananas are the better!
2 tablespoons peanut butter 10p
2 slices whole wheat bread 14p
1 banana 7p
Total = 31p that's 7p a head for four people
Laura x
If you enjoyed this post and would like some more family friendly budget recipes or meal plan ideas, then head over to the budget food section here on Savings 4 Savvy Mums where you'll find over 30 cheap posts dedicated to helping you cook and shop wiser for less. There's enough tips to help you save over £300 a month! You could also pop over and follow my family food Pinterest boards for lots more ideas on how to eat well and spend less; Family Meal Plans on a Budget, Budget Family Meals & Budget Slimming World Recipes for Families.
Love this post? Then why not save it to Pinterest so you can easily find it later.
What the * means
If a link has an * by it, then this means it is an affiliate link and helps S4SM stay free for all. If you use the link, it may mean that we receive a very small payment. It will not cost you anymore that it would normally.
You shouldn't notice any difference and the link will never negatively impact the product. The items we write about are NEVER dictated by these links. We aim to look at all products on the market. If it isn't possible to get an affiliate link, then the link, or product is still included in the same way, just with a non-paying link.