Including how to cut down on spending
Sometimes, just telling yourself to stop spending money doesn't work. It may now be a habit, a distresser or your funny way of showing the kids you care.
Whatever your reasons, it's now time to stop and tackle your inner spending monster head-on, right now, in fact.
We're all in agreement that spending money is easy. A few quid here and there doesn't start showing up in till the end of the month when your card has been declined and you can't even afford milk for your cornflakes.
If you really are struggling with money then please get help! We have a post here called No Money for Food? This is What You Do When You Really Have No Money To Feed your Family which gives you a list of free places that can really help you get out of debt.
Here are all our tips and tricks to help you stop spending money.
How to stop spending money for 30 days
Over a course of a month, without realizing it, you could have spent hundreds of pounds on pretty much nothing at all.
It's so easy to just fling a card at someone in the supermarket, or at the pump, and not notice how much you've spent.
To some, it can be an addiction, that leads down a black hole of massive debt. A few pounds here and there really can turn into thousands over a year.
If you need some help to reduce your spending then we can help you. This step-by-step guide can help you to start getting to grips with how much you are spending.
Start by setting goals
No matter what your goal is – whether you have a credit card you are desperate to pay off or just want to shave a few pounds off your monthly outgoings, this is going to open your eyes to a whole new level of money-saving.
We aren't talking frugal here. You can still go out and treat the family.
Once you've decided you want to start saving money and stop saving, tell the family. Get them involved.
When it comes to saving money, you need the whole family invested. There's no point just one of you trying to save money. Talk to your partner and the kids if they are old enough and explain WHY you want to save.
Sometimes it's difficult to keep motivated and track how much your family have saved.
Our printable checklist was created with this in mind. Simply print off as many copies as you need or laminate a copy and reuse it over and over again.
Free Money Saving Printables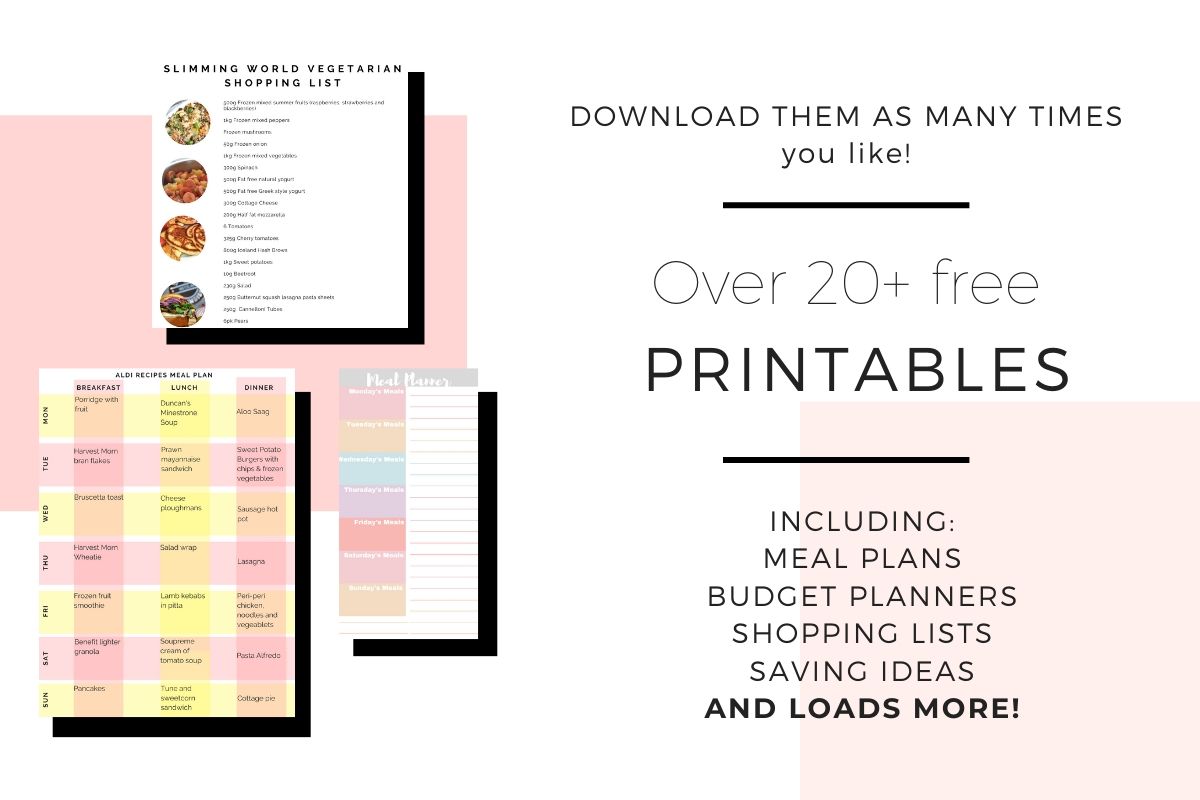 If you find saving money hard then come join our Facebook group Money Saving Mums and get access to The Resource Vault with access to over 15+ money saving printables. This includes our easy slow cooker meals meal plan, available exclusively to subscribers!
Everything is included from budget planners to meal plans and pre-made shopping lists plus a link to our Money Saving Mums Facebook group!
Join our free Resource Vault here
(By joining giving us your email address you are consenting to us emailing you about our other travel, home and lifestyle ideas. You can unsubscribe at any time by clicking the link at the bottom of every email.)
Tracking your savings
Tracking your money habits so you know exactly what you are spending is vital.
Knowing your income and outgoings is the first step you need to take when you are trying to take back control of your finances.
Despite the name, creating a budget doesn't mean you have to be frugal or only spend the same amount every week. Having a budget means knowing exactly what you're spending compared to your incomings
You should also remember to account for annual costs, such as Christmas, birthday presents, car costs, etc.
Creating your budget will give you a clear starting point, so that you know where your finances stand before you decide to either start cutting back or make more money.
The first thing to work out is, do you spend more than you earn?
Use your instincts. Do you have any money left over at the end of the month? Are you eating up your savings or building up debts?
Major overspending can lead to a debt spiral and severe problems, that's why using a budget planner every month is a good idea and can answer these questions quickly for you.
Yet before you can solve any issues it's important to get an accurate idea of the size and scale of the problem.
Before you start using a budget planner remember that:
Your bank account lies! When you check it, it only shows you a simple snapshot of the scene that day. It misses out what payments are due in or out, when direct debits are paid, and when you need to go shopping.
Never think that having cash in your bank account means your budget is balanced. Being overdrawn is definitely a good indicator that it isn't.
You can track your progress in different ways. You could:
Automated banking with Plum
Use Plum which is free and compatible with most UK bank accounts.
Once you connect it to your online banking, it gathers information about your spending and uses that data to work out how much you can afford to save.
Every few days it transfers an amount it believes to be affordable automatically. The best thing is you can get to your money anytime so if you suddenly need it you can transfer back straight away!
Read more about how Plum works here
Download Plum for free here on iPhone or Android*
Manual banking and paper tracking
Use our free Resource Vault that is packed full of useful printables to aid you on your money saving journey.
You can choose to track your money as you save it or per day.
You could set the above up yourself and have 5 different bank accounts for your categories so you can always see what you have left in your main account. This is fine but does require a bit of set up including monthly standing orders and you phoning each company to change your account details.
Either way works well, as long as you stick to whichever method you choose. Knowing your spending habits will really give you a clear picture on where you are.
Having financial goals
Setting your goals for the month will really help you and your family to spend money less.
Remember to keep your financial goals realistic. There's no point saying you're going to cut out all treats every month as that will just make you resent saving.
Try to be specific. Something like:
• I will put £5 per week into my savings account by making extra online
• I will increase my income by 10% every month
• I will only get one take away coffee a week
• I will completely clear one debt within 3 months
• I will save £50 within 3 months by switching suppliers
• I will reduce my outgoings by £75 a month with meal planning and cashback websites
Reduce your outgoings
This may seem like a no-brainer but it's as easy as it sounds. Cutting out unnecessary things like a gym membership or that takeaway coffee can really make a big difference.
There are loads of ways you can cut your costs.
Take it from me that loyalty honestly doesn't always pay.
Switching your suppliers could save you a massive £300 a year. That's a lot for your saving pot!
Set aside a day this week to go through all your utilities and insurances to see if you could save money by switching.
Utilities
It is always worth checking price comparison websites to see if you can make a saving by switching providers, or even tariffs! Now, energy companies have to tell you on your bill whether you could save by being on a different tariff, so take a look at your latest bill to see if you could save.
Have a look at Bulb. They offer green energy and can give you a quote really quickly to see if they could save you money.
Get a free quote with Bulb here*
TV package
If you're a long-serving Sky customer then have a lookup SKY VIP. You can get money off your existing package and offers on new ones. It's true that you still have to haggle though so put aside a good hour and decide on the line you will cross ie cancelling.
Have a look at other suppliers for your TV.
Netflix – They offer a free trial and now run through a Sky Q box plus other electrical devices.
Amazon Prime – All the latest programs can be streamed through loads of devices. You also get next day delivery included with your membership and special "just members" offers.
Insurance
Make sure you don't auto-renewal.
Calling around for all your insurance quotes can take time but it's well worth the money.
Have a look at BuzzVault. BuzzVault offer home and contents insurance that covers everything you declare. It's all done via Skype meaning that if you have to make a claim then they know exactly what you have without needing receipts.
Find out what we think about BuzzVault here
Get a free quote with BuzzVault here*
How to stop spending money on food
The first thing we do to reduce our spending on groceries is to meal plan. Implementing a family meal planner can stop you going for the takeaway menu when the family go nuclear and means you don't have to face a cupboard full of food with no clue or inspiration on what to cook.
Meal Plan Sheets
Depending on how comfortable you are, either find a spare pad or print out 8-10 copies of a weekly meal plan sheet.
You'll need enough space to write down a simple menu for each day and a shopping list as you go.
You can make your own weekly meal plan or download my meal plans and shopping lists for free from the Resource Vault.
Having several copies on hand will help inspire you to get started and keep up the meal plans for several weeks. Before you know it, meal planning will become a natural part of your routine.
Check Your Calendar
Before you even think about food, check your schedule.
There's no point writing a meal plan for a week that you're away or if you aren't going to be back for dinnertime.
Use a bright colour of ink to list calendar items on your meal plan so you can decide what the family are eating on these days. It could be leftovers or cheese on toast, doesn't matter, as long as everyone knows.
Check Your Freezer, Fridge, and Cupboards
Before you start planning, check what you have already. Do you have any kitchen staples that you could use to bulk out any meals or use on days you're late home?
Is there anything in your freezer you could eat to bring this weeks shopping list down?
Same goes for vegetables and side dishes. Spending a few minutes checking the freezer, fridge and cupboards can save you money later on.
Remember to take the shopping list to the grocery store with you!
If you need help filling the meal plan with budget-friendly food then make sure you have a look at:
Feeding a Family on a Budget: This Weekly Shop is Just £18
21 Budget Family Meals and a £16 Aldi Meal Plan
One Month of Family Meal Ideas on a Budget
A Week of Budget Family Meals For Under £1 a Head
The Ultimate £1 Per Head Budget Meal Planning List
31 Cheap Family Meals That Are Under £1 a Head
29 Easy and Kid Friendly Budget Recipes for Fussy Eaters That the Whole Family Will Enjoy
21 Cheap Meals for a Week for a Family
How to stop spending money on unnecessary things
Have I scared you yet? If any of this rings true, then maybe it's time to stop spending altogether. Think of it like a detox or diet if you must, but from today, you're going money free.
Ask yourself these three questions.
Do you really need it? Do the kids really need to go to an expensive theme park? Is it a special occasion?
I'm not saying don't spend. Work hard spend hard is my motto, but do it right. If this is what you and the kids have been waiting for all month then do it. If it's a spare of the moment idea after another tough month, then maybe strip it back and think how you could all have a family day out but cheaper.
I know this won't work for everyone, but asking myself these simple questions helps me to decide if what I'm doing to financially rational.
If you do need that item or day out, have a look at using the cashback websites so you can get some money back.
Our favorite cashback sites are:
We use cashback websites every time we buy something online.
OhMyDosh
OhMyDosh is an easy to use cashback site that's free to use. It's not like a normal cashback site though. OhMyDosh gives you loads of ways you can make money including:
The refer a friend scheme. Refer your friends to OhMyDosh and earn yourself £5 for every sign up and your friend £1.
Competitions: Enter them for free and receive money.
Shop through them to earn the bigger rewards.
The best thing about OhMyDosh is that you only need to make £10 to "dosh out" and they pay out through your bank or through PayPal.
If you are new to OhMyDosh* then use our link here to get your first free £1*.
You can read more about how OhMyDosh works here.
Leave Your Money at the Door
When you know you're going out and may be tempted to spurt the cash, leave your money at the door.
That includes everything from bank cards, to the loose change in your pocket.
Know you will want a coffee at 11 am? Then take a furnace and enjoy it all day long.
Think about dinner too. If you know you're going to be in late, then why not make a slow-cooked meal instead of heading to your nearest fast food joint? Nothing like a nice curry or spaghetti Bolognese after a long day with the kids.
Related Posts:
What It Costs in Real Time
Before you do anything or get your wallet out, have a think about how much it would cost you in hours worked.
So if you earn £10 an hour and the trip out or item costs £180, you'd have to work 18 hours. That's a lot of hours for one day out!
Focus On Your Savings or Debts
Work out how long it will take you to pay off your debt or increase your savings if you give in.
Think of it as another payment toward owning your own home or another step toward that amazing family holiday you've always wanted.
Paying of your credit cards and other debt must come first before you start saving.
Laura x
If you enjoyed this post and would like some more family friendly money managing ideas, then head over to the managing money section here on Savings 4 Savvy Mums where you'll find over 30 blog posts dedicated to helping you manage your family's finance. There's enough tips to help you save over £300 a month! You could also pop over and follow my managing money Pinterest boards for lots more ideas on how to keep more of your money in your pocket: Managing Money Printables, Managing Money for Families and Family Finance.
Love this post? Then why not save it to Pinterest so you can easily find it later.
What the * means
If a link has an * by it, then this means it is an affiliate link and helps S4SM stay free for all. If you use the link, it may mean that we receive a very small payment. It will not cost you anymore that it would normally.
You shouldn't notice any difference and the link will never negatively impact the product. The items we write about are NEVER dictated by these links. We aim to look at all products on the market. If it isn't possible to get an affiliate link, then the link, or product is still included in the same way, just with a non-paying link.