Including free baby starter packs, free pregnancy stuff and free baby samples
If you are pregnant and are worried about how you'll going to be able to afford this little miracle then don't worry. We have loads of baby stuff that's free to help you get started.
Finding out you are pregnant is usually the most exciting day in a woman's life and not one easily forgotten. However, soon after the sight of that blue line comes the fear of the cost!
Luckily, there are loads of baby freebies out there for pregnant women to help with the cost!
If you are looking for any family friendly money saving ideas then have a look at:
101 Frugal Living Tips That Will Save You Thousands in 2020
No Money for Food? This is What You Do When You Really Have No Money To Feed your Family
If you are looking for money saving ideas on food then have a look at:
The Ultimate £1 Per Head Budget Meal Planning List
31 Easy Family Slow Cooker Recipes
21 Budget Family Meals and a £16 Aldi Meal Plan
If you like free stuff, then your luck is in. One of the many extra benefits of being pregnant and having a newborn is that, to brands, you're the holy grail.
In exchange for all these baby freebies, you will need to hand them your data, like your name, email address and when your baby is due or was born.
If you're happy to give companies your details, then be prepared to be sold to, which loads of marketing emails and mailout. (Nothing is really free, right?!)
To receive all your baby freebies without filling up your inbox, it's advised (by me) to get yourself a completely new email address for such sign-ups, that way you'll actually be able to see the emails you want to look at.
It doesn't matter if you've just found out you are pregnant or you are close to your due date, these are the best places to get free baby stuff if you are in the UK.
If you are a step-parent then have a look at Step into Parenting website here which has some great tips.
Have a look at Living With Warmth for ideas on going vegan as a parent.
If you are worried about working from home as a parent then have a look at Lukeosaurus and Me post here.
Free Money Saving Printables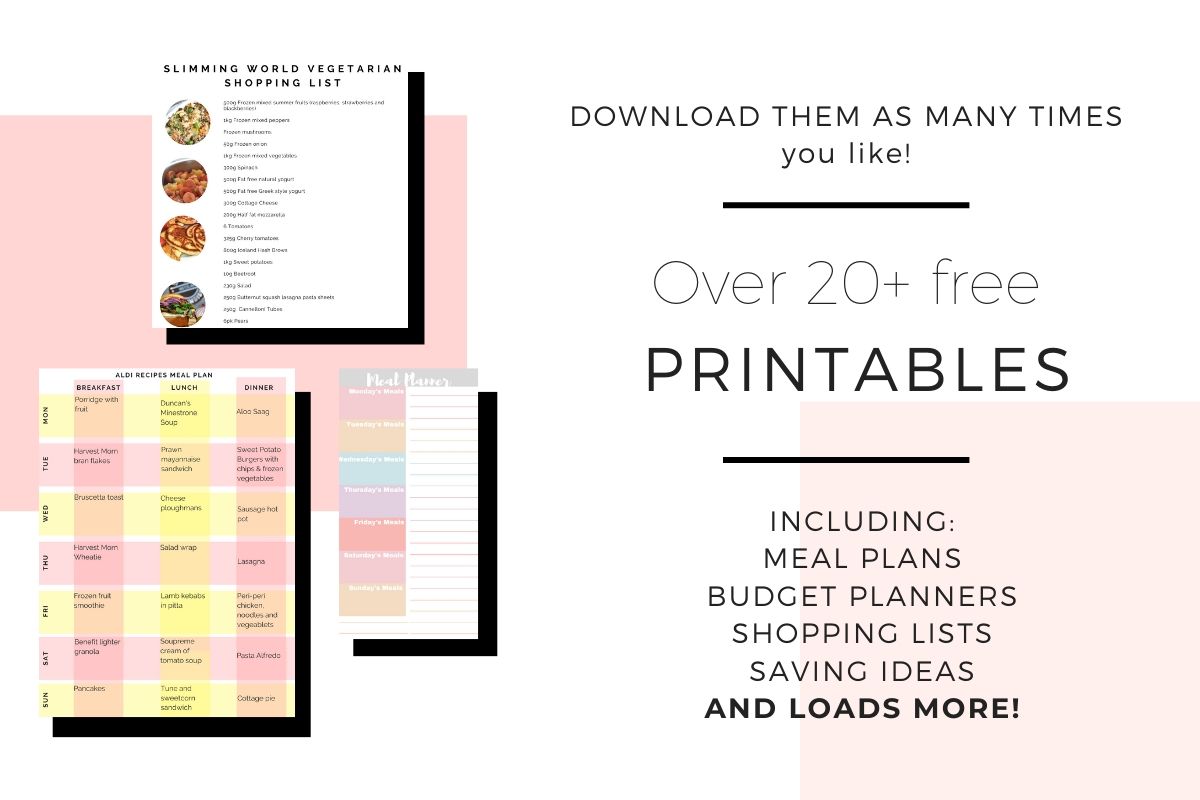 If you are looking for money saving ideas or budget meal plans for your whole family then why not join our free Resource Vault? You can download our shopping lists and budget planners as many times as you like.
Come join our free Resource Vault here
(By joining giving us your email address you are consenting to us emailing you about our other travel, home and lifestyle ideas. You can unsubscribe at any time by clicking the link at the bottom of every email.)
Free Baby Stuff UK
Having a baby will certainly pull on the purse strings, but there are so many deals and vouchers out there that could help you save money from the get go!
Parenting Clubs
Boots
Signing up to Boots Parenting Club gets you ten points for every pound on baby and maternity purchases until your baby reaches 3-years-old. They also send you tailored offers and deals at each stage of pregnancy and baby's age, like FREE folic acid or vitamin D tablets, money off clothes and 25% off Mum to be products.
Emma's Diary Baby Pack
By signing up you will get over £100 worth of Argos vouchers, a photo book voucher worth £15 and other little gifts and offers from some top named brands throughout your pregnancy. Top Tip: Set up a different email address and sign up with that. You'll still receive the freebies without your main account being spammed!
Mothercare
Join the Mothercare Club and receive over £100 of money saving vouchers which include 20% maternity clothes, £5 off a £50 spend on footwear and clothing, 20% off
All the major supermarkets have a baby club, but by joining the Tescos Parenting Club, you receive free life insurance up to £15,000 (criteria applies.) The welcome pack also contains coupons and offers as well depending on how old your baby is plus run some pretty good competitions.
Free Magazines
You'll find, as soon as you tell one company you are pregnant, they will all find out. Instead of throwing these brochures or magazines away, have a flick through. There's normally tons of money off vouchers (like £5 off a £15 baby clothing spend in Tesco), free baby food coupons, free nappies, wipes, mini Johnsons products and sometimes a branded product like a towel, baby socks or spoons.
Free Baby Products
Expectant Parent Events
Mothercare are the best at this! Check out their website for details on your nearest event and book in online. You have to sit through a few talks on car seats and pushchairs but then get 10% off everything in store, including iCandy buggies, Maxi-Cosi car seats, and toys!
Buggy's
Many big brands offer refurbished items and buggies are no exception. Mamas & Papas are great for this, and often have their top of the line pushchairs for lower cost.
Nappies
You'll go through a bundle of these, and regardless of if you choose disposable or reusable, the cost mounts up. Through Netmums, you can receive a free pack of Aldi nappies and wipes. They are well worth giving a try, as compared to the leading brands, they cost considerably less!
Amazon's Subscribe and Save service is good if you prefer a leading brand. This will give you 5% off selected items when you place a repeat order, including nappies and wipes. There's no minimum commitment, so if you want, you can simply cancel after your first delivery.
Free Baby Samples UK
Whether it's free books, toys or clothes, everything is available for free if you know here to look.
If you can't find what you're looking for, then signing up for Amazon Family is a good idea. It's like Amazon Prime, but gives you offers on loads of baby essentials and deliver within a day! Take advantage of the 30-day free trial*, but remember to cancel when you're done, or you'll be stung with a £79 bill.
Pregnant Freebies
Never have freebies been so exciting. You can get so much free pregnancy stuff from a whole range of companies.
Bounty Packs
They do three packs depending on your family and when you sign up, but the Mum-To-Be pack includes:
25 Tesco Loves Baby Newborn Nappies
20 Tesco Loves Baby Newborn Pure Wipes (fragrance free)
Pregnacare pen
Small 50ml sample of Palmer's Cocoa Butter Massage Lotion (for stretch marks)
1 Always Dailies pad, size large
Bounty Buying Guide, featuring their product recommendations
£20 off a Beaming Baby Organic Essentials Parcel (full price unknown)
£16 off a Hotel Chocolat tasting session (for £6.95)
2 free Graze boxes (so you know: subscription starts automatically and has to be cancelled)
Boots parenting club form
Life insurance leaflet
A leaflet from Kicks Count about normal and abnomal baby movements
Another Mums-To-Be pack is Emma's Diary. This includes:
15g tub of Palmer's Cocoa Tummy Butter for Stretch Marks
Trial pack of 3 Boots Newborn nappies
Pack of 15 large Dettol wipes
200ml bottle of spray-on Ladival SPF 50 Sunscreen
Sample pack of Persil Non-Bio (1 wash/40ml)
Comfort Pure fabric softener sample (55ml)
Emma's Dary Baby Show ticket offer (seasonal)
2 free Graze boxes (subscription starts automatically, so only free if you cancel!)
2 5ml Oilatum Daily lotion packets
3 for 2 Pregnacare vitamin offer (online only)
£1 off Persil Non-Bio
£1 off Comfort Pure
Baby Freebies Starter Packs
Just like pregnancy stuff, you can get loads of totally free baby samples as well. These baby packs are great to get you started and help you decide what products you like and don't like for when the baby comes.
Baby Box University:
A patterned baby box, for your baby to sleep in
A foam mattress
Waterproof mattress cover
A fitted cotton sheet for the mattress
A muslin cloth
A blue Baby Box University Co zip-up pouch
Several pages of instructions and warnings (which look a bit scary, but make sure you read them)
A voucher for £20 off Beaming Baby boxes
A WaterWipes sample (looks to be just one wipe)
The Baby Boxes are free to all parents in England. To get this baby freebie, you need to take a "parental education course" online about safe sleep and breastfeeding. Once you've watched a series of videos and completed a quiz, you'll receive a certificate that can be presented to collect a free Baby Box.
You can pick up the box for free from some libraries, but can have it delivered to your home for £6.
Ella's Kitchen is all about weaning and includes:
A weaning journey map
A colourful weaning wall chart
Fruity stickers
50p off coupon for any Ella's Kitchen pouch
The form is quite long though and can take up to 10 minutes to complete.
Cow & Gate Baby Club offer free baby stuff including:
A small soft cow toy (with C&G Baby Club written on it)
An A5 (we think) paper pregnancy diary
A welcome leaflet
A booklet of real life mum stories who've had help from the Cow & Gate careline
You have to sign up via their website and agree to be emailed by their marketing team.
Pregnant Free Stuff and Free Baby Packs
You can get loads of free stuff for your little one by signing up to these free companies.
Free Pampers
The pampers website itself normally offers free coupons and products if you give them your email address. Also, try looking at the other coupon sites as you'll be surprised how much Pampers actually give away for free to new mothers and babies.
Asda Baby and Toddler Club
How tos, discounts, expert advice and the chance to win prizes. They have regular baby events which have great value items in and you'll be the first to know.
Tesco Baby Club
100 Clubcard points to boost your shopping.
Boots Parenting Club*
Get regular pregnancy updates, free baby and pregnancy goods, a free magazine with useful advice and extra Boots advantage points.
My Mothercare*
Get £100 worth of vouchers, access to discounts and more.
Amazon Family*
Free for a month. You get regular offers, nappy savings and more.
HIPP Organic Baby Club
Get free snapfish photos, a personalised baby calendar, discounts and more.
Pampers Club
You can get points back from your purchases which add up to rewards.
Maternity Exemption Certificate
This card will entitle you to free dental care and free prescriptions. You can keep this until your baby is a year old. Make sure you visit the dentist just before your baby turns one to get the full use of the card. You are also entitled to antenatal classes. These will provide you with loads of useful information on your pregnancy, labour and the early days of your babies life.
readitswapit.co.uk
They have 100,000s of books which you can borrow, read and then swap it for a new on.
NHS Healthy Start
If you're pregnant or have children under the age of four you could qualify if you're on benefits, or if you're pregnant and under 18.
Other things to remember are:
Health Care
Nothing is more important than yours and baby's health, so make sure you ask for your FW8 form from your midwife. This gives YOU free prescriptions until the baby is one-year-old, regardless of what is wrong with you.
Also, have a think about visiting the dentist. You are now entitled to FREE NHS dental treatment with an MATB form from your midwife. Not all treatments are covered, but most are!
Sure Start Centers
It's worth checking if you qualify for a £500 Sure Start maternity grant. This can help toward the costs of a new baby. There are a few hoops to jump through, but if you're on certain benefits, this may help a little more.
Also, have a look into Healthy Start vouchers. These give you £3.10 a week while pregnant to put toward fruit, vegetables, and milk.
Maternity Rights
Make sure that your MATB1 form is given to your employer with plenty of time to share. You are entitled to paid time off for antenatal appointments and while you are off on maternity leave you also accrue holidays and are STILL eligible for pay rises that other employees are getting.
Related Posts:
For Dads: Check out his paternity rights and shared leave options.
If you're married or in a civil partnership, find out about marriage tax. You might find that you are eligible for a tax break. It's free so worth checking!
Child Care
The big one.
If you're a working parent, then make sure you look into childcare vouchers. As soon as the baby is born, either parent or both parents can pay up to £55 a week in through their wages and not get taxed on it. This could save you a massive £933 or if you both pay in, a huge saving of £1866 a year!
They are deducted through salary sacrifice through your employer and can be used for any registered childcare provider or holiday club up until the child reaches 16.
Free 30 Hours
From September, parents working over 16 hours a week will be entitled to thirty hours' free childcare. Every 3 and 4 year old is entitled to fifteen free hours currently, and this does not change if the parent doesn't work over 16 hours. To find out more, click here.
Prefer to stay at home? Then our guide to making money from home should help start you off.
Again, this is only a starters guide and I could go on and on! Are there any sites i've missed? What is your ultimate baby bargain?
Laura x
If you enjoyed this post and would like some more money saving ideas, then head over to the saving my family money section here on Savings 4 Savvy Mums where you'll find over 50 money saving tips to help you save your family more. There's enough tips to help you save over £300 a month! You could also pop over and follow my family saving Pinterest boards for lots more ideas on how to stop spending and save more; Money Saving Tips for Families and Managing Money for Families.
Love this post? Then why not save it to Pinterest so you can easily find it later.
What the * means
If a link has an * by it, then this means it is an affiliate link and helps S4SM stay free for all. If you use the link, it may mean that we receive a very small payment. It will not cost you anymore that it would normally.
You shouldn't notice any difference and the link will never negatively impact the product. The items we write about are NEVER dictated by these links. We aim to look at all products on the market. If it isn't possible to get an affiliate link, then the link, or product is still included in the same way, just with a non-paying link.